Cheney, Thompson Condemn Trump Lawsuit Against 1/6 Panel: 'An Attempt to Delay, Obstruct'
The top members of the U.S. House Select Committee on the January 6 attack have condemned former President Donald Trump's lawsuit attempting to stop Congress from subpoenaing White House files related to that day.
In a joint statement Monday, Committee Chairman Representative Bennie Thompson (D-Miss.) and Vice-Chair Representative Liz Cheney (R-Wyo.) stated that the former president's lawsuit was an attempt to "delay and obstruct" the committee's investigation.
"The former President's clear objective is to stop the Select Committee from getting to the facts about January 6th," the statement continued. "Precedent and law are on our side. Executive privilege is not absolute and President Biden has so far declined to invoke that privilege."
Cheney, in particular, has become one of the former president's most ardent opponents in recent years and was one of only ten GOP House members to vote "yes" on Trump's second impeachment after the January 6 insurrection.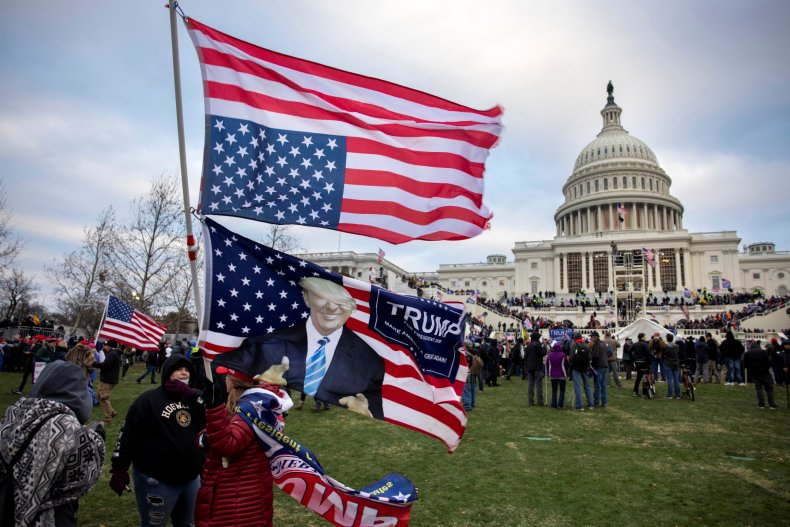 Trump has said that executive privilege allows him to seal records from his administration, blocking the viewing of documents surrounding the events of January 6.
The lawsuit states that the Committee's requests "are unprecedented in their breadth and scope and are untethered from any legitimate legislative purpose."
The National Archives and Records Administration (NARA), however, have told Trump that they will turn over the requested records to the House Committee on November 12 unless a court decides in the former president's favor.
President Joe Biden, under the Presidential Record Act, would be able to protect the documents from congressional viewing, but has declined to do so, stating that former President Trump "abused the office of the presidency and attempted to subvert a peaceful transfer of power."
"As President Biden determined, the constitutional protections of executive privilege should not be used to shield information that reflects a clear and apparent effort to subvert the Constitution itself," the White House said Monday.
Additionally, the statement from the House Committee went on to say that the White House has often turned over presidential documents when "public interest outweighs other concerns."
"It's hard to imagine a more compelling public interest than trying to get answers about an attack on our democracy and an attempt to overturn the results of an election," the House's statement continued.
The original filing of the lawsuit stated that a previous U.S. Supreme Court ruling mandated that Congress needs a "real legislative purpose" to subpoena presidential records.
However, that case, Trump v. Vance, had only ruled on the former president's financial records from his days as a businessman and was unrelated to his time in office, while the current subpoena concerns "documents generated by the presidency," Washington D.C. lawyer Greg Lipper told CNN.
Additionally, the court's 7-2 decision stated that being president of the United States did not make a person immune from subpoenas or congressional retrieval of records.
"The Supreme Court has repeatedly held that tremendous deference is to be given to Congress in conducting investigations and in determining what is within the scope of its own authority," another lawyer, Jeffrey Robbins, told CNN.
Both Thompson and Cheney have pledged to fight the lawsuit, and have stated that a number of other probes related to the January 6 investigation have already gotten underway.
Newsweek has reached out to the National Archives and Records Administration for comment.