Cher Comments on Photo of 36-Year-Old Boyfriend: 'We're Grown Ups'
Cher has once again defended her relationship with Alexander Edwards, who is 40 years her junior.
The music legend, 76, posted a topless photo of her beau, 36, to Twitter and quickly followed up with a retort for anyone who might have an opinion on their relationship.
Cher shared a photo of Edwards in a pair of shorts with his leg on a sofa, as he leaned on his knee and smiled towards the camera.
She captioned the post: "A.E.Hanging Ot [sic]."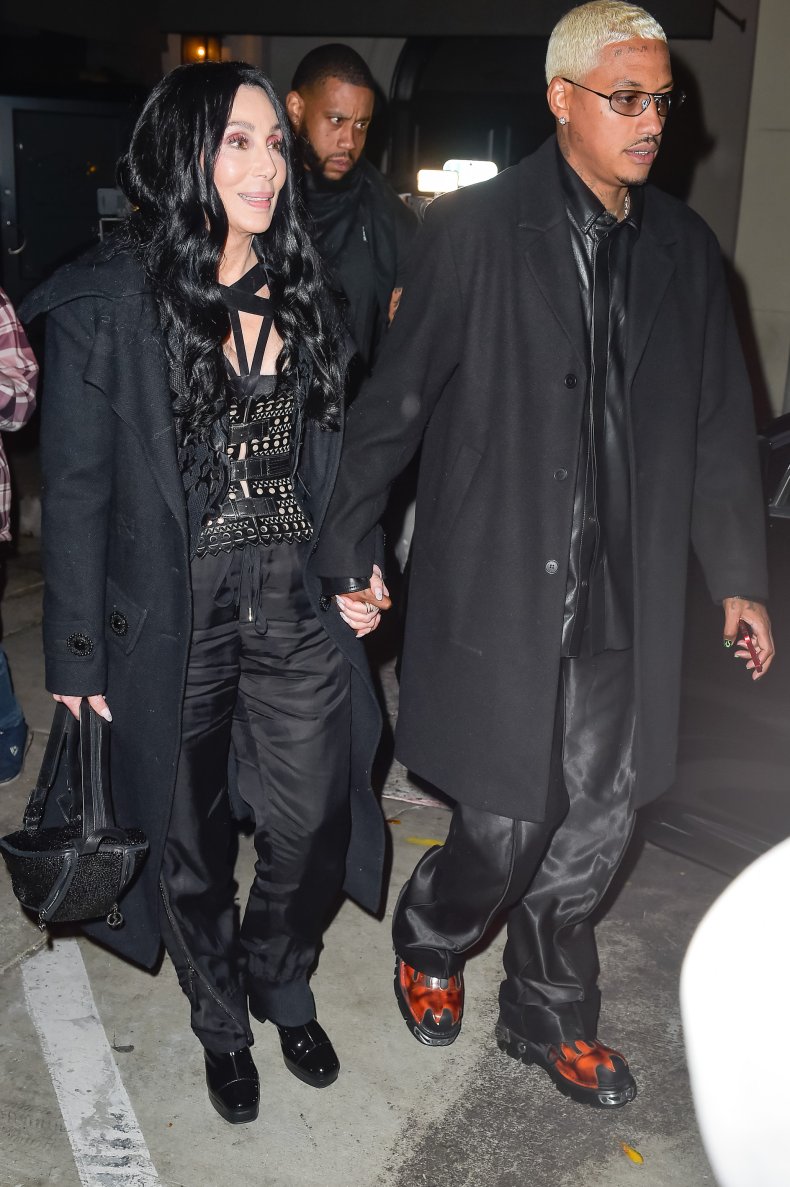 Within a few minutes, Cher replied to her own tweet and wrote, "We're Grown ups."
The "Believe" singer also gave some insight into their love lives after one fan asked her what her favorite qualities of Edwards were.
"He's Kind, Smart, Hilarious...& We 🫦Like Teenagers," she wrote with a lip biting emoji.
She also told another supportive fan "we're happy," after they replied with a photo of a woman wearing a T-shirt that read, "old b****** winning."
Cher and Edwards were first spotted together in September at Paris Fashion Week.
They were also seen holding hands in West Hollywood earlier this month.
The singer later went Twitter official with her new man, posting a photo of him alongside a red love heart emoji.
But when fans acted with concern over their age gap, Cher wasted no time in shutting down the haters.
"As we All Know ...I WASNT BORN YESTERDAY,& What I Know For Sure...There Are No Guarantees," the songstress replied in a tweet. "Anytime you make a Choice You Take a Chance.I've Always Taken Chances...It's WHO I Am."
She also later spoke out about her new relationship in a series of tweets where she tried to reassure those worried about their age gap.
"LOVE DOESNT KNOW MATH, IT SEES [two red heart emojis]," the star wrote on Friday. "RINPOCHE TOLD ME 'SOME PPL MEET, OTHERS 'RECOGNIZE.'"
Edwards is a rapper and music producer who goes by "A.E." and previously dated Amber Rose with whom he shares a 3-year-old son. But they split up back in August 2021 after two years together.
He admitted to cheating on the model during an Instagram Live.
"She's had enough, obviously. I love her, though. That's like, my best friend, the mother of my son. I love my stepson, too, but....I like women," Edwards said.
"I know that I could stop [cheating]. I could give her a good, solid six months and just really, like, deprive myself of my true nature for as long as I can take it, but I don't want to live like that."
Cher was previously married to Sonny Bono and Gregg Allman. She is mom to two sons, Chaz Bono, 53, and Elijah Blue Allman, 46.