Wildfires Burn Around Chernobyl, Ukraine Warns Radiation Smoke Could Spread
Wildfires around Chernobyl have been reported by Ukraine's Center for Strategic Communications and Information Security, with authorities saying there are concerns radiation in smoke could spread.
In a tweet on Tuesday, Stratcom Center UA said seven wildfires were burning in the area surrounding Chernobyl nuclear power plant. It said the area is controlled by Russian troops "so the fires are burning unchecked." It said the wildfires were likely started by artillery shelling or arson.
The Chernobyl Exclusion Zone was set up after an explosion at the power station on April 26, 1986 sent a radioactive cloud over much of Europe, in the world's worst nuclear accident.
Until recently the zone, which covers a 1,000 square mile area, was controlled by the Ukraine military, with extremely limited access to the public, leading it to become a wildlife haven and a long-term experiment in rewilding.
That changed on February 24, when Russian troops entered and took control of the region. Staff at the Chernobyl power plant remain at the site, but how the zone is being managed is now unclear, with power cuts previously reported.
Ukrenergo, a Ukrainian energy company, said last week that a power line connecting the Chernobyl plant to the rest of the country had been damaged by Russian forces, just a day after it had been repaired.
On March 21, Rafael Mariano Grossi, the director general of the International Atomic Energy Agency (IAEA), said staff at the plant had been rotated for the first time since Russian forces took control. In a statement, he said 13 staff members had opted to stay on site, along with most of the Ukrainian guards.
The IAEA said the Ukrainian regulator had told it that radiation levels at all operating nuclear power plants in Ukraine were in the normal range. However, it said it was still not receiving remote data transmission from its monitoring systems installed at the Chernobyl plant.
Wildfires around Chernobyl are concerning. In 2020, huge fires burned an area of around 164 square miles close to the plant. Scientists monitored the fires at the time, looking at the impact on wildlife and whether there was an increased risk of radiation.
Jim Smith, from the School of Environmental, Geographical and Geological Sciences at the U.K.'s University of Portsmouth, was one of the scientists who studied the impact of the 2020 wildfires at Chernobyl. He told Newsweek the risk of inhalation of radioactivity is relatively low. Firefighters were at greater risk from contaminated soil, he said.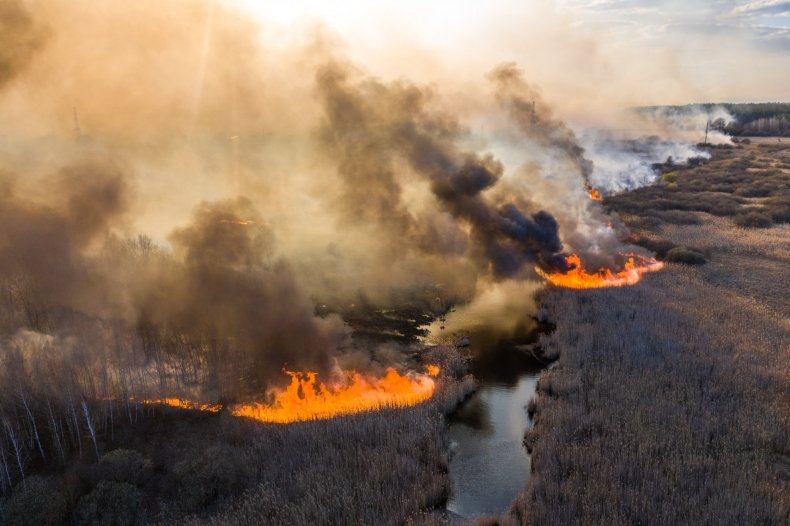 "Wildfires can potentially lead to greater mobility of radioactivity. The redistribution via smoke is very minor but it can lead to greater availability for runoff of radioactivity from soils to water systems. We are still working on this but haven't seen any significant effect of the 2020 wildfires. Fire can also lead to greater availability for uptake to plants and hence greater doses to animals in the zone."
Smith said that the risk of radiation from the wildfires to soldiers and people in the area is low.
The risk posed by the wildfires was far higher than that of radiation. "Wildlife is impacted in the same way as it is by wildfires anywhere—animals which can avoid the fire," he said. "Birds, faster moving animals, can survive, but will likely suffer from temporary loss of habitat and food. Animals which are less mobile can be severely impacted.
"Wildfires—which have been relatively common in the Ukrainian sector of the CEZ in recent years—can have a devastating impact on the many rare species there as well as releasing large amounts of CO2."
Nick Beresford, from the U.K. Center for Ecology & Hydrology, also studied the 2020 Chernobyl wildfires. He told Newsweek fires in this region are now an annual event, with over 1,250 recorded between 1993 and 2014.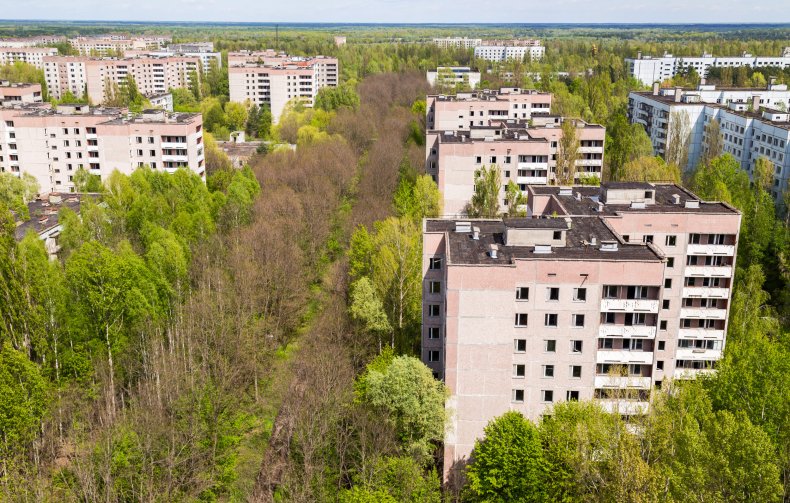 "Obviously under normal circumstances there would be activities to contain the spread of fires–[I have] no idea if this is happening under Russian occupation of the CEZ," he said. "There are also some preventative measured carried out during the year, e.g. maintaining firebreaks, again we don't know it this will happen under Russian occupation."
He said radiation levels will not change as a result of the fires, but "some radioactivity will be mobilized in smoke."
"When there is a fire in the CEZ there are concerns in local populations–and across Europe–about the potential risk of this," he said. "Although this is obviously undesirable the actual inhalation dose, and hence risk, from contaminated smoke is low."
Beresford said all scientific research in Chernobyl has stopped and will not resume under Russian occupation. "If we do become able to consider working in the CEZ again then what will the condition of the infrastructure (local collaborating laboratories) that supports our research be? More importantly what position will out long standing Ukrainian collaborators–29 years in my case–be in?"
This article has been updated to include quotes from Nick Beresford.