Chet Hanks Sparks Outrage As He Posts Anti-Vaccine Video, Calls COVID 'the Flu'
Chet Hanks has sparked outrage after ranting against the COVID-19 vaccine in an Instagram video, during which he dismissed the virus as "the flu."
Hanks, whose parents Tom Hanks and Rita Wilson were among the first high-profile figures to contract the novel coronavirus in March 2020, initially appeared to have a different stance altogether when he shared the video on Monday.
Captioning his clip "SUPER IMPORTANT PSA GUYS LETS GET THRU THIS TOGETHER," Hanks said at the start: 'Look, I've been kind of on the fence about this for a while, that's why I never spoke on it.
"But with the amount of people I know recently that have gotten COVID, and with the numbers rising, I think it's important for me to say I got the vaccine—I think everybody should.
"I think it's really important that we all do this just as citizens, as Americans. We have to look out for each other and get this s*** under control, guys. So I suggest to all my followers, you guys set an appointment and get the vaccine first thing..."
Midway through his message, Hanks then yelled "psych" into the camera, before exclaiming: "B****! If it ain't broke don't fix it! I never had COVID. You ain't sticking me with that mother******* needle. It's the mother******* flu. Get over it, OK?"
Hanks, who recorded the video as he sat in his car, concluded: "If you're sick, stay inside. I'm tired... Why are we working around y'all? If you're in danger, stay your a** inside. I'm tried of wearing a mother******* mask."
Reiterating his stance, he shared an Instagram Story post that read: "THE VACCINE SHOULD BE A CHOICE NOT A REQUIREMENT TO PERFORM OUR BASIC RIGHTS YEAH I SAID IT !!!!! BE AS MAD AS YOU WANT IDGAF !!!!"
As Hanks' video was circulated across social media, he was widely criticized, with a number of Twitter users expressing their outrage.
Reacting to the video, @bwaybaby629 said: "Chet Hanks telling people not to get the vaccine in 2021 vs Colin Hanks teaching people how to make face masks out of his hanks-kerchiefs in 2020...all while their Dad and Mom... were sick with Covid last year. I wonder who the favorite child is?"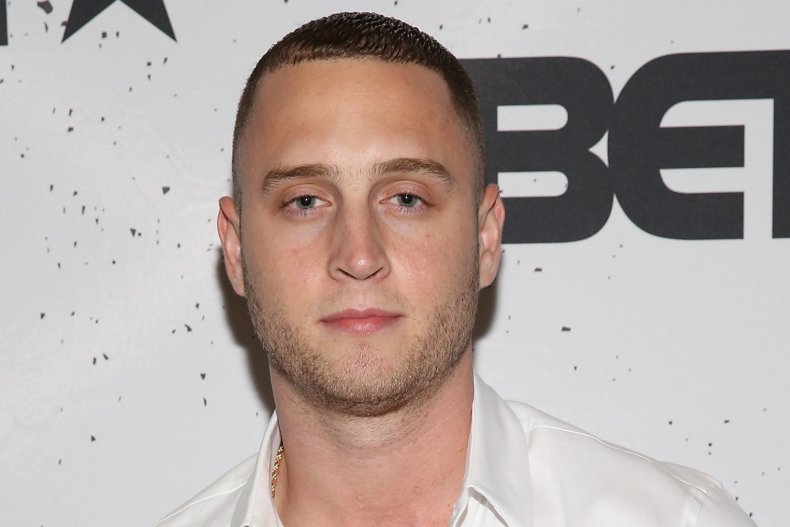 "This is their son?" tweeted @DeathCult45. "His mom and dad both had covid last year and were very sick. How embarrassing for Tom and Rita."
"A doctor said I should wear a mask but Chet Hanks said I shouldn't so I mean... I've got some soul searching to do today," wrote @SweezyBaby.
Observing the social media users who were praising the video, @BennyTheJET2 commented: "People against the vaccines choose the weirdest people to latch onto. Like taking advice from Chet Hanks about the vaccine is so wild to me lol."
"Imagine for a moment that your parents are Tom Hanks and Rita Wilson and you decide to become Chet Hanks," wrote @J264B.
During an appearance on The Late Show in July 2020, Tom Hanks chatted with host Stephen Colbert about his experience with COVID-19, which he and his wife Wilson tested positive for while in Australia.
He said that members of the public wearing masks is the "least you can do" to help prevent the spread of the novel coronavirus.
"I don't get it. It's literally the least you can do," he said when asked for his thoughts on masks. "The least you can do is wear a cloth or a thing, I mean, I'm wearing bandanas, double layer. Mask and wash your hands and try to stay six feet away from a person."
Likening wearing masks to road safety, he said: "Honestly, if you drive a car, if you think it's a constitutional right not to use your turn signals, you should use your turn signals because otherwise you might run into somebody or somebody might run into you, right?
"You want to obey some aspect of the speed limit right? I mean, you don't want to go 120 miles per hour in a slow zone, you slow down right?"
He continued: "You try not to hot buildings and pedestrians. You give that a shot, don't you? Isn't that the least you can do when you're driving a car? I think the least you can do in the United States of America and around the world is to wear a mask and wash your hands, keep your distance. Holy smokes."
For her part, Wilson told Newsweek in September about her battle with COVID-19, as she listed the lingering symptoms that she endured.
"Well, it was not pleasant," she said. "I don't think I'd ever want to have it again. Everybody's symptoms vary, and to degrees of how severe they are. I had a very high fever. I had an intense headache that lasted for about two weeks, and it just wouldn't go away. I was nauseous, and all that entails.
"I also had vertigo, which was very strange. I lost my sense of taste and smell for about two months, and it came back sporadically, but then finally after two months it was back, like normal.
"Everybody should be worried about getting it a second time," she went on. "We haven't had enough information on what's gonna happen. My doctor who I speak to says that it's possible that if I get coronavirus again, that I may have symptoms, I may still have protection from having had it before, but I still act as if I may get it. So I think we have to all behave that way."
Wilson added: "Wearing a mask is sort of the same thing as getting a flu shot, doing it not only to protect yourself, but to protect others. It's kind of [like] being an active member of a good community. You want to help someone else."