Tom Hanks Says Mask Wearing 'The Least You Can Do'
Tom Hanks has criticized people who refuse to wear face masks and face coverings.
Ahead of the release of his new movie Greyhound on Apple TV, the legendary actor made a virtual appearance on The Late Show Tuesday night, Hanks chatted with host Stephen Colbert about his experience with the coronavirus, which he and his wife Rita Wilson contracted earlier this year.
And having experienced some nasty effects of the virus, the Toy Story actor did not hold back when explaining why he feels masks are the "least you can do" to help prevent the spread of COVID-19.
"I don't get it. It's literally the least you can do," he said when asked for his thoughts on masks by the host.
"The least you can do is wear a cloth or a thing, I mean, I'm wearing bandanas, double layer. Mask and wash your hands and try to stay six feet away from a person," he said.
"Is this impossible?" he implored. "I think of George Washington's troops in Valley Forge you know. If you asked them to wear a mask they'd love it because it would keep them a little bit warm, and then they would have washed their hands if the snows were not freezing, they would have been happy to do that."
Hanks, 64, likened wearing masks during the pandemic to practicing road safety.
"Honestly, if you drive a car, if you think it's a constitutional right not to use your turn signals, you should use your turn signals because other wise you might run into somebody or somebody might run into you, right?" he said.
"You want to obey some aspect of the speed limit right? I mean, you don't want to go 120 miles per hour in a slow zone, you slow down right?"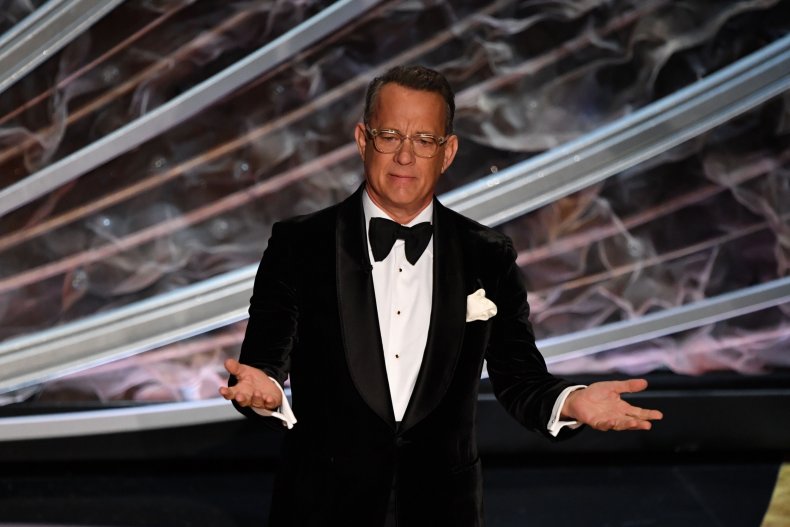 He continued: "You try not to hot buildings and pedestrians. You give that a shot, don't you? Isn't that the least you can do when you're driving a car? I think the least you can do in the United States of America and around the world is to wear a mask and wash your hands, keep your distance. Holy smokes."
The U.S. Centers for Disease Control and Prevention's research states that cloth face coverings help to prevent the spread of COVID-19 and are recommending that "people wear cloth face coverings in public settings when around people outside of their household, especially when other social distancing measures are difficult to maintain."
There are currently 3.48 million reported cases of coronavirus in the U.S.
Hanks and his wife were two of the first high profile people in the world to announce they had contracted coronavirus back in March, and though they have both recovered, the actor said the illness made his bones "feel like soda cracker."
The star revealed he is also donating his plasma to help so other COVID-19 patients can benefit from the coronavirus antibodies his blood contains.