Chicago Christopher Columbus Statue Center of Protest, Police Clash
Police and protesters in Chicago faced off Friday evening at the Christopher Columbus statue in Arrigo Park in the neighborhood of Little Italy as protesters attempting to topple the statue were dispersed by police in using tear gas.
The protesters have since been forced out of the park by a mass police presence.
The protesters seemed to come from the Black and Indigenous Solidarity Rally Protests at the Buckingham Fountain three miles east of Arrigo Park. The marchers held banners reading "Defund CPD" (meaning the Chicago Police Department), "Black Lives Matter" and "Decolonize Zhigaagoong," a slogan of a movement seeking to restore lands to Native Americans who lived in Chicago before being forcibly removed by the U.S. military in 1833.
According to the Chicago Tribune, roughly 1,000 protesters marched to the park and surrounded the statue around 6:30 p.m. local time. Over a dozen threw ropes over the statue, chanting, "Columbus was a murderer. Columbus was a thief."
A video posted on Twitter at 6:45 p.m. showed a group of people standing on the circular dais where the statue is positioned, chanting and playing music. In the video, ropes appear to be tied onto the statue, possibly in preparation to topple the statue.
The protesters were unsuccessful in their attempt as police arrived. Video shows officers guarding the statue, standing behind a barricade of police bicycles while protesters throw projectiles and fireworks while chanting "Who do you serve? Who do you protect?"
One video also shows a fight seemingly breaking out between protesters, though it's unclear why.
A surge of police in riot helmets descended on the park, dispersing protesters with batons and tear gas and they established a perimeter around the hill where the statue stands. Protesters coughed as they returned to the streets outside of the park.
Four police officers were injured and taken to area hospitals after the clash, according to NBC reporter Natalie Martinez.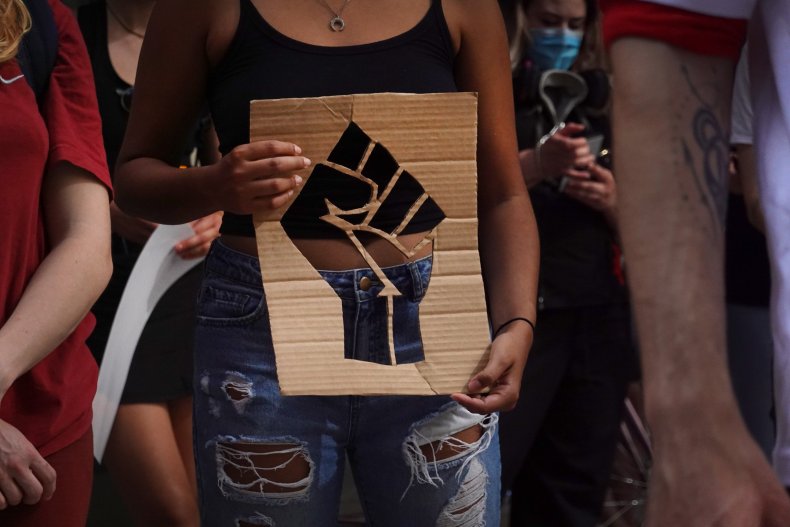 While leaving the park, Colin Boyle, photo editor of the Daily Northwestern—Evanston, Illinois' daily newspaper—recorded video of a police officer shoving him away from the area even though Boyle allegedly showed the officer his press badge.
On June 9, people in Richmond, Virginia tore down the Christopher Columbus statue in Byrd Park, set it on fire and threw it in the lake. A sign left on the pedestal read, "Columbus represents genocide."
October 12 became the national holiday of Columbus Day in 1934. But since 1989, nearly 140 cities and 10 U.S. states have started celebrating the date as Indigenous Peoples' Day to commemorate Native American people, their history and culture rather than commemorate an explorer that historians say was a known slaver of Native Americans.