Chicago Could Face Police Shortage in Emergencies Due to Vaccine Mandate
Chicago could face a shortage of police officers in emergencies due to the dispute over the city's vaccine mandates, prompting an effort to gather information about how many suburban agencies could be drafted in to provide backup.
A statewide law enforcement coalition told suburban police officials on Monday that the Chicago Police Department could need assistance in the event of an emergency, should large numbers of officers be taken off the job, the Chicago Tribune reported.
The help would be in case of an emergency like a plane crash or tornado, not to answer routine calls or patrol streets, Illinois Law Enforcement Alarm System (ILEAS) executive director James Page told the Tribune.
Page added that ILEAS is only gathering information on how many officers in the region would be able to help and how long it would take to deploy them at this stage.
ILEAS has been contacted for additional comment.
Some sheriffs have already said they would not be willing to send their deputies to the city.
Kane County Sheriff Ron Hain said he would not send any personnel to Chicago unless an officer is under "direct duress" because he does not support what he described as the "slanted agenda" of the city's politics.
In a statement shared on Facebook, he said he believed the "polarization between the community and police is only reinforced by current Chicago politics."
Hain also said he would not allow his deputies to be subjected to using force in the city under the prosecutorial jurisdiction of the Cook County state's attorney.
"The Chicago Police Department has a dedicated force of professional humans who deserve all of the support the nation can offer," he added. "The solution is simple; allow Chicago Police to be the police, support their human resources, and operate treatment and vocational support programs led by people in uniform. This is how Chicago can halt crime and build bridges with the community like we've done here in Kane."
According to the Tribune, Hain is vaccinated but does not want to mandate that his 300-plus employees receive the shot.
Kendall County Sheriff Dwight Baird, who has also not required his deputies to report their vaccination status, also said he would not send his deputies to help in what he said was a "self-induced emergency."
"You make that decision, you figure out how to keep your city safe," he told the newspaper.
Baird's counterpart in DuPage County, Sheriff James Mendrick, agreed.
Mendrick said he would not withhold help in a serious emergency, but added that it didn't make sense for the city to take its unvaccinated officers off the job and ask regional law enforcement agencies—many of which don't have vaccination requirements—to step in and help.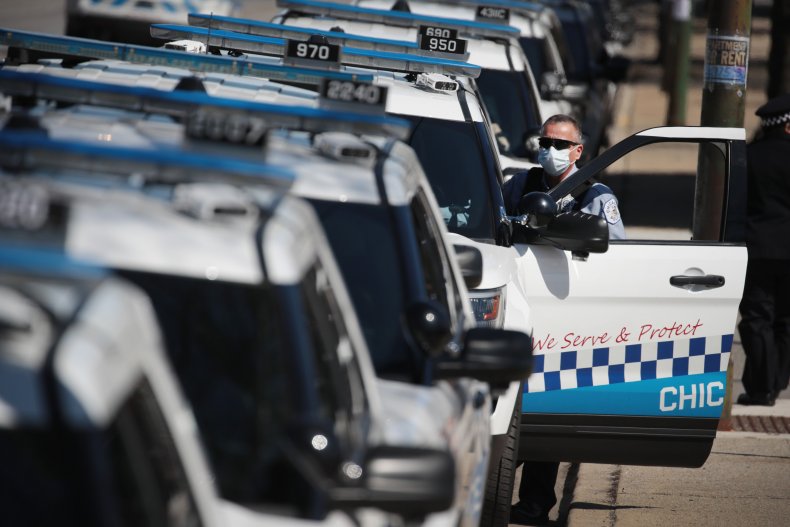 But some agencies have said they are happy to provide help if it is needed.
The Cook County Sheriff's Office told Newsweek that it has offered assistance to the Chicago Police Department.
"We have not been asked to assist Chicago with policing in relation to any potential emergency staff shortage but have offered assistance," the sheriff's office said. "The Sheriff's Office currently assists Chicago Police in the 15th and 6th Districts as part of our anti-violence initiatives and will continue to offer support as resources allow."
The effort comes after Chicago Mayor Lori Lightfoot confirmed on Monday that a "very small number" of officers were placed on a "no-pay status" after not complying with a city requirement to report their COVID-19 vaccination status after being given opportunities to follow through.
About 65 percent of Chicago Police Department employees had complied with the requirement to log their status on an online vaccine portal as of Monday, lagging far behind other city departments.
Lightfoot told reporters that the city has contingency plans should officers be removed from the job, but said she did not foresee them being needed. "I'm not seeing... that there's going to be any disruption in our ability to keep our neighborhoods safe," she said.
"Our young men and women in the police department are smarter than maybe they've been given credit for. They're not going to risk their careers by being insubordinate and having in their jackets the fact that they defied a direct order of their supervisors. I don't see that."
Chicago is requiring city employees to be vaccinated by December 31 unless they have a religious or medical exemption. Those who are not vaccinated are required to get tested twice a week at their own expense until then.
The first deadline to report vaccination status in the city's vaccine portal was on Friday. John Catanzara, the president of the Fraternal Order of Police, had instructed police officers not to provide the required information. Both the city and the union have taken the matter to court.
According to NBC Chicago, the police department on Sunday issued a warning to officers saying those who do not comply with the requirements could face "separation" from the department.
The Chicago Police Department has been contacted for additional comment.
Update 10/20/21 at 10:30 a.m. ET: This article has been updated with comments from the Cook County Sheriff's Office.