Chicago to Expand COVID Travel Restrictions as Delta Variant Cases Rise Across Country
Chicago added 12 more states to their travel advisory Tuesday amid a rise in COVID-19 cases in the city, recommending unvaccinated people traveling from more than 30 states or territories either quarantine or test negative for the virus upon arrival.
The states added to the list include Idaho, North Carolina, Washington, Oregon, California, New Mexico, Montana, Delaware, New York, Indiana, Wisconsin, and Iowa. A total of 31 states and two territories are now included in the advisory.
In previous weeks, the city had added the following states and territories to the advisory: Alabama, Alaska, Arizona, Arkansas, Florida, Georgia, Hawaii, Kansas, Kentucky, Louisiana, Mississippi, Missouri, Nevada, Oklahoma, South Carolina, Tennessee, Texas, Utah, Wyoming, Puerto Rico, and the U.S. Virgin Islands, according to the Chicago Department of Public Health.
Newsweek reached out to the Chicago Department of Public Health for comment about which states will be added on Tuesday but had not heard back by publication. This story will be updated when more information is available.
"Any unvaccinated people traveling from these states and territories are advised to obtain a negative COVID-19 test result no more than 72 hours prior to arrival in Chicago or quarantine for a 10-day period upon arrival. Vaccinated individuals do not need to quarantine or receive a negative test," the department said in a statement when updating the advisory last Tuesday.
The city is updating the travel advisory every Tuesday. States with an average of 15 new cases per 100,000 people are added, and changes go into effect on Friday.
Several states remain at-risk of being added to the advisory. Ohio, Rhode Island, New Jersey, Virginia, Nebraska, West Virginia, North Dakota, Minnesota, Maryland, Connecticut, and Massachusetts have a daily infection rate of at least 10 new cases per 100,000 people, according to the health department.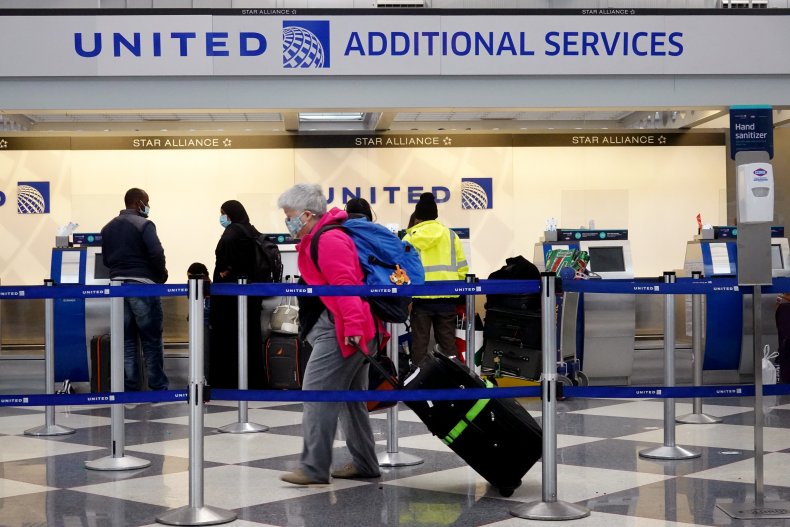 Cases in Illinois have increased in the past month as the highly-transmissible Delta variant has become dominant in the United States. On Sunday, the state's seven-day average of new cases was 2,789, compared to 421 a month earlier, according to data from John Hopkins University. Just over 51 percent of state has been fully vaccinated against the virus.
Chicago began adding states to their advisory list in July—starting with Arkansas and Missouri.
As COVID-19 cases increase worldwide, some places have begun to reinstate travel advisories.
The Center for Disease Control and Prevention has also expanded the list of countries Americans should not travel to due to high COVID-19 risk in recent weeks. Some places recently added to the CDC's travel advisory list—which has about 90 countries in total—include Greece and Ireland.
The CDC recommends people who are not vaccinated to delay travel until they have been fully vaccinated against COVID-19. Vaccinated people are still asked to wear a mask while on planes, buses, trains, and other forms of transportation. After travel, it is recommended to monitor for COVD-19 symptoms.
Unvaccinated people are asked to take a COVID-19 test within three to five days after travel and to self-quarantine for seven days, even if they test negative. If unvaccinated people choose to not get tested, they are asked to self-quarantine for 10 days, according to the CDC.
Updated 08/10/2021, 1:13 p.m. ET: This story has been updated with the list of states added to the Chicago Department of Public Health travel advisory.