Chicago Mayor Lori Lightfoot Responds to Murder Video, Also Addresses Bears Leaving Town
Chicago saw another deadly weekend of shootings, one of them caught on video. A man and woman were caught on video getting shot outside their car on the city's west side, with the man dying and the woman in critical condition. It's just another rash of shootings in the city.
The video shows 24-year-old Gyovanny Arzuaga get shot dead, and a woman who was dragged out of the car and was also shot. She remains in critical condition.
Chicago Mayor Lori Lightfoot addressed the horrific video Monday at a press conference.
"As you saw from the horrific video, it wasn't just one person. There's one person who dealt the fatal shot. But there were others who were standing by who dragged that poor woman out of the car. The man who was killed literally used his body as a shield and paid for that with his life," Lightfoot said.
Lightfoot went on to describe the video a little bit more, and she said the actions of the shooters and bystanders aren't indicative of the "young Black men in our city."
"The fact that happened in our city and so many individuals stood around and seemingly were trying to take advantage of this moment that, I believe, started with a car accident, is a horrific statement ... about those men who were involved in that," the mayor said. "I don't believe they are typical by any stretch of young Black men in our city. But it's horrific nonetheless."
The mayor issued a stern warning to the shooters and other people seen in the video, saying the city will "spare no resource" to hunt them down.
"You know who you are. People know who you are," the mayor said. "You need to turn yourself in because we are gonna spare no resource whatsoever to find them and you and bring you to justice and make sure that these people who created such brazen chaos and harm are held in custody 'til they see their day in court."
Lightfoot recently addressed something she felt was also important, and that's the Chicago Bears threatening to move to a suburb for a bigger stadium.
Lightfoot took a jab or two at the Bears last week, and she passed off the violence in her city as an American epidemic. Her spat with the Bears came after the previous weekend's shooting sprees in Chicago, which she said was merely an American problem.
"Unfortunately, Chicago is not unique," Lightfoot said. "We are part of a club of cities to which no one wants to belong, cities with mass shootings."
Businesses in Chicago are worried about mass shootings happening in their city, and the Bears are threatening to move out to an outlying suburb. Lightfoot vows to not let that happen.
"Our city is home to some of the world's finest sports teams, who have played a vital role in the city's reopening," Lightfoot said in a statement late last week. "As part of the city's recovery, many organizations are doubling down on their commitment to Chicago, and we expect the Chicago Bears to follow suit. The Bears are locked into a lease at Soldier Field until 2033."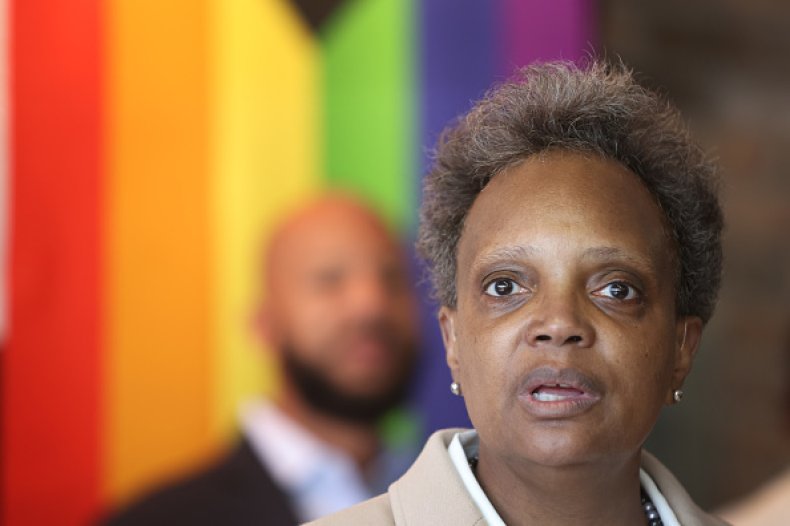 The Bears are in negotiations with the city for improvements to their home stadium, Soldier Field. Lightfoot said a Bears organization's threat to move during negotiations are simply a tactic the team has used in the past.
"This announcement from the Bears comes in the midst of negotiations for improvements at Soldier Field," Lightfoot stated. "This is clearly a negotiating tactic that the Bears have used before. As a season ticket holder and longtime Bears fan, I am committed to keeping the 'Chicago' name in our football team.
"And like most Bears fans, we want the organization to focus on putting a winning team on the field, beating the Packers finally, and being relevant past October. Everything else is just noise," she concluded.
Ted Phillips, who's the Bears team president, announced Thursday that the franchise intended to purchase the Arlington International Racecourse, which could open the door for the team to move and build not only a bigger stadium, but an entertainment complex.
"It's our obligation to explore every possible option to ensure we're doing what's best for our organization and its future," Phillips said. "If selected, this step allows us to further evaluate the property and its potential."