Chicago Mayor Poses with Barack Obama on Same Day She Refused to Meet Donald Trump: 'Your Leadership Inspired Millions'
The Mayor of Chicago met with former President Barack Obama at a dinner on the same day she snubbed Donald Trump's first visit to the city.
Democrat Lori Lightfoot posted a picture of her and the 44th President of the United States at an Obama Foundation community dinner last night, saying his leadership "inspired millions to fight for change—and continues to do so today."
"Good to see you at tonight's @ObamaFoundation community dinner, and looking forward to collaborating on creating new opportunities for the city that we love," she said.
Her tweet with the former commander-in-chief appeared to be a subtle jab at President Trump, who used a speech at the International Association of Chiefs of Police conference earlier in the day to criticise Chicago.
The president's speech came after city authorities, including Lightfoot, refused to meet him and local protesters greeted his first appearance in Chicago with signs calling for his impeachment.
During Trump's speech to the IACP, he came down hard on Chicago, calling the Windy City "embarrassing to us as a nation" when it came to crime and also said Afghanistan was a "safe place by comparison."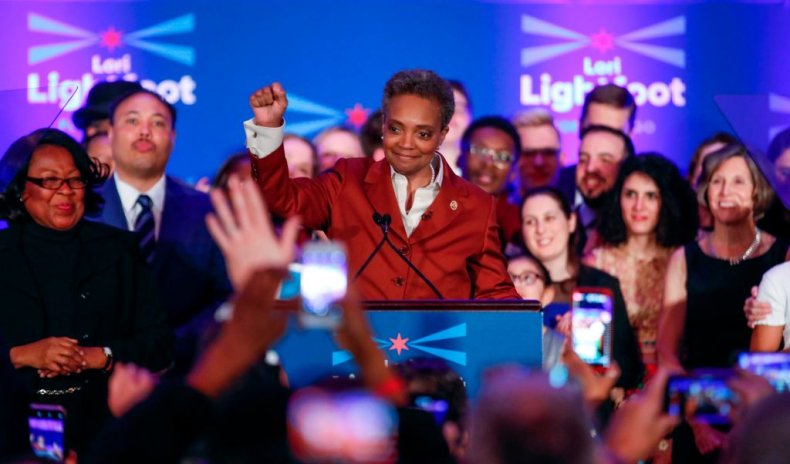 The commander-in-chief also had choice words for Chicago Police Department Superintendent Eddie Johnson, who revealed he was also boycotting Trump's address in what he portrayed as a defence of "our city's core values."
"There's one person that's not here today," Trump told the IACP yesterday. "Where is he? I want to talk to him. In fact, more than anyone else this person should be here, because maybe he could learn something. And the Chicago superintendent of police, Eddie Johnson."
The president went on to accuse Johnson of "not doing his job" and called Chicago "the worst sanctuary city in America," referring to local authority reluctance to work with U.S. Immigration and Customs Enforcement personnel.
"It's no surprise that @realDonaldTrump brought his insulting, ignorant buffoonery to Chicago," Chicago Mayor Lightfoot tweeted in response. "Luckily, in this city, we know the truth and we will not let anyone—no matter how high the office—denigrate who we are as a people or our status as a welcoming city."
The newly-elected Democrat later hit out at the president's "hateful and dishonest rhetoric" and instructed Trump to "go back to D.C. and face his fate."
"I stand by the Superintendent for living up to the values of this great city and its residents," she added.
Chicago Superintendent Johnson had his own response to the president. He told a press conference recorded by ABC News: "Today, the same police officers the president criticised for their inability to protect this city spent all day protecting him."
But Trump was not the only person who was unhappy about the superintendent's snub of Trump's IACP conference address.
In a Facebook post, Johnson's colleagues in Chicago Lodge No. 7 of the Fraternal Order of Police also expressed disappointment at his decision.
"The FOP would be extremely disappointed if Superintendent Eddie Johnson would disrespect President Trump by not attending the President's speech at the convention, as has been suggested in the media," they said.
"Such a gesture would be an insult to both President Trump and the office of the presidency itself and would be a mark of disgrace upon the city throughout the entire nation, including Mayor Lori Lightfoot."