Chicago, Minneapolis Weather Forecast: Minus 55 Windchill Expected, Frostbite, Hypothermia Possible
As Punxsutawney Phil prepares to come out of his burrow and determine the fate of winter, residents in the Midwest have been dealt harsh weather blows, forcing the cancellations of flights and reaching possibly historic records.
For the Chicago area and parts of Minnesota, snowfall was expected to peter off on Monday. However, the decrease in temperature prompted the National Weather Service (NWS) to issue windchill advisories and warn residents about the potential dangers of going outside without proper protection.
Chicago Windchill, Snowfall Totals
On Monday morning, the NWS forecasted that the snow would change to freezing drizzle before ending completely. Wind chills as low as 55 degrees below zero were possible, prompting a windchill watch.
A windchill watch signifies the potential for a combination of cold air and wind to create "dangerously low wind chill values." The watch was issued for Tuesday evening through Thursday morning and included the following cities:
Dixon
DeKalb
Aurora
Elgin
Wheaton
Chicago
Ottawa
Oswego
Morris
Joliet
Gary
Valparaiso
Although snow is bstarting to taper off, an overnight dump left several inches of snow in areas of Chicago. Herscher received the least amount of snow, according to WMAQ, with just half an inch, and Waukegan received the most, with 7.3 inches.
O'Hare International Airport received 3.1 inches, according to WMAQ, and the airport posted on Twitter that nearly 600 flights were canceled. Other airlines reported delays averaging an hour.
Windchill, Snowfall Totals for Minneapolis
On Monday morning, light and blowing snow was expected to diminish, according to the NWS in Minneapolis to diminish. However, the end of a winter storm warning was replaced with a windchill advisory, which was scheduled to go into effect on Tuesday morning.
From Monday night into Tuesday morning, windchills were expected to fall between 25 degrees below zero and 35 degrees below zero. On Tuesday morning through Thursday morning, parts of western and central Minnesota could experience dangerous windchills as low as 65 degrees below zero. In east central Minnesota and west central Minnesota, windchills could fall as low as 55 degrees below zero.
"The dangerously cold windchills could cause frostbite on exposed skin in as little as five minutes," the NWS said.
Ahead of the impending weather, the NWS issued windchill advisories from 3 a.m. CST until 3 p.m. CST on Tuesday and then again from 3 p.m. CST until 9 a.m. CST on Thursday. Target counties were identified as Anoka, Carver, Chisago, Dakota, Goodhue, Hennepin, Ramsey, Rice, Scott and Washington.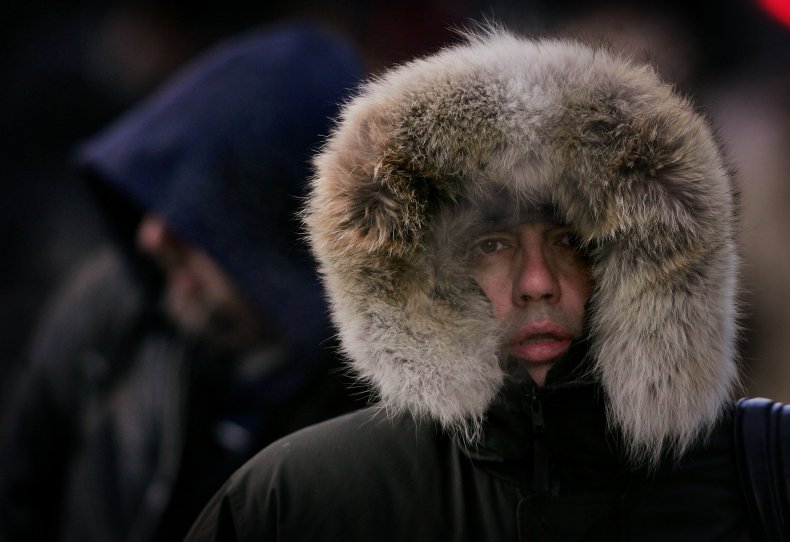 Windchill advisories were also issued for several other areas, scheduled to begin at midnight on Monday and lasting until 9 a.m. CST on Tuesday and then again from 9 a.m. CST on Tuesday until 9 a.m. CST on Thursday. The areas included in the advisories were:
Martin County, Blue Earth, Faribault, Freeborn, Le Sueur, McLeod, Nicollet, Sibley, Steele, Waseca, Brown, Redwood, Renville, Watonwan, Lac Qui Parle, Yellow Medicine, Isanti, Kanabec, Meeker, Sherburne, Wright.
Other windchill advisories:
Jackson, Nobles, Rock, Cottonwood, Lincoln, Lyon, Murray, Pipestone: 6 p.m. CST Monday until 6 a.m. CST Tuesday, 6 a.m. CST Tuesday to 9 a.m. CST Thursday
Chippewa, Swift, Benton, Douglas, Kandiyohi, Mille Lacs, Morrison, Pope, Stearns, Stevens, Todd: 9 p.m. CST Monday until 6 a.m. CST Tuesday, 6 a.m. CST Tuesday until 12 p.m. CST Thursday
Fillmore, Houston, Mower, Olmsted, Wabasha, Winona: 6:00 p.m. CST Monday until 12 p.m. CST Tuesday, 12 p.m. CST Tuesday until 12 p.m. CST Thursday
The NWS described the weather between Tuesday and Thursday morning as a "historic cold" and explained that frostbite and hypothermia could occur if people didn't take precautions.
"Record-low temperatures are possible in the Twin Cities Wednesday morning and Thursday morning," the NWS said. "The record for Wednesday is 30 below, and the record for Thursday is 27 below."
Minneapolis received about four inches of snow overnight Sunday into Monday, according to WCCO, and parts of central Minnesota received as much as six inches.