Chicago Officers Upset by Vaccine Mandate Recruited by Indiana Senator, State Police
Chicago police officers refusing to comply with the city's COVID-19 vaccine mandate are being wooed by Indiana officials with promises of unvaccinated police work.
Indiana Senator Mike Braun on Tuesday tweeted that he was "ready to help connect Chicago police officers to an Indiana police department that is hiring now and doesn't have a vaccine mandate." By Thursday afternoon, the Republican claimed that his office had "already heard from many Chicago police interested in serving Hoosiers."
"Indiana's a place where I built my business, we don't like those top-down mandates," Braun said during a Thursday Fox Business interview. "When you got places like Chicago, where their mayor is acting like the federal government and they've got a state government that's about as bad, similar to that of maybe California or New York, people will say that enough is enough."
"The welcome sign is open for the folks that do the hardest job in the country," added Braun. "When you put these crazy ultimatums—like either get a vaccine or lose your job—that is government in overdrive. And some places will benefit if you're nearby. They'll come to us. I hope they do."
Indiana State Police spokesman Sergeant Glen Fifield issued his own recruitment call in a tweet on Tuesday, although he later deleted the tweet after a person replied with a screenshot of the Indiana State Police website that showed applications were not being accepted. The site was later updated to indicate that job seekers could submit "pre-applications."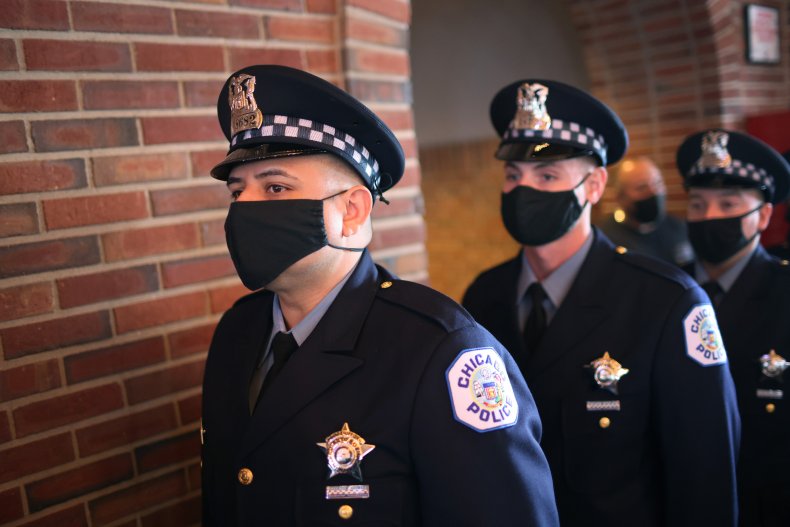 "Hey Chicago Police Officers, we're hiring! No vaccine mandate," Fifield wrote in the now-deleted tweet. "Lower taxes, great schools, welcoming communities."
Although Chicago Mayor Lori Lightfoot's vaccine mandate has not been well received by some police officers, Chicago Police Department Commissioner David Brown has embraced the mandate. Thousands did not comply with a deadline to submit their vaccination status to the city last Friday, resulting in at least 21 officers being suspended without pay by Tuesday.
The Chicago Fraternal Order of Police (FOP) has pushed back on the mandate, with FOP President John Catanzara urging members to refuse to reveal their vaccination status. Officers that report their status do not have to be vaccinated to keep their jobs, but those that are unvaccinated are required to submit to regular COVID-19 testing.
Lightfoot requested and was granted a restraining order that prevents Catanzara from speaking about the vaccine to the press or online last week, saying that she was refusing to "stand idly by while the rhetoric of conspiracy theorists threatens the health and safety of Chicago's residents and first responders."
"We can't have the people that we are asking to enforce the law to act like they are above the law," Lightfoot said during an unrelated press conference on Thursday. "[Other officers] are going to wake up to the reality that they are being led over a cliff by someone who's already destroyed his career."
Newsweek reached out to the Chicago Police Department for comment.