Chicago Police Union Leader Defends Capitol Rioters, 'There Was Little Destruction of Property'
The president of Chicago's largest police union defended the actions of a mob of Pro-Trump rioters who stormed the U.S. Capitol—an incident that resulted in four deaths on Wednesday.
John Catanzara, president of the Fraternal Order of Police Lodge 7 and a Trump supporter, defended the rioters in an interview Wednesday by saying "there was very little destruction of property."
"There was no arson, there was no burning of anything, there was no looting, there was very little destruction of property," Catanzara told the radio station WBEZ in a Wednesday evening phone interview. "It was a bunch of pissed-off people that feel an election was stolen, somehow, some way."
He continued by voicing empathy for the rioters who felt "frustration" over the 2020 presidential election, and said that there was no violence involved in the assault on the Capitol.
"Evidence matters," Catanzara said. "Until that appears, shame on them for what they did, but it was out of frustration. There's no fights. There's no, obviously, violence in this crowd. They pushed past security and made their way to the Senate chamber. Did they destroy anything when they were there? No," he said.
In reality, one woman was shot and killed inside the Capitol, and three others suffered from fatal medical emergencies in connection with the riot. Additional damage in the aftermath of the assault included shattered glass, broken windows, destroyed property, and ransacked offices in the Capitol building.
"They're individuals," Catanzara added. "They get to do what they want. Again, they were voicing frustration. They're entitled to voice their frustration. They clearly have been ignored and they're still being ignored as if they're lunatics and treasonous now, which is beyond stupid."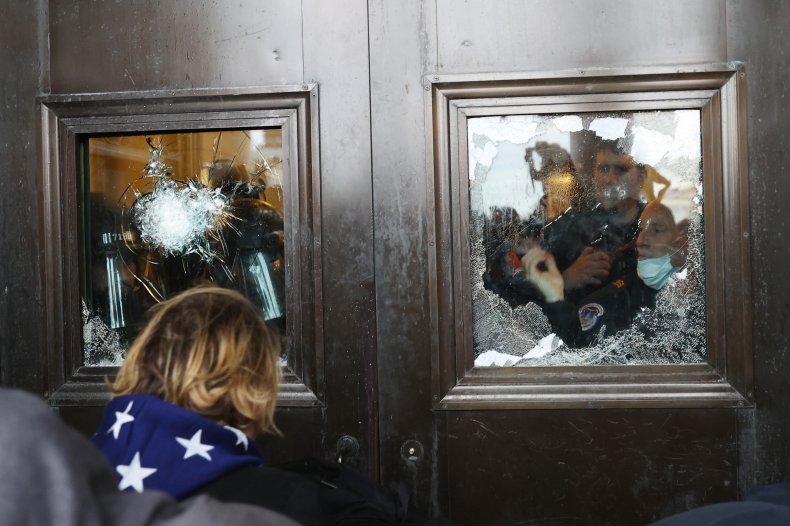 In an interview with the Chicago Tribune on Thursday, Catanzara added that "there's no excuse for what violence did occur or officers being attacked and injured."
Despite that comment, he continued to downplay Wednesday's events.
"There's a fine line ... many of them crossed it," he said. "Many of them did not cross it, though. I mean, it was not all (thousands of) people that were at that march that stormed the Capitol building. So let's call it for what it was. It was a small section of idiots who obviously descended on the Capitol and decided that that was a great course of action."
In both interviews, Catanzara said that the Capitol Hill riots were less serious than protests that occurred across the country in connection to the Black Lives Matter movement.
"[The riots were] very different than what happened all across this country all summer long in Democratic-ran cities and nobody had a problem with that," he told WBEZ.
On Thursday, Chicago's Democratic mayor, Lori Lightfoot, responded to Catanzara's statements by calling them "clear delusion or reckless disrespect for the rule of law."
"This wasn't 'frustration.' It was a violent insurrection. The comments by John Catanzara, Chicago FOP President, either demonstrate clear delusion or reckless disrespect for the rule of law—or both," Lightfoot tweeted.
Catanzara is currently facing a disciplinary hearing to determine whether he should be fired as a Chicago police officer over allegations that he made offensive comments on Facebook.
Among those comments includes a post in which he's accused of being disrespectful to Muslims, the Chicago Tribune reported.
Newsweek reached out to Catanzara for additional comment, but did not hear back in time for publication.