As a bitter fight over school closures in Chicago rolls into a second week, teachers have accused Mayor Lori Lightfoot of using bullying tactics to force them back into classrooms.
Classes in the nation's third-largest school district, Chicago Public Schools (CPS), were canceled for a fourth day after negotiations over remote learning and COVID-19 safety protocols did not produce an agreement over the weekend.
The teachers' union, Chicago Teachers Union, last week voted to revert to remote instruction for two weeks amid soaring COVID-19 cases in the city. It is calling for an expansion to in-school testing programs, and for schools to be closing based on certain metrics.
But city leaders want teachers back in classrooms, arguing that districtwide remote learning is not authorized under state law, and that it would be detrimental to students.
Lightfoot and officials have maintained that schools are the safest place for students, noting that more than 92 percent of teachers and staff are vaccinated.
While other districts nationwide have faced the same hurdles in resuming in-person classes, Chicago "was an exception because of testing issues," Randi Weingarten, the president of the American Federation of Teachers, of which the Chicago union is an affiliate, told The Mehdi Hasan Show on Sunday.
Noting that Illinois Gov. J.B. Pritzker had announced 350,000 tests would be sent to CPS, Weingarten urged officials to "get it into schools."
"I bet if you get that into schools on Monday, we're going to have schools open this week," she added. "This is what others have done all across the country. That's why LA is opening, that's why D.C. is opening, that's why New York is opening."
Rather than return to remote learning after the union's vote, CPS canceled classes on Wednesday, just two days after students returned from winter break.
Teachers took to social media in frustration after realizing they had been locked out of their online classrooms after the union's vote.
"Our social workers can't speak with students with mental health needs. Our school psychologist can't hold therapy sessions. Our counselors can't support students with college deadlines," Nora Flanagan, a teacher at Northside College Prep, and a union delegate, told Newsweek. "I think the mayor swung a very big hammer."
Jeff Schaller, a teacher at Hanson Park Elementary School, accused CPS and Lightfoot of locking teachers out of their online accounts to "bully" them back into classrooms.
"They have been employing scare tactics to get union members to go back into schools and report to work in-person," he told Newsweek.
Schaller and Flanagan both said that teachers agree that in-person instruction is better, but that remote learning is necessary until COVID-19 cases fall.
"We don't want remote," Flanagan said. "We want safety though more than anything. So while I agree remote is not ideal, it's better than pushing our hospitalization rates higher. It's better than endangering our students, many of whom have to take public transit to get to schools where distancing also isn't possible."
Schaller added that remote learning "isn't a perfect system, but it is one we have used for over a year and learned a lot about. It is also a strategy to keep our students, staff, and families safe given the current conditions."
Both described a fraught return to school after winter break, with students quarantining or being sent home after testing positive on Monday and Tuesday.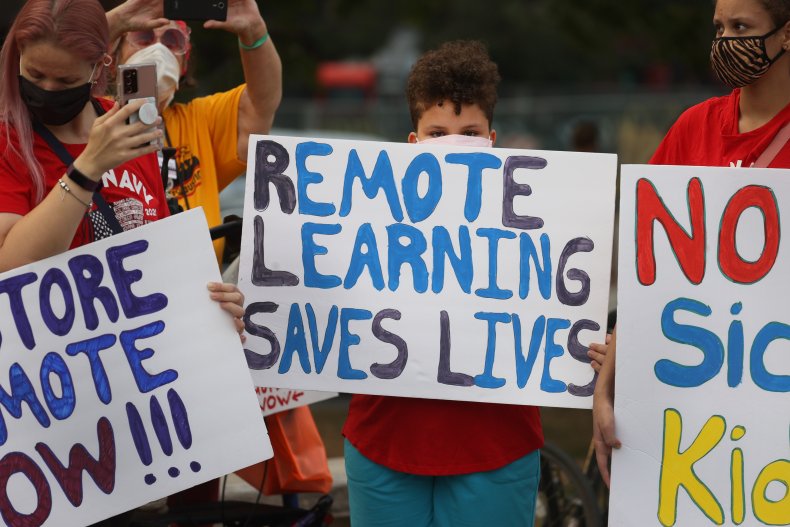 Flanagan said not enough of her students had opted to get tested, but of those that did, about half were positive. "I think it's painfully obvious that we need more testing, because only 8 percent of the students at my school voluntarily signed up to get tested," she said.
Lightfoot has called opt-out testing "morally repugnant."
But the union has pointed to the dozens of other Illinois districts and more nationwide that have been administering opt-out tests this school year.
"Educators are not the enemy Mayor Lightfoot wants them to be," it said in a statement on Sunday. "The one place the more than 20,000 teachers, clinicians, paraprofessionals and other educators of this city want to be is inside classrooms with their students."
But, it added, that classrooms needed to be "safe, healthy and well-resourced."
In a letter to parents on Sunday night, Martinez and Dr. Allison Arwady,
Commissioner of the Chicago Department of Public Health, said "research has shown that students learning in person and staff teaching in person were less likely to get COVID than the community at-large" in Chicago.
"That's because the investments and protocols in our schools provide more protection than can be found in the community," they added.
As the standoff continued, Lightfoot persisted in rebuking the teachers' union.
"I'm doing everything I can to make sure" kids will be in school this week, the mayor said on NBC's Meet the Press on Sunday. "And to be clear, what the Chicago Teachers Union did was an illegal walkout. They abandoned their posts and they abandoned kids and their families."
Teachers are also calling for more protective face masks, such as KN94 and N95, to be given to students, and for the return of temperature checks at entry points, as was seen last year.
"We currently are promised weekly testing, which is sometimes non-existent," Schaller said. "CPS has promised safety measures that are not happening or are ineffective in stopping the spread of this deadly virus. Our schools are dirty, mouse and rat infested, and overcrowded. Students cannot properly social distance."
Schaller said that teachers "did everything we could to make remote learning accessible, engaging, and educational for over a year" in difficult circumstances.
Teachers are willing and ready to work remotely until infections go down, but the district and Lightfoot are keeping them from doing so, he said.
"They are upset that we aren't at school, in person, in an unsafe work environment so they are keeping the children from having any education at all," he said.
Flanagan agreed that the union won't be backing down. "We're exhausted, and we've been stretched really thin and worked really hard," she said. "But if we're still willing to pick a fight with a bully mayor, I bet we mean it."
The mayor's office declined to provide further comment. The Chicago Teachers Union has been contacted for additional comment.