Chicago Teachers Berate Union Chiefs Over Return-to-Work Deal Before Narrow Vote
Members of the Chicago Teachers Union (CTU) berated their union's elected leaders for accepting a return-to-work deal with Chicago Public Schools (CPS) that left out the safety measures desired by union members amid the city's rising COVID-19 case numbers.
The deal was only approved by 55.5 percent of CTU's 600 members, a sign of their dissatisfaction—many voted no as a protest vote, Chris Geovanis, CTU's Communications Director, told Newsweek.
The agreement will end Chicago Mayor Lori Lightfoot's five-day cancellation of in-person classes amid the ongoing union negotiations. However, the teachers' desired safety demands put them at odds with CPS, the Biden administration and Democratic leaders who have urged schools to remain open despite the worsening pandemic. The political fighting threatens to strain the relationship between the union and Democratic leaders.
In its Wednesday evening meeting with members, the CTU extended the discussion period "two or three times," according to Geovanis, so that members could clearly understand the agreement and voice their concerns. A majority of the frustration was directed at the mayor, who is effectively the CPS boss, Geovanis said, and not the union's elected leaders. CTU members felt Lightfoot hadn't done enough to address the union's pandemic-related safety concerns.
A primary point of contention has been over a disparity between the number of COVID-19 cases counted in schools and reported by the CPS and the Chicago Department of Public Health (CDPH).
"We know that there's a huge disparity between the numbers that the city reports to the state and the numbers that the state is showing off for the situation in our schools," Geovanis said. "That's been a chronic complaint that CPS and CDPH are under-counting COVID. COVID the transmission that can be linked to the school communities and that their notification lag time is dangerous."
CTU's members had wanted CPS to agree to shut down all district schools if a certain percentage of students and faculty were absent due to COVID-19. The city shut down all schools when the pandemic first began.
Instead, the agreed-upon deal will shut down only a single school for five days if at least 30 percent of its teachers miss school due to COVID-19 for two consecutive days. The five-day shutdown will only occur if substitute teachers can't get the total number of absent teachers to go below 25 percent. Individual schools will also close if 40 percent of students are quarantining due to COVID-19, the Chicago Sun-Times reported.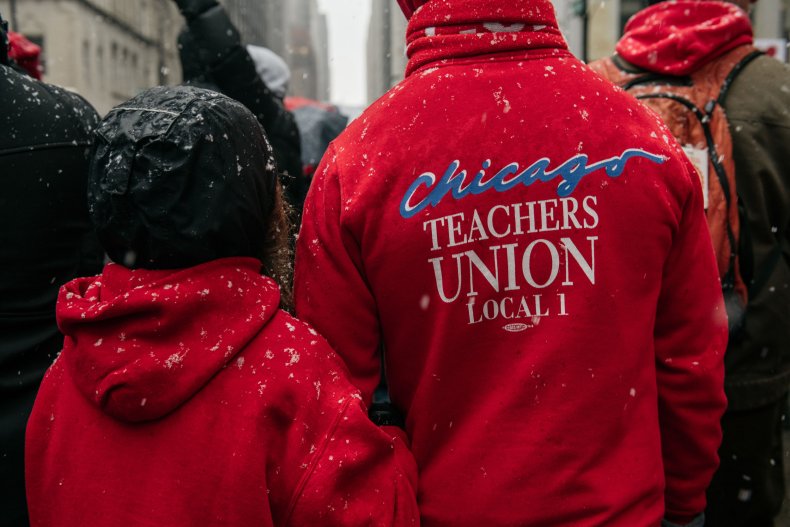 CTU members also wanted to continue remote learning during the city's recent spike in COVID-19 cases, but CPS refused.
Additionally, CTU members wanted CPS to sign up all students for COVID-19 testing unless their parents chose to opt out. CPS refused, but agreed to increase testing in order to screen at least 10 percent of each school's student population. CPS also said it would provide daily COVID-19 screening questions for anyone entering schools.
On Wednesday evening, union chiefs presented the deal to union members during a virtual meeting. Chiefs called the deal "more than nothing, but less than what we wanted," according to the Chicago Sun-Times. In response, teachers yelled at union leaders for negotiating an agreement that fell short of their desires, the Sun-Times reported.
CTU President Jesse Sharkey blamed union leaders as well as Chicago's Democratic Mayor Lori Lightfoot for rejecting key union requests.
"This vote is a clear show of dissatisfaction with the boss," Sharkey said in a statement. "Put bluntly, we have a boss who does not know how to negotiate, does not know how to hear real concerns and is not willing to respect our rank and file enough to listen to us when we tell her we need more protection."
Geovanis disagrees with the Sun-Times' characterization of the Wednesday meeting, stating again that frustration was with the mayor and not the union leaders. Nevertheless, she said there remain some unknowns about the agreement: namely, how it will be enforced and how other contentious aspects, like contact tracing, will happen.
"I don't think we're going to have the full picture of what implementation is going to exactly look like on some of that stuff until next week," Geovanis said.
Despite the dissatisfaction, the agreement also did guarantee more masks and time off for teachers.
CPS said it would purchase KN95 masks for students and teachers. Additionally, CPS pledged to add incentives for hiring more substitute teachers in case of worker shortages. Teachers will be allowed to take unpaid leave related to COVID-19, to help care for their own illness or their increased risk of exposure, WGN-TV reported.
While the agreement will ensure that students return to schools, such compromises threaten to strain the relationship between teachers unions and Democratic elected officials.
During the 2020 presidential election, union voters supported Democratic President Joe Biden over then-incumbent Donald Trump by a margin of 56 to 40 percent. Union members were "especially helpful" in helping Biden win key battleground states, Dr. Peter Francia, director of the Center for Survey Research at East Carolina University and an expert on the role unions play in politics, told Newsweek.
Union endorsements often help political candidates win support from key voters and community volunteers, Francia added.
Union members are often most familiar about their workplace's realities. As such, they expect elected leaders to seriously consider their ideas for best managing the pandemic, Adam Shah, the director of national policy at Jobs with Justice, told Newsweek.
If political leaders don't take their concerns seriously, they risk losing their support during the next election.
Update 1/13/2022, 12:15 p.m. ET: This article has been updated to include statements from the Chicago Teachers Union.