Woman Allegedly Kicked Out of Chick-fil-A for Breastfeeding Daughter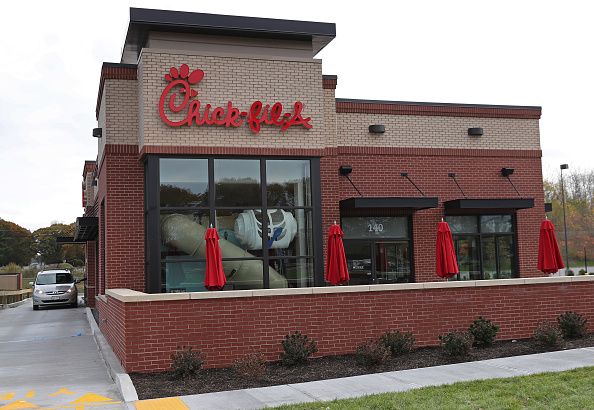 A North Dakota woman alleged that she was asked to leave a Chick-fil-A restaurant over the weekend for breastfeeding her child.
Related: Viral Chick-fil-A Rap Video Earns Markelle Fultz's Approval, Which Is What Truly Matters
Mary Hornung said in a Facebook post that she and her husband took their infant daughter to the soft opening of a new franchise of the popular restaurant chain in Fargo, North Dakota. Hornung said Kimberly Flamm, the Chick-fil-A owner approached the table they were occupying and criticized her for nursing in public.
"I was showing no more than the upper portion of my breast, barely more than what was visible in my shirt and [the owner] asked me to cover," she wrote. "I tried to explain that I couldn't, because my baby refuses to be covered and she started harping about the children and men who can see my indecency and I need to cover."
Hornung said she told Flamm that she would not cover up and cited North Dakota law that states that a woman is able to breastfeed in any public or private location.
"I said they could practice the simple art of looking away and tried to cite North Dakota breastfeeding laws," Hornung continued in her widely shared post. "She told me if I chose not to cover, then she would have to ask me to leave, so I told her my review would reflect my experience and I would be relaying the experience in every local mommy group."
The incident sparked outrage on social media, which led to Flamm issuing an apology on the chain's Facebook page.
"I would like to publicly apologize to Macy Hornung for the way I handled the situation on Saturday. I ask for your forgiveness on this matter as I learn from it. My goal is to provide a warm and welcoming environment for all of my guests. @macyhornung Sincerely, Kimberly Flamm (Owner/Operator)," wrote Flamm.
Chick-fil-A did not immediately respond to a request for comment on the incident.
Chick-fil-A, which began as a family-owned restaurant in Atlanta, Georgia, has over 2,000 restaurants across the United States. The chain has had been the subject of controversy before. In 2012, chief executive Dan Cathy stepped into a debate about gay marriage after saying "we're inviting God's judgment on our nation when we shake our fist at him and say we know better than you as to what constitutes a marriage."
It was later revealed that the restaurant donated nearly $2 million to anti-gay groups in 2010. This sparked outrage and led many to boycott the chain. Cathy said in 2014 that he regretted making those comments.