Chicken Chases Dog in Viral Video 'Like a Real-Life Cartoon'
Calling somebody a chicken usually means that they are cowardly or fraught with nerves.
However, one peek at the brazen bird in a recent Twitter video, and you will find yourself wondering why it doesn't mean the exact opposite.
In the sweet clip, which was tweeted by user @StrictlyChristo, a chicken can be seen chasing a dog around a pile of wooden palettes in a garden.
Just when the canine stops to check if they have lost their feathery friend, the bird comes hurtling around the corner and back into sight, hot on their tail.
In a scene reminiscent of a Looney Tunes show brought to life, the dog even manages to dodge the bird, who leaps up into the air in a comical fashion.
The Twitter user shared the warm-hearted video, alongside the caption: "Best game of chase, ever". He also added a laughing-face emoji.
He then went on to comment: "How can you not smile when the dog makes the chicken jump? They are having too much fun."
And it seems that many people did find the clip cheering; so far the video has been liked over 88,200 times and retweeted by over 19,900 times.
One Twitter user, @Larry_Kunz, reshared the video, writing: "If this doesn't win the Oscar for best short film, something's wrong."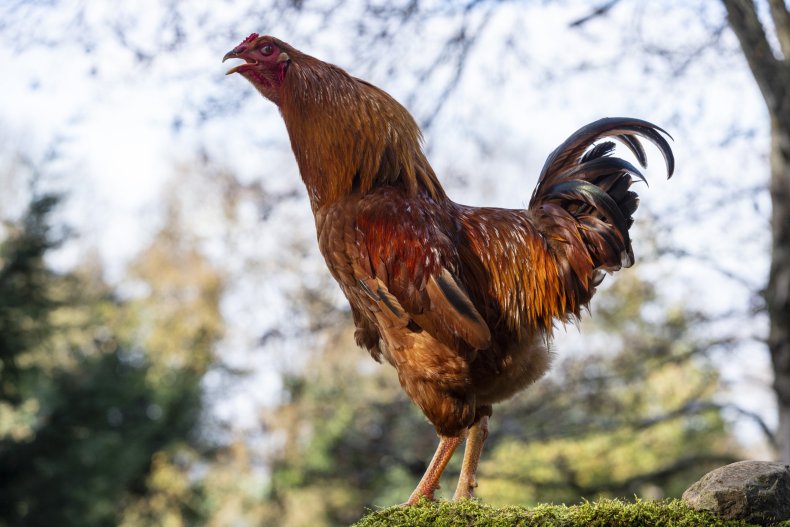 Another, @DanicaA70317772, humorously provided speech to the scene, commenting: "Who you callin' chicken, you uppity pup! I'll give ya a run fer yur fur!!!"
Meanwhile, @RexChapman added that the situation was "like a real life cartoon."
A fourth, @ReggieRB, posted the clip as an antidote to the pandemic and political-themed news that saturates Twitter, explaining: "A cleanse for your timeline #watchthechickenjump".
Additionally, if wholesome chicken-related content is what you are after, why not also check out this hilarious video of a bird called Nugget who incorrectly believes they are a chicken?
The footage, which has gone viral online, shows a pet Indian Mynah bird, hilariously recounting her catchphrase: "Hi my name is Nugget and I'm a big fat chicken."
The clip currently has over 2.2 million views on TikTok, with many delighting in the bird's apparent identity crisis.
TikTok user Whitney Rambo commented: "I relate to Nugget on a personal level."
While Ash Jacobi joked: "I've never related to a creature more than I do nuggets. My name is Ashley and I'm a big fat chicken who loves snacks."
Jessie Jacobson added: "This bird needs to be animated and added to every cartoon movie there is."