Chief Justice Roberts Seeks Path to Allow Mississippi Abortion Ban Without Overturning Roe
Chief Justice John Roberts' line of questioning during oral arguments Wednesday in the Mississippi abortion case signaled he may be searching for a way to allow the state's near total ban on abortions without overturning the Supreme Court's Roe v. Wade and Planned Parenthood v. Casey decisions.
Roberts, who is expected to be a pivotal vote in the Mississippi case, Dobbs v. Jackson Women's Health Organization, repeatedly turned to the topic of fetal viability on Wednesday. He suggested that the Court could discard the idea entirely or set the viability line much earlier while still upholding other abortion rights.
In his questioning, the chief justice suggested that the viability line established in Roe and Casey was dicta, meaning it was not officially part of the Supreme Court's ruling.
"Viability, it seems to me, doesn't have anything to do with choice. If it really is an issue about choice, why is 15 weeks not enough time?" Roberts asked Julie Rikelman, the lawyer representing the only abortion clinic still operating in Mississippi.
Rikelman pushed back on Roberts' questioning regarding the viability line, arguing that "without viability there will be no stopping point. States will rush to ban abortion at every point in pregnancy."
In Roe, the Supreme Court decided that the Constitution does not allow total abortion bans before fetal viability—the point at which a fetus could survive outside the womb, typically after 24 weeks of gestation.
The Mississippi law bans most abortions at 15 weeks—nine weeks before the viability line.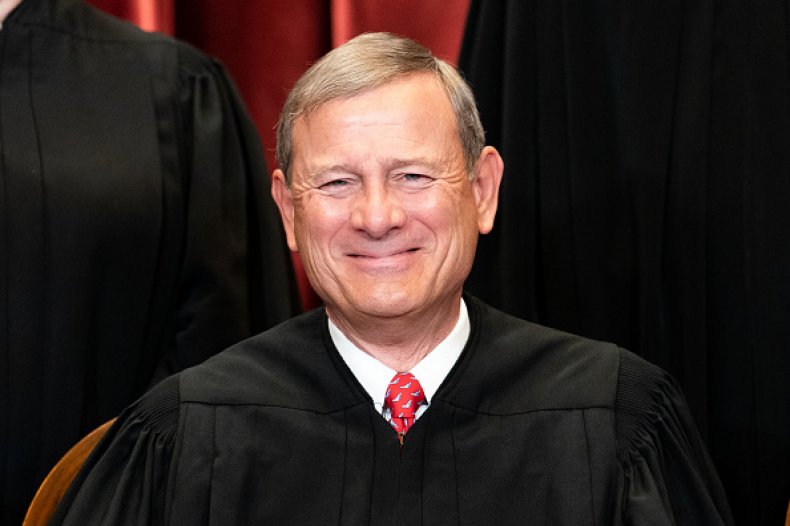 Roberts has built a reputation for upholding precedent—a stance that has been challenged by Dobbs, which is seen as an attempt to eliminate the constitutional right to abortion established in Roe and Casey.
The chief justice's remarks during the case's oral arguments seemed to suggest he was looking for a way to balance allowing Mississippi's abortion law to stand while upholding the Court's two landmark decisions on abortion.
On Wednesday, some of the justices suggested that the path Roberts appears to be seeking would not be available and that all abortion rights would be lost if the viability line were to be abolished.
And while Roberts may be eager to find a middle ground, he will be unable to do so without a majority, which would require one of the bench's more conservative judges to join him and the three liberals.
However, the more moderate conservatives—Justices Brett Kavanaugh and Amy Coney Barrett—appeared uninterested in the idea of viability and are more focused on Roe itself.
Update 12/1/21, 12:37 p.m. ET: This story was updated with more background and information.