Chilcot: Iraq War Families Raise Money for Legal Case Against Tony Blair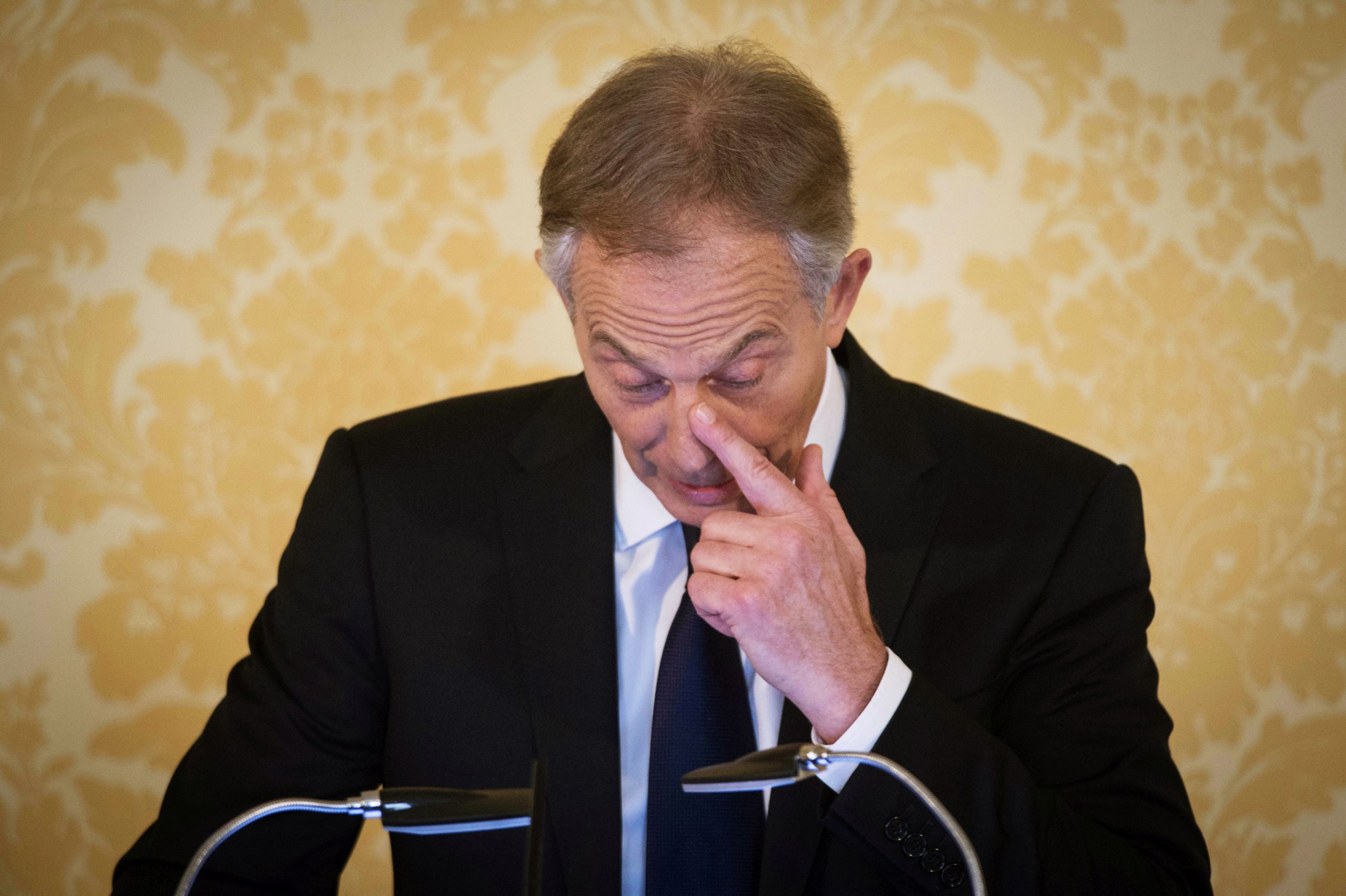 A crowdfunding campaign that seeks to bring legal action against Tony Blair for the invasion of Iraq in 2003 reached its first target of raising £50,000 on Tuesday. Roger Bacon and Reg Keys, whose sons were killed in the Iraq war, set up the appeal to raise money to pay for a legal team to look into bringing civil legal proceedings "against any state officials who might have acted unlawfully or in excess of their powers."
The two men, acting on behalf of the Iraq War Families Campaign Group, which campaigns for the families of the 179 servicemen and women killed in the conflict, estimate that they will eventually require £150,000 to pay for legal support.
The decision to go to war in Iraq sparked one of the biggest ever protests in the U.K.in 2003; at least 750,000 people marched in opposition to the invasion. In recognition of the disastrous consequences of the conflict, the then Prime Minister Gordon Brown promised the independent Iraq Inquiry in 2009.
After a seven-year wait, former civil servant Sir John Chilcot's inquiry, a 12-volume report identifying the lessons learned from the Iraq conflict, was published on July 6. The report concluded that there was no "imminent threat" from Saddam Hussein, the then Iraqi dictator, that the intelligence regarding Weapons of Mass Destruction (WMD) was "flawed" and that the government sent ill-prepared British troops to the front line.
After the publication of the report, Blair attended a televised press conference, where he publicly apologized for intelligence errors and the planning for the aftermath, which was criticized in the report, but said he still stood by his decision to go to war. "I express more sorrow, regret and apology than you can ever believe," he said.
Whether or not he breached international law was not discussed. Many of those who lost family members in the war want Blair and other relevant government officials to face legal action in the U.K. civil court.
"We wish to bring those state officials responsible to account and, by doing so, ensure such a tragedy that has caused such far-reaching and long-term damage, both to our country and world-wide, never happens again," the War Families Campaign Group said on its fundraising page.
Bacon's son, Matthew, was killed in Basra, in southern Iraq, in 2005 when his vehicle was hit by a roadside bomb. Keys' son, Tom, was a Royal military policeman and one of six Red Caps killed by an Iraqi mob in Majar al-Kabir in June 2003.
The group makes clear that legal action is impossible unless a full and forensic legal analysis of the Chilcot Report has been completed, which requires money.
"We must now ensure that every iota of the report is analysed in depth to determine whether there are potential civil legal cases. And we need the British public to help," Bacon said.
The Iraq War Families Campaign Group have set a preliminary target of £50,000 "to make a start," before applying for legal aid to take the case for trial. They then have a further target of the full £150,00 they believe is required. Anyone in the world can donate for the next 30 days.