Child COVID Cases Surge to 500k in Two Weeks as Pfizer Waits for Data on Vaccines for Kids
Although child COVID cases began declining in early summer, as schools reopen across the country the number has grown "exponentially," nearing 500,000 cases in the past two weeks, according to the American Academy of Pediatrics (AAP).
From September 2-9, 243,373 children tested positive for COVID-19—which AAP said was the second-highest number of child cases in a week since the pandemic began. That week, they accounted for almost 29 percent of reported cases. Children under the age of 18 make up 22.2 percent of the United States population, according to AAP. The week before saw 251,781 cases, for a total of 495,154 child cases since August 26.
As of September 9, around 5.3 million children have tested positive for COVID-19 since the pandemic began.
"At this time, it appears that severe illness due to COVID-19 is uncommon among children," said the organization in a statement. "However, there is an urgent need to collect more data on longer-term impacts of the pandemic on children, including ways the virus may harm the long-term physical health of infected children, as well as its emotional and mental health effects."
Nearly 63 percent of the eligible U.S. population, those 12 and older, are fully vaccinated as of September 13, according to data from the U.S. Centers for Disease Control and Prevention (CDC). Since kids are unable to get vaccinated, experts have tried to advise adults to get the shot instead to help protect children.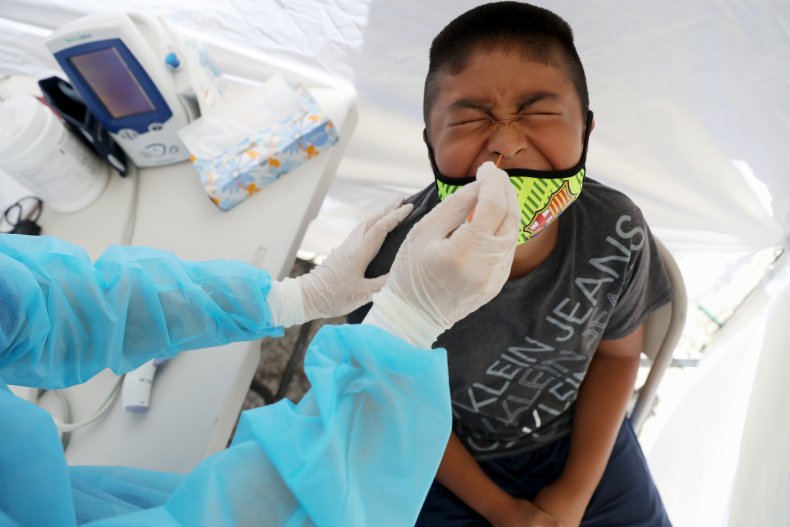 Pre-teens and teens have the lowest COVID-19 vaccination rates of any age group, according to CNN.
Dr. Scott Gottlieb, a board member at Pfizer and the former commissioner of the Food and Drug Administration, said that parents may have access to vaccines for their kids by Halloween.
He told CBS' Face the Nation on Sunday that Pfizer expects to have data on vaccination for children aged 5 to 11 for the FDA by the end of this month.
"The FDA says it will be a matter of weeks, not months, to make a determination if they're going to authorize vaccines for kids between 5 to 11. I interpret that to be perhaps four weeks, maybe six weeks," said Gottlieb.
Dr. Anthony Fauci, director of the National Institute of Allergy and Infectious Diseases and President Joe Biden's top medical advisor, has also estimated younger children will be eligible for the jab in October or early November.
However, CDC Director Dr. Rochelle Walensky said Monday that the agency is working on a vaccine that they hope to be ready by the end of the year.
The Pfizer and BioNTech shot is currently the only vaccine available for use on kids ages 12 to 15 and was approved for authorized emergency use by the U.S. Food and Drug Administration (FDA) in May.
In July, Moderna said it was collecting data on the effects of the vaccine in younger children and hoped to apply for FDA authorization later this year or by early 2022.
On September 10, the FDA said it would "follow the science" regarding the vaccine for younger children.
"It's important that the public recognize that, because young children are still growing and developing, it's critical that thorough and robust clinical trials of adequate size are completed to evaluate the safety and the immune response to a COVID-19 vaccine in this population," said Acting FDA Commissioner Janet Woodcock M.D., and Peter Marks, M.D., Ph.D., director of the FDA's Center for Biologics Research and Evaluation, in a joint statement.
"Children are not small adults — and issues that may be addressed in pediatric vaccine trials can include whether there is a need for different doses or different strength formulations of vaccines already used for adults," they added.
Children make up 1.6 percent to 4 percent of patients who were hospitalized for COVID-19, according to the AAP. A report from the CDC on the same day found that the number of children hospitalized for COVID was around three times higher in states with low vaccination rates.
Like in the U.S., at least the first dose of the COVID vaccine is available to those over the age of 12 living in European Union countries like Denmark, Spain, France, Germany, Sweden and Norway as well as Canada.
Chinese biopharmaceutical company Sinovac's vaccine is approved for children 3 and over in China, according to BBC. In Chile, the company's vaccine is approved for use in children 6 and older. Clinical trials are currently underway for the vaccine's use in South African youth.