Child-Free Wedding Invite Splits Opinions Online: 'They're Disruptive'
An ambiguous child-free wedding invitation has split opinions online after a confused guest shared her dilemma.
In recent years, child-free weddings have become an increasingly popular choice for engaged couples, but they've similarly become a polarizing one too.
Guests are so often split on just how acceptable banning children from a wedding is. But this time, unusually, they're just as split on the invites alone.
One wedding guest has highlighted just how easy it is for to-be-wed couples to fall at the first hurdle, after being left confused by a child-free wedding invitation that wasn't so clear, seemingly.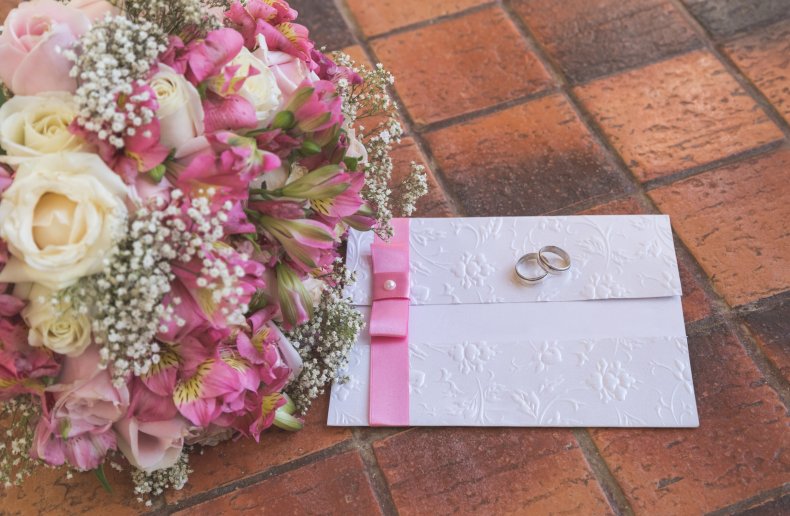 Sharing her views to popular forum Mumsnet, the guest admitted: "I thought my children were invited because we hadn't been told they weren't. The bride and groom assumed we knew the children weren't invited because we hadn't been told they were."
According to the guest, the wedding was addressed to "Mr and Mrs [surname]" on the envelope, but the invitation itself was left non-personalized with no names.
"Obviously it's the bride and groom's prerogative not to invite children, but in the circumstances it wasn't absurd for us to expect our children would probably be invited," she added, explaining that it's an informal reception.
"Because it renders it pretty challenging for us to attend at all without our children, we thought we'd have been told directly they weren't invited as it's the immediate family that we speak to regularly."
Etiquette when it comes to invitations for child-free weddings is not particularly well established, but wedding site The Knot rules that brides and grooms should address invitation "properly and carefully" with the specific names of everyone attending.
They also, however, advise engaged couples to not "Adults Only" on the invitation, reporting that "it's not polite to specify your wishes front and center on the invitations."
Despite this stance being clear, others aren't so sold on the idea, and users were left undecided by whether or not the wedding couple made the right choice.
"I would have assumed the children were not invited if their names were not on the invitation," wrote one user.
"The names were on the envelope. Clear enough to me. If it's one of those invitations where everything is printed then the names go on the envelope," agreed another.
Others however countered, citing occasions when the opposite had occurred to them.
"Invite was addressed to me and my husband, no mention of kids so we assumed that kids weren't included.
It was a complete ball ache sorting childcare out for the day. We get there, and our kids are on the seating plan and the bride says 'where are they, I was relying on my kids playing with yours to keep them occupied?' and was really snappy that they'd paid for them. I had to keep apologizing all day," recalled one user.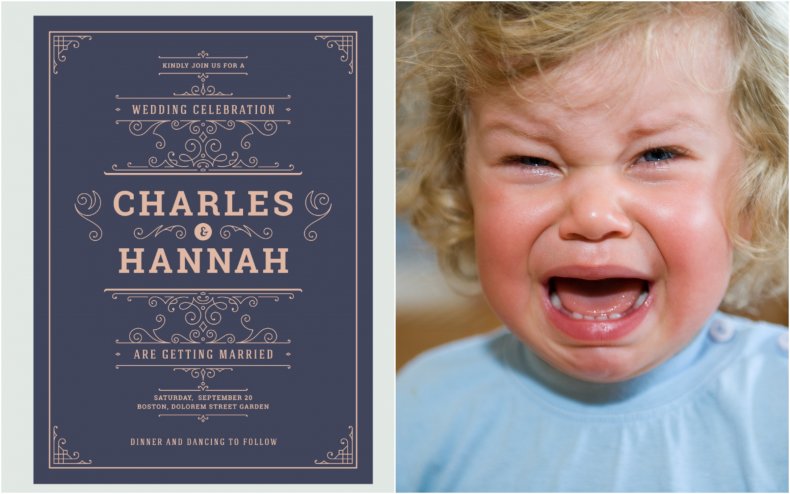 "I've never had a family invitation where the kids' names were on the envelope, even when they were on whatever was inside," added another. "An envelope isn't clear enough if you're not using names at all in my opinion."
Some were left on the fence by the situation, echoing the views from both sides on the clearly confusing matter, and writing: "I personally think that if couples are having a child-free wedding (which is totally fine) then they should be explicit about it on the invitation to avoid confusion.
"But, you should never assume someone not mentioned on the invitation is invited somewhere. You might have been entitled to clarify just in case, but the starting point is if they're not named on the invitation, they're not invited."
While others however, took the issue as representative of a far wider one: should children be at weddings anyway?
"I can't understand why anyone would either want other people's children at their wedding or want to take their own. It's boring for them, people have to leave early, and they're disruptive. We've done two with ours and they were considerably less enjoyable for us and kids than getting a babysitter," noted one user.
Has a wedding come between your relationship with a loved one? Let us know via life@newsweek.com. We can ask experts for advice, and your story could be featured on Newsweek.