Guests Reveal Worst Weddings They've Been to, From Punch-Ups to the Buffet
We've all heard the disastrous wedding stories, ranging from bad weather and food poisoning to AWOL grooms.
But now people have shared tales of the biggest wedding disasters they've ever witnessed after Clawdy put out a call on Mumsnet for horror stories.
Clawdy wrote: "My worst wedding memory was when DH's cousin got married. He was reluctant to go, and said it might get rough…It did, rather!
"Drunk old Uncle Wilf fell down the steps and broke his leg, and the bridegroom had to be restrained from attacking his new MIL with a bottle of wine!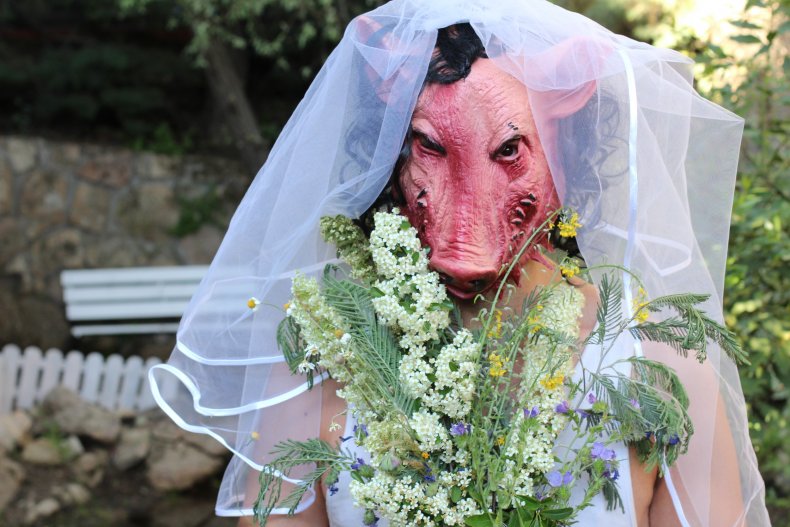 "DH's mum chided his brother for not going, saying, 'You missed a lovely wedding!'"
The post, shared on Tuesday, didn't disappoint, with more than 250 responses revealing a catalogue of misfortune.
In a post captioned the "worst wedding you've been to?" Blueagain recalled: "My cousin's wedding. The police were called out to break up a fight between the groom's dad and the groom's brother-in-law. Proper punch up with screaming and threats."
Livpool said: "Where I was 8 months pregnant and didn't get fed. It was a buffet meal—and tables who were called first helped themselves to most of the food.
"I couldn't stand meat when I [was] pregnant and that was ALL [that] was left so ate all of the mini cakes on our table. Horrendous."
Maireas commented: "I went to a colleague's wedding where one of the other guests wore a white lace midi dress, which I thought was a tad insensitive. The bride and her mother shot her daggers all day."
Dragonsmother said: "We went to a wedding reception in a friend's garden. They were out in the sticks. It was meant to be hog roast and jacket potatoes. There was hardly any food. A few of us had an apple for main course."
Ehb102 replied: "The wedding at 11.30am where food didn't get served until 6pm sticks in my mind. No other food to purchase either. Bride and groom had four hours of photography and then did the speeches before dinner."
Speakout said: "My friend—the ceremony was lovely, in a quaint country church, reception at their home in a rambling cottage. I visited the bathroom only to catch the groom shagging one of the bridesmaids up against the wall."
Scruffanddodge shared: "Another pretty awful wedding was the bride arrived drunk. She and the bridesmaid the night before drank vodka and champagne. Fell asleep on the sofa and woke to the makeup artist arriving. Still drunk they opened more champagne just to keep a hangover at bay. She didn't want to get married. They lasted a year."
TheGlitterati responded: "During the wedding breakfast an old chap fainted into his food. Everyone thought he'd had a heart attack. It was awful!"
"When groom got drunk and told my husband he doesn't want to have kids (but his new wife really wanted to be a mum.) They don't have any children and wedding was 7 years ago. I feel sorry for her," Catscatscatseverywhere said.
The chart below, provided by Statista, shows the age at which people get married around the world.
Justkidding55 recalled: "I went to a friend's wedding and was seated next to her mother whom she had a very toxic relationship with. Her mother kept making snidey comments during the speeches then heckled her own daughter at one point and had to be asked to leave."
And RishiRich surmised: "Bad weddings seem to have one or more common factors:
"Unlikeable/incompatible bride/groom. Violence. Poor hosting: difficult location, not enough food/shelter/seats, long gaps, expensive to attend."
In the U.K., where Clawdy is thought to be based, the average wedding in 2021 cost £17,300 ($21,431), with nearly half—48 per cent—going over budget.
Figures, taken from a survey by Hitched revealed 72 people was the average size of the guestlist, with the average age of brides 33 and grooms 34.