Shock as Bride Discovers Fiancé Is Still Married Just Months Before Wedding
A bride-to-be has shared her horror at the prospect of calling off her wedding, after realizing her fiancé is still legally married.
The woman shared her dilemma to Mumsnet under username Wouldyoubabys, as she claimed she'd not been able to stop crying since making the discovery, adding they faced losing £30,000 ($39,127) as the nuptials are booked for July.
After booking the big day in January, it seems his children told their mom, the supposed ex-wife, who pointed out they'd never got divorced after splitting 12 years ago.
He immediately started divorce proceedings, but the would-be bride explained: "It's now looking increasingly likely that it won't be completed for our wedding in July. We have to give notice to get married in June.
"I have been hassling him to call the company he's using to manage it all last week and finally does so yesterday—he tells them that I am on his case about it, and then as it becomes apparent on the phone that we are unlikely to be able to get married in July, says he is about to waste £30k.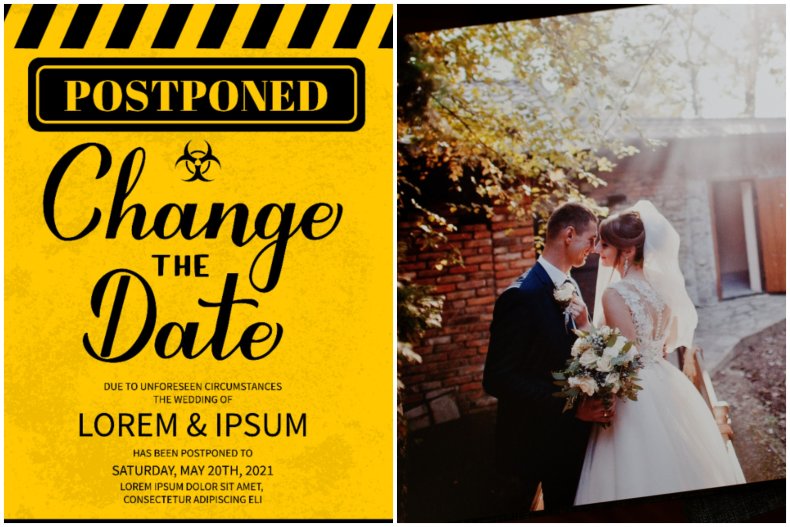 "I'm gutted—our invites went out this week, his comment about me being on his case (why isn't he eager to get it sorted himself!) about how there was no mention of how much he wants to marry me—just that he will lose £30k."
She raged: "He didn't come to bed last night, and this morning I've not been able to stop crying which he is angry about."
To make matters worse his daughter, and supposed ex, came over to the house, as Wouldyoubabys fumed: "His bloody wife is sat downstairs ffs."
The post, shared on Tuesday, has amassed more than 450 replies, and can be read here, as the hopeful bride-to-be shared more details in the comments.
She assured: "I don't think he would have committed bigamy, I don't even know what he was thinking."
Bigamy is defined as "formally entering into one marriage while the previous one is un-dissolved," according to website Legal Match.
The site added: "The United States Supreme Court ruled that polygamy, or the practice of having more than one spouse at a time was illegal in 1878. Bigamy is a criminal offense in all 50 states in the United States. Bigamy laws by state will vary as to whether it is considered a felony or a misdemeanor."
However, in 2020, Utah passed a bill making polygamy an infraction, downgrading it from a third-degree felony, according to CNN.
For the woman, things went from bad to worse in the relationship, as she admitted: "Things have really degenerated with me and dp and he's gone out (I think to take kids McDonald's) I texted him to say I hate him right now. He's texted back to say I should pack a bag and leave."
As they tried to sort out what to do about all their bookings, she continued: "The wedding venue said this morning we could have a celebrant instead and no one would know, but I feel embarrassed and deceitful."
And she explained why she was so upset, saying: "I'm so angry and hurt—not by the being married thing as I can weirdly see how that's fallen by the wayside—but by how he's dealt with my feelings over this. He's not reached out to me, he's angry, he's not upset by idea of not getting married—he's mentioned the money and me being on his case. He says that's just what he was saying to get them to realise how serious it was on the phone, but it hurts."
She added: "I just can't stop bloody crying which isn't helping, I can't think straight. I don't want to tell anyone in real life because I'm bloody embarrassed."
In further edits she claimed he was trying to expedite the divorce proceedings, with full support of his soon-to-be ex-wife, as she revealed how they found out.
"I was there when he got the text of his (ex) wife saying 'you know we are still married and never got divorced don't you,'" she wrote.
She claimed she still wasn't sure whether to postpone the wedding, or have a celebrant, but it seems she and her husband-to-be were still together.
The chart below, provided by Statista, shows where polygamy is widely practiced.
She added: "I'm gutted to be honest, but I need to have a plan and then put this aside. Dp hasn't acted in malice. He's been a knob today, but that reaction was rare and out of frustration with himself.
"He's not off the hook—but I am trying to have perspective for this. My time to be upset about him still being married was back in Jan, this is an admin hold up that's brought it back to the forefront but not an intentional act to hurt me."
Numerous people expressed shock at the situation, as Girlmom21 wrote: "Did you not take out wedding insurance? Aside from that, he's a lazy, nasty, insensitive c*** and I'd cancel the wedding and not even consider rearranging until he grows up."
Roundeartheratchriatmas thought: "I'm sorry but I don't think he wants to marry you. He 'forgot' that he was still married ? Rubbish."
Waterfordaston asked: "How can he have forgotten he was still married???"
And MrsMoastyToasty questioned: "Was he seriously going to risk a prison sentence for bigamy?"