Child Snuck Onto Airport Baggage Conveyor Belt, Found by Airport Cops
A child's dangerous airport stunt that landed him in the facility's baggage conveyor belt has opened an investigation about airport security.
According to a report from The Minnesota Public Radio (MPR), the unidentified 9-year-old boy managed to get into the Minneapolis-St. Paul International Airport's internal baggage organization system via a conveyor belt on Saturday.
Minneapolis-St. Paul International Airport's Director of Corporate Communications and Creative Services Patrick Hogan explained to Newsweek that the child was traveling with a large group for a trip together. In a moment in which the adults were collectively distracted, the boy managed to sneak off.
"A group of about 20 people traveling together were in the process of checking their bags when a 9-year-old child in their group jumped onto the bag conveyor belt near the point it exits ticketing and enters the bag screening and sortation area," Hogan said.
Because the boy was traveling with a large group, it was not immediately evident that the boy had run off, according to MPR News.
"There was a lot of confusion because there were so many people in the group," Hogan told the outlet. "They were all checking their bags and putting their own bags on the conveyors, so it took a second for them to realize he was missing."
Hogan explained to Newsweek that personnel with Delta Air Lines did see the boy sneak off and tried to keep him from getting too far from the ticketing area.
"They were unable to stop him, so within seconds, they shut down the conveyor," Hogan said.
Undeterred, the boy managed to locate another conveyor belt in operation and hop on.
"That belt transported him to the checked bag screening area," Hogan told Newsweek.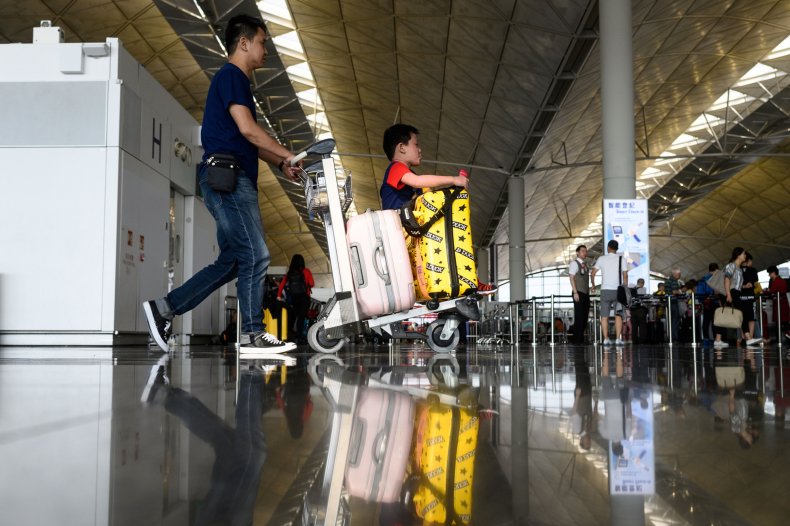 Airport security footage obtained by MPR as well as KARE11 shows the boy sit on a luggage conveyor belt before the collection system activates and sweeps him in through the machine. He is then seen crawling in the opposite direction of the conveyor belt and manages to jump off when the machine comes to a halt.
Fortunately, airport security was able to find the uninjured child "in less than four minutes" and he safely reunited with his parents.
According to MPR News, the boy's ease of access to the baggage system has prompted an internal investigation into the safety and security of luggage collection in the airport.
Hogan confirmed with Newsweek that there will be a review of safeguards around baggage collection based on the recent scare to prevent something like this — or something more fatal — from happening again.
"We are investigating the matter and will work with Delta Air Lines on options to help prevent a recurrence of the situation," he said.
Early in March 2021, a TikToker's viral video also called on her local airport to improve their security protocols after she claimed to be the target of transphobic TSA check.
"My body is normal," the woman wrote in the comments section of her video. "My body is perfect. My body is not an anomaly. My body is not alarming."