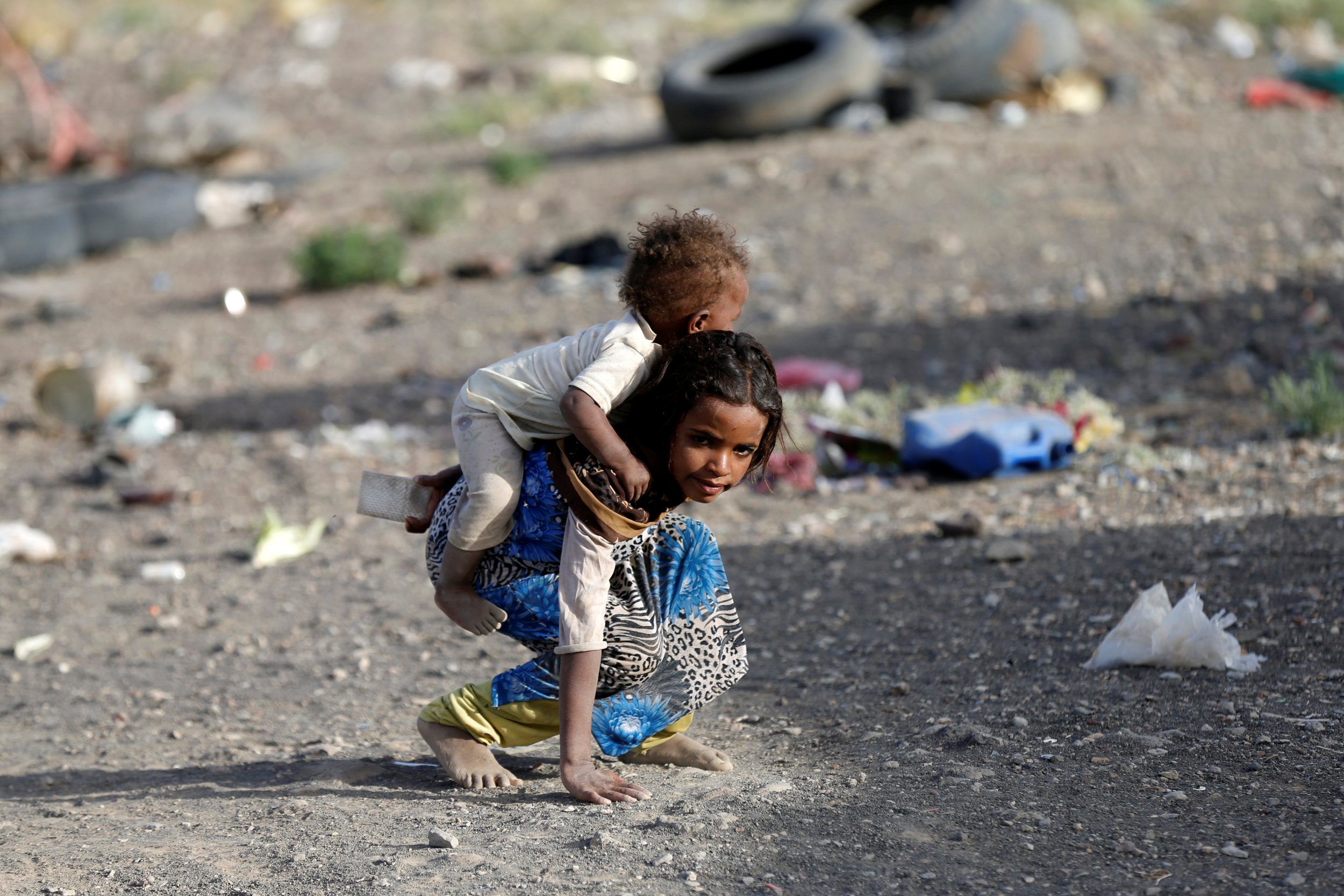 As world leaders gather in New York for the United Nations General Assembly this week, Dr. Abdullah al-Rabeeah, head of Saudi Arabia's King Salman Humanitarian Aid and Relief Center and an adviser to the royal court, has been busy shuttling between Turtle Bay and Washington, D.C., to underscore how much medical, food and financial aid the kingdom has given to Yemen's war-ravaged civilians. The aim of his public relations blitz appears to be twofold: to deflect attention from the two-year air campaign by a Saudi-led military coalition against Yemen's Iran-backed Houthi rebels, and to keep Riyadh off a U.N. list of countries that kill and cripple children in war. According to last year's report, 785 children were killed and more than 1,000 were wounded in the Yemen war in 2015; 60 percent of those casualties resulted from Saudi-led airstrikes. U.N. Secretary-General Anton Guterres is expected to release this year's list soon. Al-Rabeeah, a Canadian-trained pediatrician, sat down in Washington to speak with Newsweek about the war, its casualties and Saudi relief efforts.
Newsweek: Since the war in Yemen began more than two years ago, more than 10,000 civilians have been killed, and some 3 million have been displaced. According to the World Health Organization, an unprecedented cholera outbreak is now ravaging a growing percentage of the country, with 500,000 known cases and 2,000 dead. WHO estimates by the end of the year, 600,000 Yemenis—that's one in every 45 people in the country—will come down with cholera. The U.N. now calls Yemen the world's greatest humanitarian disaster. Yet it's a preventable, man-made catastrophe that's directly the result of the war that the Saudi-led coalition is waging in Yemen. How does Saudi Arabia respond to these charges?
Related: Why is Snapchat banning Al-Jazeera's snaps in Saudi Arabia?
Al-Rabeeah: First, Saudi Arabia, means no harm to Yemen.... Saudi Arabia went into Yemen militarily at the request of the elected government of Yemen after a small group of [Houthi] militias overthrew that elected government in 2015. [The Saudi military intervention] was based on that request and also based on U.N. resolution 2216 [which condemned the overthrow]. That's how we look at it. We also regard the numbers you mention with sympathy. But Yemen was not in such good shape to start with. Even before the conflict, cholera, malaria and dengue fever were all endemic, according to U.N. figures. Still, we have seen the statements from the World Health Organization about the new cholera outbreak, and we've been the first to respond.
Newsweek: It's my understanding that, in fact, the World Health Organization was the first to respond. In July, it tried to ship 1 million doses of cholera vaccine to Yemen but had to scrap that plan because of security challenges and problems involving access and logistics. So WHO ended up sending those doses to South Sudan, where there was another cholera outbreak.
Al-Rabeeah: There are two reasons why the vaccines didn't arrive in July. The first was the Houthi militias refused to allow in the vaccines even though the cholera is mostly in the Houthi-controlled areas. Why? They're using the conflict to achieve political gain. The second reason is technical. One million doses was not enough. Yemen needs at least 3 to 5 million doses. So WHO sent the 1 million to South Sudan, and Saudi Arabia will provide Yemen with 10 million doses soon after the new year.
Newsweek: To be distributed in what areas of Yemen?
Al-Rabeeah: In all at-risk area of the countries.
Newsweek: Are you saying that Saudi-supplied cholera vaccines will be available in Houthi-controlled areas?
Al-Rabeeah: Yes, the vaccines will be available for distribution through U.N. organizations like WHO and UNICEF and various local NGOs. We also have food programs.
Newsweek: Yet the U.N. and relief groups also report that the population is slowly starving because of the Saudi-led coalition's sea blockade of Yemen's rebel-held ports, especially the Red Sea port of Hodeida, to choke off food and other supplies to Houthis. The head of the World Health Organization spoke of 17 million people in the rebel-controlled areas of Yemen "on the brink of famine" and "nearly 2 million people acutely malnourished." So there's a contradiction there. You talk of food programs in Yemen, and WHO talks about a rebel-controlled population that is starving because of actions by your government. How do you explain this discrepancy?
Al-Rabeeah: The blockade is against the Houthi-controlled areas in the north and northwest. The main port there is Hodeida. There's lots of talk in the media about Hodeida. But Yemen has eight other ports, and we are urging relief organizations to use them fully, to do whatever it takes to get the food inside. Saudi Arabia also has the port of Jizan, which is much closer to the north of Yemen than any other port in Yemen. All of these ports could bring food, medicine into Yemen. The only people who reject that are the Houthi militias.
Newsweek: What can you tell us about the airstrikes against Houthi hospitals and health care facilities by warplanes of the Saudi-led coalitions? Relief organizations report that hundreds of these facilities have been hit since the air campaign began in 2015 in violation of international humanitarian law.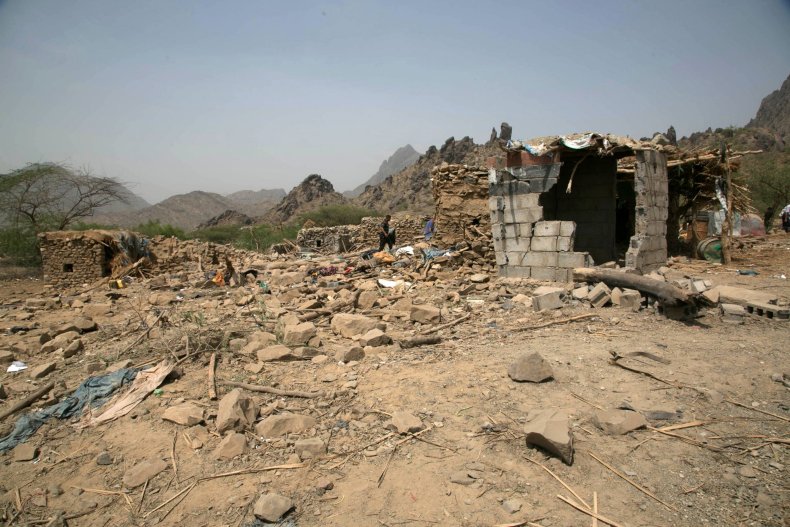 Al-Rabeeah: These things happen. I cannot say there are no mistakes. We should always investigate such mistakes and protect women, children and civilians.
Newsweek: A few days ago, Human Rights Watch released a detailed report about five Saudi airstrikes against Houthi rebels in northern Yemen since June in which 26 children were killed. The group is now demanding the U.N. Human Rights Council open a war crimes investigation. In Geneva, Saudi Arabia said it wouldn't oppose an investigation but raised questions about the "timing." What exactly are Saudi Arabia's concerns?
Al-Rabeeah: I can't speak for the Saudi Foreign Ministry or the coalition forces. But I can tell you that my organization makes extensive efforts to coordinate with the coalition to prevent attacks against civilians or important civilian targets. I had a very good meeting a few weeks ago in New York with Virginia Gamba, [U.N. Secretary-General Antonio Guterres's special representative for children and armed conflict]. And the good thing about it is that there is a decrease in the number of incidents against children and civilians from 2015 to 2016, And we hope that 2017 will be even less.
Newsweek: In your meeting with Special Representative Gamba, did she indicate whether Saudi Arabia would be included on the U.N.'s annual report on countries whose armies kill and maim children in war?
Al-Rabeeah: No, when we met with her, we did not discuss the report because it's confidential.
Newsweek: The New York Times saw a draft of the 2017 report and said it cited the Saudi-led coalition as responsible for 683 child casualties, compared with 414 by the Houthis and their allies. Are you familiar with those numbers?
Al-Rabeeah: One issue about the numbers which Virginia Gamba mentioned. She does not have resources on the ground. She depends on information she's getting from U.N. offices in Sanaa, which is controlled by the Houthis, as you know. These offices quote local workers, who are politically motivated. I've recommended that the U.N. set up offices in other cities like Hodeida and Taiz, so they will see the bigger picture of Yemen and more precise estimates of casualties among children than from one office in the Houthi-controlled capital.
Newsweek: For more than two years now, we've watched Saudi Arabia try to bomb Yemen into submission from the air without success. How much of your efforts to present Saudi Arabia as the largest donor of medicine, food and money to Yemen, is essentially aimed at changing the narrative from, say, the bombing attacks that killed 26 children since June, and presenting the Saudis as humanitarians on the ground?
Al-Rabeeah: I just want to state that Saudi Arabia wishes nothing but good for Yemen. All Saudis want to see a stable, safe and prosperous Yemen.