China Accuses U.S. of Fueling Nuclear War 'Panic' After Official Warns of Attack
The Global Times, a Chinese-state run media outlet, dismissed American concerns about a possible nuclear attack, arguing that officials were hyping up the possibility to hurt Beijing.
Tensions between China and the United States have been mounting and officials have been raising concerns about China's military buildup. China's testing of a new hypersonic weapon of the summer should create a sense of "urgency," according to a top Pentagon official, who warned Beijing could soon launch a "surprise" nuclear attack against the United States.
The Global Times editorial board accused the United States of creating an "unprecedented atmosphere of panic" toward China's development of nuclear weapons.
The Global Times pointed to the comment John Hyten, vice chairman of the Joint Chiefs of Staff, made about the potential for China to launch a nuclear attack, as well as, claims about its nuclear weapons buildup and a recent Pentagon report.
The report, released in early November, warned China was rapidly expanding its nuclear arsenal and could have 1,000 nuclear warheads by 2030. Last year's report estimated that China could have up to 400 warheads within a decade.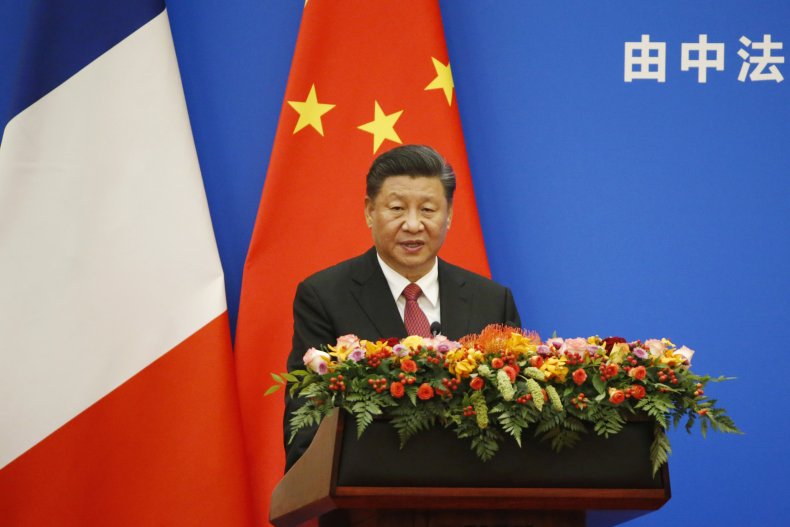 "The nuclear expansion that the [People's Republic of China] is undertaking is certainly very concerning to us," a senior defense official told reporters. "It's one thing to observe what they're doing, but they haven't really explained why they're doing it."
During his interview with CBS News, Hyten said China launched a long-range missile that circled the world, dropped a hypersonic vehicle and returned to China. When asked if it hit its target, Hyten said it got "close enough."
"I think it probably should create a sense of urgency," Hyten said.
The Global Times criticized the American media for reporting on comments from officials about China's nuclear capabilities and the potential for the two sides to hold discussions on strategic stability. The goal, according to the Global Times, is to "promote public pressure" on China to enter into discussions.
The editorial board noted tensions over Taiwan's fight for independence and said there is a "serious possibility" of war breaking out. A U.S. government agency recently found China has or will soon have the ability to invade Taiwan, an island whose reunification Beijing sees as critical to the country's future. The United States could be pulled into a war between Taiwan and China, a fact that the Global Times believes fuels the need for Beijing to have a significant nuclear arsenal.
"When the Taiwan question is resolved and the U.S. truly accepts China's rise instead of threatening China's core interests, China's strategic need to strengthen national security through increased nuclear deterrence would be greatly reduced," the Global Times op-ed said.