China Acknowledges Destroying Early Coronavirus Samples, Confirming U.S. Accusation
China has acknowledged it destroyed some samples of the novel coronavirus in the early stages of the outbreak, but challenged U.S. allegations that this was conducted as part of a cover-up.
Liu Dengfeng, a supervisor at the science and education division of China's National Health Commission, said at a news conference Friday in Beijing that the Chinese government issued an order on January 3 to dispose of novel coronavirus samples at certain facilities not qualified to handle such highly infectious diseases as a measure to "prevent the risk to laboratory biological safety and prevent secondary disasters caused by unidentified pathogens."
The move came after the novel coronavirus, known now officially as SARS-CoV-2, was classified as Class II or "highly pathogenic" based on research and expert recommendations, Liu said. This decision necessitated "clear requirements on the collection, transportation, experimental use and destruction of the pathogen" in order to avoid a potential mishap or leakage, he said.
Secretary of State Mike Pompeo has argued since last month that the January 3 order was an attempt to cover up the extent of the outbreak. He has accused China of censoring research regarding the coronavirus and of attempting to influence international efforts to battle the illness.
"The Chinese Communist Party tried to suppress information about this virus, about where it began, about how it started, about how it was being transmitted from human to human, indeed employed the World Health Organization to further that storyline," Pompeo told Christian radio program Focus on the Family on Monday.
Defending Beijing's approach, Liu said Friday that Chinese public health laws clearly stipulate that institutions not meeting the requirements to handle such samples must either transfer them to a qualified depositary for safekeeping or destroy them.
"The remarks disseminated by these U.S. officials are purely out of context and intentionally confuse the audience," Liu said at Friday's press briefing.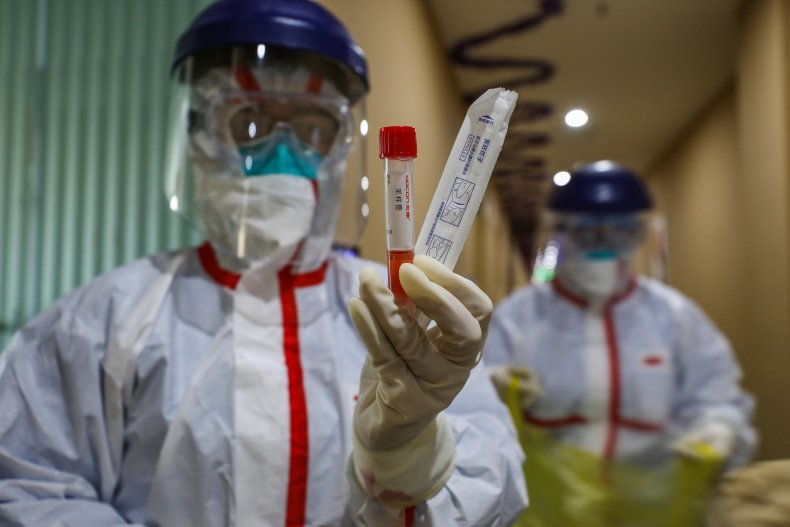 The Defense Intelligence Agency revised its assessment of the coronavirus pandemic's origins on March 27 to include the possibility that it could have begun from a lab mishap at Wuhan's Institute of Virology in addition to the initial theory that it broke out naturally via zoonotic transmission, as Newsweek reported late last month. No evidence has emerged to support this new hypothesis, however.
Citing a Central Intelligence Agency report confirmed by two senior U.S. officials, Newsweek also reported Tuesday that the Intelligence Community believes Beijing levied pressure against the WHO in order to downplay the disease in January. The WHO praised China's anti-viral efforts at the time—as did President Donald Trump.
But as the coronavirus disease known as COVID-19 spread from where it was first observed in Wuhan across the globe, it became the center of a major geopolitical feud between Washington and Beijing. With the U.S. being by far the worst-afflicted nation by the pathogen, Trump and his administration have sought to expose what they said is China's mishandling of the early stages of the outbreak.
China has pointed out the United States' own struggle with the disease, which has prompted some criticism over the Trump administration's response, as well. Some Chinese officials have also suggested COVID-19 may have been brought to their country by the U.S. military—an unfounded theory later repeated by some Iranian officials as well as other outlets.
The U.S. currently accounts for nearly a third of the world's 4.5 million confirmed COVID-19 cases and well over a quarter of the roughly 300,000 recorded deaths worldwide.