China on Tuesday reported new COVID-19 infection cases in the country had doubled on Monday from the prior day, which resulted in a two-year high. The news dealt a blow to Hong Kong's frequent touting of its tough COVID measures as well as to its frequent criticism of the United States' response to the pandemic.
China's National Health Commission reported a total of 3,507 new domestically transmitted cases on Monday, up from Sunday's 1,337, according to Reuters. China's latest figures are small compared to many countries, including the U.S., where the daily new case average is 39,024, but the country's strict zero-tolerance COVID policy is now being questioned as the Omicron variant spreads rapidly in the country.
Meanwhile, while the U.S. still has higher numbers, it has also seen a decline in daily cases, hospitalizations and deaths in recent weeks, according to data from Johns Hopkins University.
The U.S. and China have sparred publicly over the coronavirus dating back to the beginning of the pandemic two years ago. At the time, then-President Donald Trump began referring to coronavirus as the "Chinese Virus" while Chinese officials chastised his administration for downplaying the seriousness of the pandemic.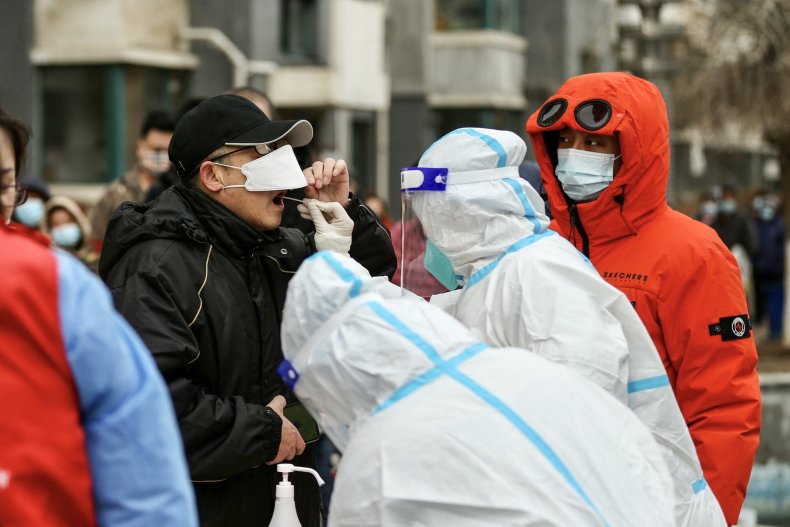 In May of 2020, Chinese Foreign Minister Wang Yi said during a press conference that the U.S. was spreading "conspiracies and lies" about COVID-19. He also called on American leaders to "stop wasting time and stop wasting precious lives" in its pandemic response.
That kind of rhetoric between leaders of the two countries became common throughout the pandemic. Another high-profile example came in March of 2021 when China's Cabinet issued a 28-page report that derided the U.S. response to COVID while also bringing up racism—going so far as to open the report with "I can't breathe" in reference to George Floyd—and financial inequality.
"To defeat the epidemic requires mutual help, solidarity and cooperation among all countries," the report stated. "However, the United States, which has always considered itself an exception and superior, saw its own epidemic situation go out of control, accompanied by political disorder, inter-ethnic conflicts, and social division."
The report also touted the effectiveness of China's zero-tolerance policy towards the virus, which was credited for a result of fewer lives lost to COVID-19 than in the U.S.
China officials also responded in May 2021 to President Joe Biden asking the intelligence community to increase efforts in its work to determine the origins of the coronavirus.
"Some people in the United States completely ignore facts and science," Chinese Foreign Ministry spokesman Zhao Lijian told reporters at the time.
However, with new cases spreading quickly in China, the country's government will likely soon have to respond to a new round of criticism regarding its COVID approach, which has seen high financial costs coming from large lockdowns.
Newsweek reached out to China's Health Commission but did not hear back in time for publication.