China Arrests Retired Professor, Critic of Human Rights Abuses, During TV Interview
A retired university professor was heard to be arrested by authorities in China during a live television phone interview on Wednesday evening, just as he was criticizing the country's human rights abuses.
Wenguang Sun, who formerly taught at China's Shandong University, was speaking on the Voice of America (VOA) Mandarin television show Issues & Opinions. As he spoke over the phone with the show's host, he was audibly detained by the authorities.
"I am entitled to express my opinion. This is my freedom of speech," Sun said, before he was cut off, VOA reported.
A spokesperson for the U.S. government-funded broadcaster said details surrounding the incident remain unconfirmed.
"VOA is monitoring the situation closely and will provide an update to program viewers once more information becomes available," Bridget Serchak said in an official statement.
"As stated in the Universal Declaration of Human Rights, everyone has the right to freedom of opinion and expression; this right includes freedom to hold opinions without interference and to seek, receive and impart information and ideas through any media and regardless of frontiers," she added.
Sun recently wrote an open letter that was critical of Chinese President Xi Jinping's foreign policy, according to VOA. In the letter, the retired academic urged the president to end Chinese spending overseas on loans, aid and investment to developing nations. He argued that the money would be better spent back home in China.
Under Xi, who has served as China's president since 2013 and the head of the country's Communist Party since 2012, analysts have pointed to an increasing crackdown on free speech.
The 2018 World Press Freedom Index, published by Reporters Without Borders, ranks China 176 out of 180 countries, just a few places above North Korea. The report also refers to President Xi as "the planet's leading censor and press freedom predator."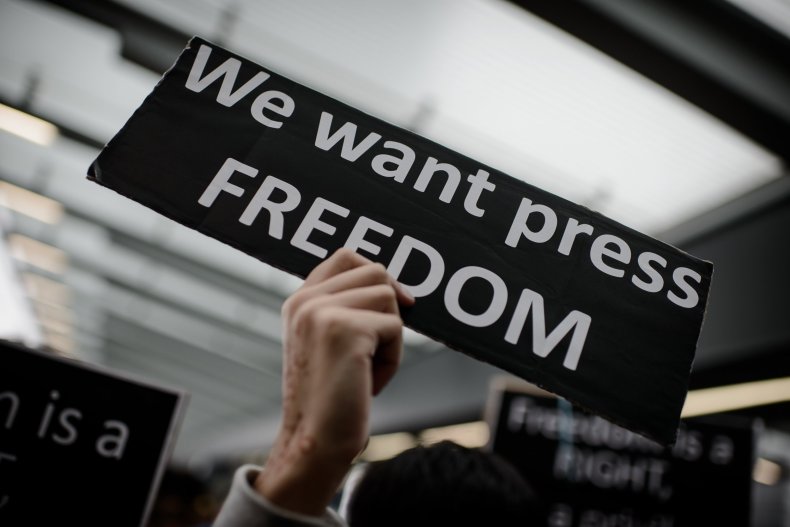 Xi spoke to The Wall Street Journal in 2015, explaining his views on "freedom" and "order" in society. "Freedom and order must be upheld side by side in both cyberspace and the physical world. Freedom is the purpose of order, and order the guarantee of freedom," the Chinese president said.
Last year, China also implemented rules controlling the news content permitted on various internet platforms. The new regulations subject editors to stronger oversight by the government.
In July, an American professor who taught at a top Chinese university was let go from his job after nine years. Although no specific reason was given, Christopher Balding, who taught at Peking University's HSBC School of Business in Shenzhen, believed his contract was not renewed due to his critical stance toward the Communist government's censorship policies.