China-Australia Relations Hit New Low as Beijing Halts Trade Dialogue
China announced an indefinite suspension of a trade talk mechanism with Australia on Thursday in the latest sign of souring diplomatic relations between the two nations.
The China-Australia Strategic Economic Dialogue, which was launched in 2014 and led to the signing of the China-Australia Free Trade Agreement a year later, was put on hold by the National Development and Reform Commission (NDRC) with immediate effect.
In a statement on its website, China's top economic planning authority accused the Australian government of carrying out "a series of measures to disrupt the normal exchanges and cooperation" between the two countries.
It cited Australia's attitude—a "Cold War mindset and ideological discrimination"—as the reason behind its decision to "indefinitely suspend all activities under the framework."
Dan Tehan, Australia's trade minister, called the decision "disappointing." "We remain open to holding the dialogue and engaging at the Ministerial level," he tweeted.
The last meeting to be held under the economic dialogue took place in 2017 in Beijing. According to Australia's Department of Foreign Affairs and Trade, China remains the country's largest two-way trading partner, accounting for 29 percent of its global trade—worth A$251 billion ($194 billion) between 2019 and 2020.
Thursday's decision has been seen by some observers as more of a symbolic move. However, it nonetheless points to the increasingly strained China-Australia relationship.
Beijing last month protested Canberra's decision to revoke two infrastructure deals the state of Victoria had signed with China as part of Xi Jinping's central foreign policy endeavor, the Belt and Road Initiative.
Responding to NDRC's announcement, Communist Party newspaper the Global Times said the call showed China was "resolute" and "prepared to take all necessary moves to defend its national interests in response to Australia's provocations."
Beijing would respond similarly in the future "if Canberra further escalates its anti-China agenda," the state-owned tabloid predicted.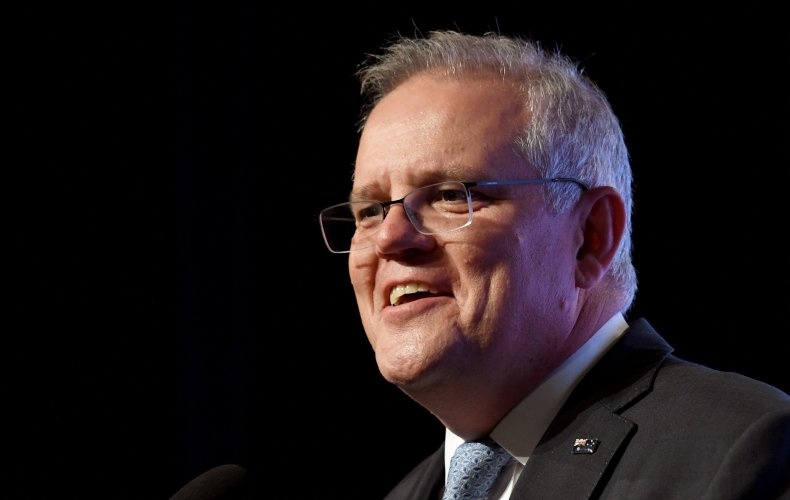 The ebb in bilateral ties, however, goes back to at least 2018, when the Australian government banned Chinese telecommunications company Huawei from its 5G networks. A series of diplomatic spats followed, with Prime Minister Scott Morrison calling for an independent inquiry into the origins of the coronavirus last spring.
China retaliated with tariffs and other trade restrictions on Australian goods such as wine, lobster and coal. Beijing justified the measures as anti-dumping duties.
With Morrison helping to firm up the Quadrilateral Security Dialogue—led by the u.s. and involving Japan and India—Beijing has decried what it says are efforts to hype up the "China threat" theory.
Members of Morrison's cabinet have recently warned of the "drums of war" as some envision the possibility of conflict with China.