China Chides 'Cold War Mentality' As Antony Blinken Bolsters Anti-Beijing Alliance
China has expressed its opposition to U.S.-led foreign policy developments in the Asia-Pacific as Antony Blinken and Lloyd Austin landed in Tokyo early Tuesday.
Secretary of State Blinken and Defense Secretary Austin are conducting the Biden administration's first overseas diplomatic calls and were scheduled to meet their Japanese counterparts for "2+2" dialogue this week.
The trip comes a few days after President Joe Biden hosted virtually the first-ever leaders' summit of the Quadrilateral Security Dialogue, a coalition commentators say is now ostensibly tasked with countering Beijing's growing influence.
China's foreign ministry spokesperson Zhao Lijian was critical of both initiatives during a daily press briefing on Monday.
Responding to Austin's recent comments about the U.S. and its allies needing to ensure they have a "credible deterrence" against China, Zhao urged Washington to treat bilateral relations "with the right mentality."
China is a "builder of world peace," Zhao said. "China's development means better protection for world peace, as it represents opportunities for the world, not challenges."
The Chinese official described Friday's virtual meeting of the Quad as one led by "Cold War mentality and ideological prejudice." The group should promote "solidarity and cooperation" among regional countries instead of "forming small cliques," Zhao added without naming the United States, India, Japan and Australia.
China's objection to the Quad goes back several years. Beijing was also critical of last October's Quad meeting featuring former Secretary Mike Pompeo and his foreign minister counterparts in Tokyo.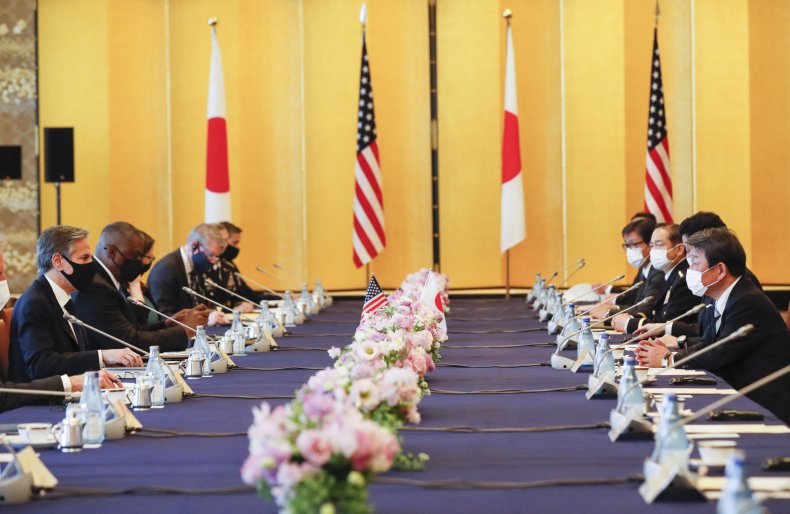 In 2018, current Chinese Foreign Minister Wang Yi described the coalition as "sea foam"—short-lived and quick to disperse. But in the intervening years, the Chinese government has found itself in ongoing disputes with all four Quad nations.
Last summer saw an escalation of tensions along the contested border between China and India, resulting in casualties on both sides. In the East China Sea, Beijing is using its coast guard to assert maritime claims against Tokyo over the Japan-controlled Senkaku Islands.
Following last year's call by Canberra for an independent inquiry into the origins of the coronavirus pandemic, China restricted the import of key Australian products such as coal, timber and lobsters. Citing Australia's dumping practices, Beijing levied tariffs of over 200 percent on the country's wines.
Further afield, the U.S.-China trade war continues, with the Biden administration recognizing several critical challenges first announced in earnest by former President Donald Trump. Meanwhile, emerging technological threats include the recent hacking of Microsoft Exchange servers, allegedly by China actors.
A joint statement released after last week's Quad dialogue said the respective heads of state had committed to an in-person summit before the end of 2021. The meeting would mark another milestone in Washington's shift toward solidifying security and economic partnerships in the Indo-Pacific.
Analysts have described the group's mission as countering Chinese influence in the region, while Beijing has criticized the participants for creating an "Asian NATO."
However, the White House has pushed back against the classification, saying last Friday's meeting was predominantly focused on public health and the climate crisis.
Jake Sullivan, Biden's national security adviser, said the Quad is "not a military alliance" and "not a new NATO."
"The four leaders did discuss the challenge posed by China, and they made clear that none of them have any illusions about China. But today was not fundamentally about China," Sullivan told reporters after the virtual summit.
Sullivan will fly to Alaska on Thursday as he and Blinken sit down with the Chinese foreign minister and Yang Jiechi—Xi Jinping's top diplomat—in Anchorage.
The two governments have issued conflicting reports about the nature of the icebreaker talks, with Beijing insisting the meeting will be a "high-level strategic dialogue."
Blinken and Austin are due in Seoul on Wednesday for another "2+2" with South Korea's foreign and defense ministers. Austin will also travel to India as part of the Asia trip, according to the Pentagon.