The U.S. military has revealed the regions and reasonings for its territorial challenges against China and other nations throughout fiscal year 2020, which saw a record number of operations in defiance of Beijing's claims in the Asia-Pacific.
The report, published Wednesday, detailed the service's "freedom of navigation" operations conducted across the globe with the stated goal of enforcing the United Nations Convention on the Law of the Sea. Although Washington has not ratified the treaty, it recognizes it as customary international law.
"Unlawful and sweeping maritime claims—or incoherent legal theories of maritime entitlements—that are inconsistent with customary international law as reflected in the Law of the Sea Convention pose a threat to the legal foundation of the rules-based international order," the Pentagon report said. "Consequently, the United States is committed to confronting this threat by challenging excessive maritime claims."
In reference to the practice of freedom of navigation operations, sometimes called FONOPs, the report said that "comprehensive, regular, and routine execution of these operations complements diplomatic engagements by the U.S. State Department and supports the longstanding U.S. national interest in freedom of the seas worldwide."
But those on the receiving end of these sail-through assertions often disagree, and China—which has ratified the Law of the Sea Convention—particularly views such moves as an affront to its maritime sovereignty. With at least nine reported operations directed toward Chinese claims, fiscal year 2020 was the busiest to date.
These operations all took place in the East and South China Seas, but were presented with specific explanations by type.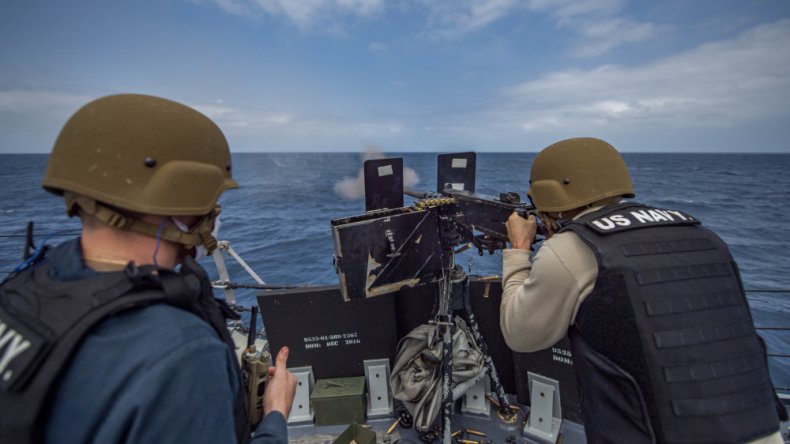 Operations in the East China Sea, where China regularly sends vessels to enforce claims on the Japan-controlled Pinnacle Islands, challenged "restrictions on foreign aircraft flying through an Air Defense Identification Zone (ADIZ) without the intent to enter national airspace."
In the South China Sea, much of which China claims as part of its territory, and where the People's Liberation Army has established bases on contested islands, the U.S. military challenged Beijing's "straight baseline claims," requirements for "prior permission required for innocent passage of foreign military ships through the territorial sea" and "territorial sea and airspace around features not so entitled (i.e., low-tide elevations)."
U.S. forces also tackled allegations of "criminalization of surveying and mapping activities by foreign entities which do not obtain approval from or cooperate with the People's Republic of China (PRC)," including "jurisdiction over all surveying and mapping activities 'in the territorial air, land, and waters, as well as other sea areas under PRC jurisdiction,' without distinction between marine scientific research and military surveys" and "security jurisdiction over the contiguous zone" in both bodies of water.
China has routinely rejected the arguments for these operations, all of which took place under former President Donald Trump. He would go on to oversee at least three more in December, and his successor, President Joe Biden, has since ordered at least two such operations in defiance of the People's Republic.
China has taken exception to these operations.
"China's determination to maintain peace and stability in the South China Sea is unwavering and firmly opposes any country's increasing military presence in the South China Sea in the name of 'freedom of navigation,' creating tension, interfering in regional affairs, and harming the common interests of regional countries," the Chinese National Ministry of Defense Information Bureau said in a statement last week.
It called on nations to instead "make constructive contributions to maintaining peace and stability in the South China Sea," and "not make trouble or stir up the situation in the South China Sea."
The U.S. Navy is concerned over China's rising naval power. Adm. Philip S. Davidson, Commander of the United States Indo-Pacific Command, told the Senate Armed Services Committee on Tuesday that "the military balance in the Indo-Pacific is becoming more unfavorable for the United States and our allies."
In a statement recently sent to Newsweek, U.S. Navy Assistant Chief of Information Commander Courtney Hillson said that "the entirety of People's Liberation Army Navy growth in both capacity and capability is concerning."
"China deploys a multilayered fleet that includes the PLAN, the China Coast Guard, and the People's Armed Forces Maritime Militia — naval auxiliaries disguised as civilian vessels — to undermine other nations' sovereignty and enforce unlawful claims," she said. "It continues to coerce vital resources from the exclusive economic zones of other nations, militarize disputed features in the South China Sea, and develop the world's largest missile force."
Despite this growth in forces, she said the U.S. Navy would continue to take on the People's Republic to ensure freedom of navigation for all.
"The United States Navy continues to fly, sail, and operate anywhere international law allows," she said. "We are working with allies and partners to confront China's malign behavior, and deter and contest China's attempts to incrementally undermine a free and open Indo-Pacific."
The Biden administration has used this same argument to justify challenging China's claims to self-ruling Taiwan and the neighboring Taiwan Strait that divides the de facto rule of rival governments based in Beijing and Taipei. He has also continued Trump's strategy of building ties with fellow Quadrilateral Security Dialogue powers Australia, India and Japan, with whom he was set to hold the first-ever leader-level conference in virtual format on Friday.
Chinese Foreign Ministry spokesperson Zhao Lijian told reporters Wednesday that he hoped the four nations "will act in line with the common interests of regional countries, uphold the principle of openness, inclusiveness and win-win outcomes, and do more things that are conducive to regional peace, stability and development, not the other way around."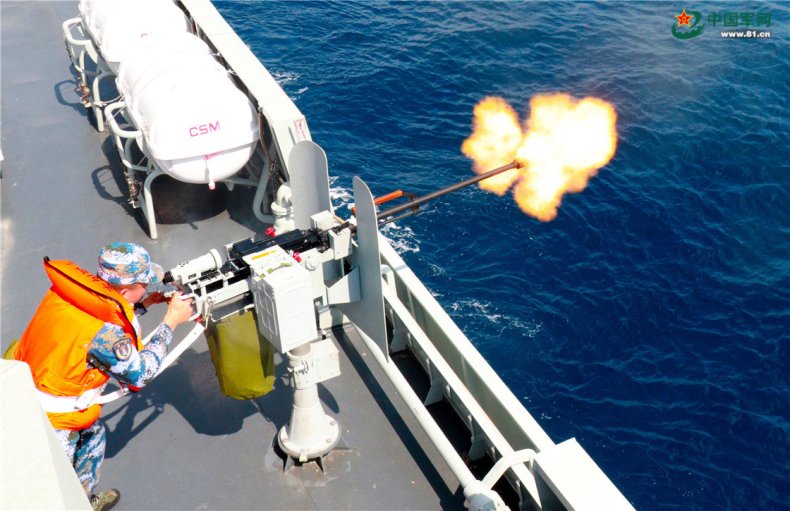 As for the cross-strait issue, identified by both Washington and Beijing as the most sensitive element in their bilateral relations, Zhao accused certain U.S. officials of "exploiting the Taiwan question to exaggerate China's military threat."
He claimed that the U.S. was using the Taiwan issue to advance its military and foreign policy objectives.
"Some people in the United States are actually looking for excuses to justify the increase of the U.S. military expenditure, expansion of its military power, and interfere in regional affairs," Zhao said. "The United States should abandon the Cold War zero-sum mentality, view China's development and national defense development objectively and rationally, and do more things that are conducive to mutual trust between China and the United States and regional peace and stability."
Secretary of State Antony Blinken said Thursday that the U.S.-China relationship "will be competitive when it should, be collaborative when it can be and adversarial when it must be."
In addition to criticizing Beijing on affairs in the South and East China Seas, Blinken has also discussed alleged human rights abuses in China's Hong Kong, Tibet and Xinjiang.
On Sunday, his Chinese counterpart Wang Yi told reporters that "non-interference in each other's internal affairs is an explicit principle in the Charter of the United Nations and a basic norm governing international relations."
He claimed China should be the judge of its own actions.
"The Chinese people are in the best position to tell whether China is doing a good job," Wang said. "The Chinese people can best decide what is the right thing for China to do."
And he added the familiar refrain of diplomacy and sovereignty.
"In the meantime, we are willing to communicate with all sides on the basis of respect for sovereignty to enhance mutual trust, remove misunderstanding, and share relevant facts," Wang said. "But we will not accept groundless accusations or defamation, and we will not allow our core interests to be breached."