Chinese Blogger Charged Under Hero and Martyr Law Confesses on State Media
A blogger has become the first person to be charged under a new law outlawing the defamation of China's heroes and martyrs after he questioned Beijing's account of last summer's deadly skirmish on the Indian border.
Prosecutors in Nanjing, capital of China's coastal province of Jiangu, announced charges against Qiu Ziming, 38, on Monday, the same day Chinese authorities were able to officially prosecute individuals under the country's 2018 heroes and martyrs protection act.
Qiu was detained by police on February 20 after he made two posts the day before suggesting it was likely that more soldiers had died during the Galwan Valley clash last June than the government was publicly admitting.
His questioning of the official narrative came on the day Beijing revealed for the first time—eight months after the fact—that one of its officers was seriously injured and four soldiers had been killed during the melee.
The blogger, who had worked as an investigative journalist, was one of seven people arrested for "picking quarrels and provoking troubles," a broad crime most commonly used for public order offenses. But a new amendment to China's criminal law, effective March 1, means Qiu now faces up to three years in prison for "defaming and ridiculing" the troops killed last year, according to the Nanjing People's Procuratorate.
"All four soldiers who died were trying to rescue [the officer]. If the rescuers themselves died, then there must have been more who couldn't be saved," Qiu had written, posting on his verified Weibo account "Labi Xiaoqiu."
The Indian government, which said it lost 20 soldiers during the skirmish in Ladakh, was quick to announce its casualty count because its losses were lower than China's, Qiu added.
Following the deadly incident last year, Indian media, citing official sources, had reported up to 40 Chinese soldiers dead, but the figures were never verified.
Qiu's charges, which are the first to be brought to an individual for defaming China's war heroes, were also announced by Chinese state broadcast CCTV on Monday.
The news channel dedicated one minute of its half-hour prime-time segment, Xinwen Lianbo, to Qiu's alleged offense, in a program aired simultaneously across all television channels in the country.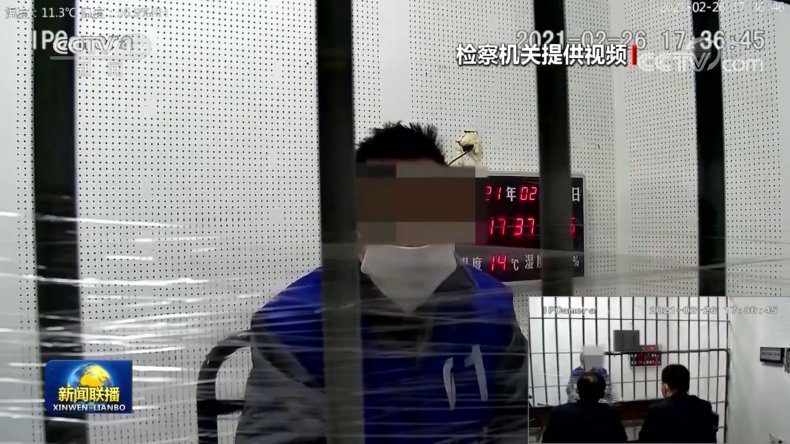 Sitting in an interrogation cell behind metal bars, Qiu is seen confessing his crime to two prosecutors, saying his comments were made "without fact," and that his posts "impacted the image of [China's] entire border force."
"I feel very guilty and very remorseful about my actions," he says in the surveillance footage dated February 26.
Weibo, which is a microblogging platform similar to Twitter, announced it had suspended Qiu's account, which had 2.5 million followers, for one year. His affiliated account—"Qiuyexing"—was also removed for the same period of time, the company said.
Prosecutors in Qiu's native Nanjing did not say when the blogger would stand trial.
Critics of China's heroes and martyrs protection law say the legislation could be used to silence those who cast doubt on the state's official narratives.
The Chinese Communist Party was "curtailing its people's freedom of speech," Shanghai-based lawyer Wu Shaoping told Radio Free Asia.
Wu said the retrospective charge against Qiu, who had committed the alleged crime before the criminal law amendment came into effect on Monday, was "unconstitutional."