China has thrown its considerable political weight behind Russia in President Vladimir Putin's standoff with Ukraine, describing NATO as outdated and calling on the West to consider Moscow's "legitimate security concerns."
At a press briefing on Wednesday, China's state news service Xinhua asked Foreign Ministry spokesperson Zhao Lijian about remarks by Deputy Secretary of State Wendy Sherman, who said Russia's demand that the alliance not expand its membership was a "non-starter."
Speaking on January 10, after unsuccessful NATO-Russia Council talks in Geneva, Sherman said: "We will not allow anyone to slam closed NATO's open-door policy."
In Beijing, Zhao spoke disparagingly of the alliance as a "Cold War remnant."
He said: "As the world's largest military alliance, NATO should abandon the outdated Cold War mentality and ideological bias, and do things that are conducive to upholding peace and stability."
"China firmly opposes all kinds of small cliques," he added, before calling on parties to "fully consider each other's legitimate security concerns, avoid antagonism and confrontation, and properly address differences and disputes through equal consultation on the basis of mutual respect."
Beijing's decision to take a side publicly comes as some 100,000 Russian troops and heavy armor are massed on Ukraine's eastern border. Moscow says it does not intend to invade; Kyiv says Russia's current force posture is insufficient for a full-scale invasion.
This Statista chart compares Russian and Ukrainian military forces.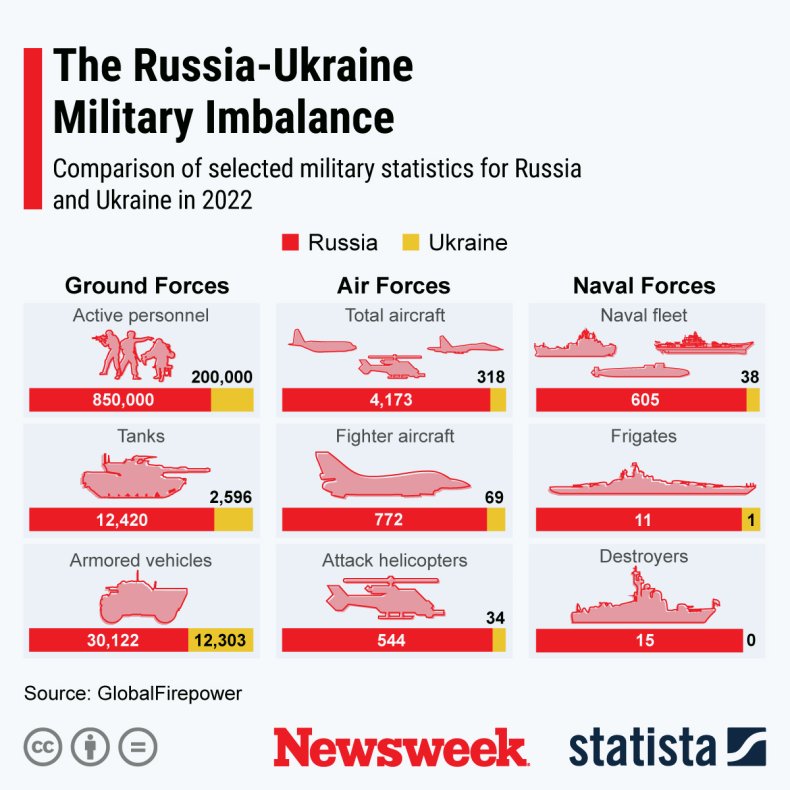 Just three weeks ago, China's President Xi Jinping exchanged pleasantries with his Ukrainian counterpart, Volodymyr Zelensky, on the 30th anniversary of official bilateral relations. The two leaders sent each other congratulatory telegrams on January 4, according to the Chinese Foreign Ministry.
Amid tensions in Eastern Europe, Xi told Zelensky their two countries enjoyed "deepening political mutual trust." He added: "I attach great importance to the development of China-Ukraine strategic partnership."
In hindsight, this might appear to be a kick in the teeth for Zelensky. It also fell short of Beijing's description of China-Russia relations this week as "mature, stable and resilient."
Despite the budding quasi-alliance between China and Russia, Beijing has not always openly sided with Moscow on its territorial expansion.
On March 15, 2014, the day before a referendum on the status of Crimea was due to take place, 13 members of the United Nations Security Council sought to declare the vote invalid—because of the presence of Russian forces in Crimea. Russia vetoed the U.N. resolution but China abstained. Beijing was similarly reluctant to back Moscow during the 2008 Russo-Georgian War.
Chinese scholars cited a policy of non-interference to explain the decision on Crimea, but researchers in the West said publicly supporting Russia would have set a dangerous precedent for China's independence-minded territories including Tibet and Xinjiang—and perhaps including self-ruled Taiwan.
On the day of the Crimea referendum, China's then Foreign Ministry spokesperson Qin Gang—now the country's top envoy in Washington—expressed Beijing's longstanding respect for "sovereignty and territorial integrity."
"We also believe that the situation in Ukraine has complex historical constituents and contemporary factors, which need to be comprehensively weighed and considered," Qin said. "China urges all parties to remain calm, exercise restraint and avoid a further escalation of tensions."
On Monday, Foreign Ministry spokesperson Zhao denied a Bloomberg report that Beijing had asked Moscow not to invade Ukraine this year.