Did China Ban Crypto? Crackdown Explained As Bitcoin and Other Cryptocurrencies Crash
The price of Bitcoin has fallen to its lowest point in months after China issued a new wave of restrictions clamping down on its use on Tuesday. The move, which also affects all other cryptocurrencies, means financial institutions and payment companies are unable to provide cryptocurrency services, such as transactions, in China.
Other affected services include registration, trading, and settlements, according to Chinese industry bodies the National Internet Finance Association of China, the China Banking Association, and the Payment and Clearing Association of China.
The groups also warned against speculative trading of cryptocurrencies, which they said has the effect of "disrupting the normal economic and financial order." The groups added that the prices of cryptocurrency tokens have "skyrocketed and plummeted" recently.
The price of Bitcoin, the world's foremost cryptocurrency, fell below $40,000 on Wednesday morning for the first time since early February this year following the news.
It is now worth about $40,250, down 10.6 percent over the past 24 hours, at the time of writing. The value of all Bitcoins in circulation is around $755 billion. The coin's fall in price can be seen in the below graph by Statista, which uses data from Coindesk.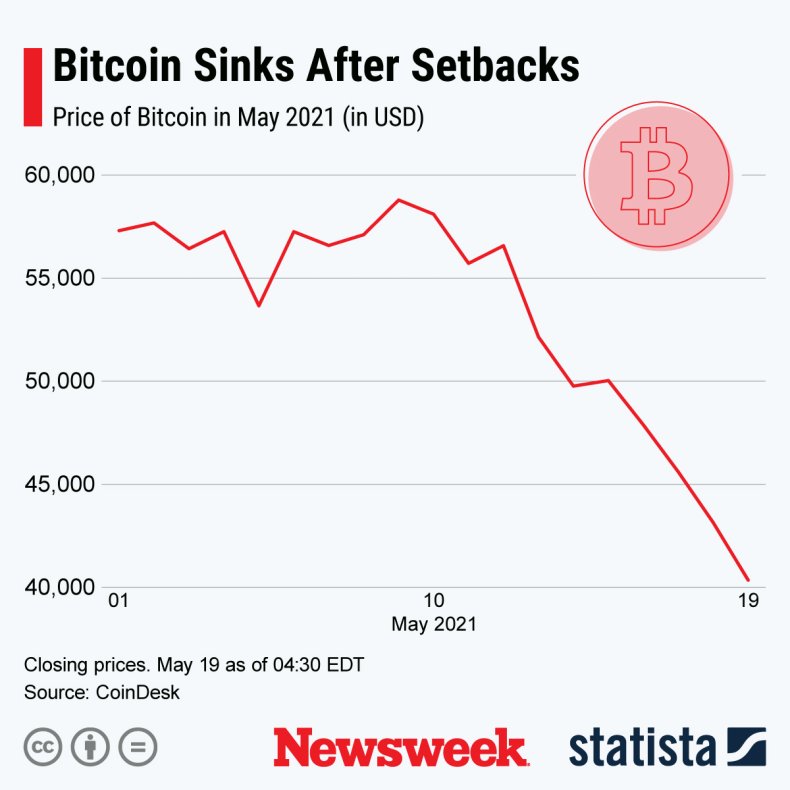 However, Bitcoin does not appear to be the only cryptocurrency affected. According to CoinMarketCap data, tokens across the board have plummeted in price over the past day.
Ethereum, the second most valuable cryptocurrency, is down 15 percent to around $3,000. Dogecoin is also down around 15 percent. Recently popular new tokens such as Shiba Inu and SafeMoon are down roughly 22.7 percent and 20.3 percent, respectively.
The dip in Bitcoin specifically is only the latest in a sharp downward trajectory for the cryptocurrency's price over the past week or so, driven in part by announcements made by U.S. billionaire Elon Musk.
On May 12, Musk announced his electric car company Tesla would no longer be accepting Bitcoin as a method of payment, citing environmental concerns.
He said that the trend of energy usage related to Bitcoin mining and transactions over the past few months was "insane."
China's recent crackdown on cryptocurrency is not the first time the country has slapped restrictions on its use; the country has long been concerned by the technology.
Back in 2017 China closed down domestic cryptocurrency exchanges, and in 2019 the People's Bank of China said it would block access to exchanges based in other countries too.
Currently Chinese citizens are able to hold cryptocurrencies, but increasingly they cannot do much else with them.