China Blames U.S. for 'Strong Smell of Gunpowder and Drama'
China blamed the U.S. for a "strong smell of gunpowder and drama" on Friday after the two nations exchanged barbs during their first face-to-face meeting since President Joe Biden took office.
Speaking from Beijing on Friday, Foreign Ministry spokesman Zhao Lijian accused U.S. diplomats of making "groundless attacks" against China's foreign and domestic policies when the countries met a day earlier in Anchorage, Alaska.
"It was the U.S. side that...provoked the dispute in the first place, so the two sides had a strong smell of gunpowder and drama from the beginning in the opening remarks. It was not the original intention of the Chinese side," Zhao told reporters at a daily briefing, the Associated Press reported.
Zhao's remarks came after Secretary of State Antony Blinken and Chinese Communist Party foreign affairs chief Yang Jiechi argued over trade, technology, human rights, cybersecurity and China's territorial claims to Taiwan and islands in the South China and East China seas.
Tensions developed between both sides early into the talks on Thursday, with the Americans accusing the Chinese of authoritarianism and human rights violations while China hit back by accusing the U.S. of hypocrisy and "advancing its own democracy."
Blinken said China's actions in Xinjiang—the region where the country has been accused of humans rights abuses by detaining over a million Uyghur Muslims—along with its authoritarian approach in Hong Kong and Taiwan "threaten global stability."
"Each of these actions threaten the rules-based order that maintains global stability," Blinken said. "That's why they're not merely internal matters and why we feel an obligation to raise these issues here today."
National security adviser Jake Sullivan then added that China's actions were an "assault on basic values" and said, "We do not seek conflict, but we welcome stiff competition."
Blinken also accused China of "grandstanding" in its opening remarks and said the nation aimed to focus "on public theatrics and dramatics over substance."
In response, China retorted by accusing the U.S. of being roiled by its own domestic discontent and called the attacks against its policies "unwarranted."
"We believe that it is important for the United States to change its own image and to stop advancing its own democracy in the rest of the world," Yang said, according to the AP. "Many people within the United States actually have little confidence in the democracy of the United States."
Yang added that "China will not accept unwarranted accusations from the U.S. side" and said that recent developments had plunged relations "into a period of unprecedented difficulty" that "has damaged the interests of our two peoples."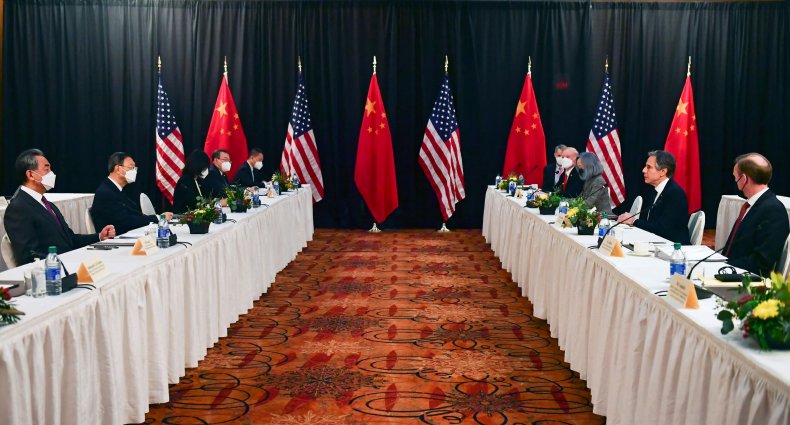 The two nations are set to meet again on Friday, this time in a closed-door session.
Though the exchange on Thursday felt icy at times, a senior Biden administration official told the AP that the talks were "substantive, serious and direct" and lasted far longer than the two hours that had been planned.
The first in-person meeting between the two countries came just one day after the U.S. announced new sanctions against Beijing for its crackdown on pro-democracy protesters in Hong Kong.
Officials within the Biden administration said earlier this week that the talks with China come at a time when the U.S. is "in the middle of a pretty extensive China strategy development process."
"This is really about having a broader strategic conversation," a senior Biden administration official said. "It's about communicating the areas where we intend to take steps, and it's about understanding where our Chinese interlocutors are at."
Newsweek contacted China's Ministry of Foreign Affairs and the White House for additional comment but did not hear back in time for publication.