U.S. Officials: 'Strategic Conversation' with China to Shape How Top Powers View Each Other
Senior officials of U.S. President Joe Biden's administration have said the debut meeting with representatives of China will have an important effect on how the two leading powers plan to approach one another moving forward.
The meeting is set to take place this Friday in Alaska, where Secretary of State Antony Blinken and White House national security adviser Jake Sullivan will sit down with Chinese Communist Party Central Foreign Affairs Commission Director Yang Jiechi and Foreign Minister Wang Yi.
As representatives of the world's two leading economies come face-to-face for the first time since Biden took office in January and amid a historic downturn in ties, the stakes are high, according to two senior U.S. administration officials.
The first official said the meeting was was "very much about sitting down, getting an understanding of each other, and then taking that back and taking stock that," noting that the Biden administration was "in the middle of a pretty extensive China strategy development process," one that is to be influenced both by the input from allies and partners, as well as the upcoming encounter.
Among the topics the two senior administration officials said would be on the agenda are allegations of human rights abuses in the Chinese regions of Xinjiang and Hong Kong, as well as disagreements over maritime boundaries in the South China Sea, accusations of economic coercion against Australia and military threats against Taiwan, a self-ruling island with informal ties to the U.S. but claimed by China.
"This is really about having a broader strategic conversation," the first official said. "It's about communicating the areas where we intend to take steps, and it's about understanding where our Chinese interlocutors are at."
"What we will hear from Yang Jiechi and Wang Yi in this conversation will be important to informing where we go in our China strategy going forward," the first senior administration official said during a press call Tuesday. "And so we think it's really important to get that."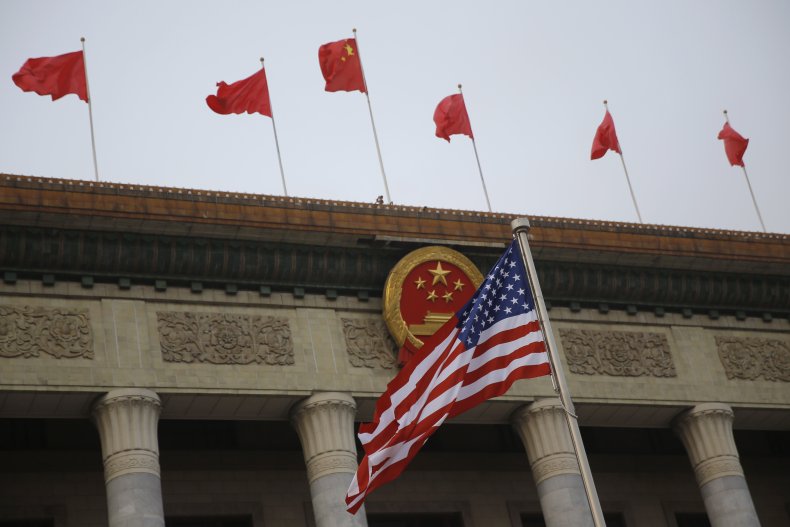 The second senior administration official acknowledged Chinese officials' public desire to rectify their deteriorating bilateral relationship with the U.S.
"Beijing has been talking about its desire to change the tone of the relationship, and of course, we're going to be looking at deeds, not words on that front," the second official said. "And we're of course coming to these discussions with a very clear-eyed view about the PRC's pretty poor track record of keeping its promises."
"We don't have any unrealistic expectations for sure, but we do think it's an opening to open up these lines of communication and for our principals to be very, very blunt with their principals about the long list of concerns," the second official added.
There would be room to communicate Washington's hard-line stance inherited from former President Donald Trump, while at the same time allowing for U.S. officials to assess China's position, the official said.
"We don't want them to be operating under illusions about our tough-minded approach to their very problematic behavior," the second official said. "And on the other hand, of course, it's an opportunity for our guys to hear from them. So without raising expectations unduly, I think we're looking to have a nice, robust, and very frank conversation with a power that is going to be a major competitor of ours. So it's good that we're opening up these channels of communication."
The second official summarized Blinken's remarks last week in saying that the U.S.-China relationship is going "to be competitive when it should be, collaborative when it can be, and adversarial when it must be."
But even on points of contention, the second official saw use in communication.
"If we get to issues where we just have very different views, it'll be good for both sides to hear one another out," the second official said.
Also set to be brought up by the U.S. side is "Beijing's malicious cyber activity" in the wake of recent attacks attributed by the U.S. to China, which has consistently denied engaging in hacking campaigns.
Accusations of China's cyber warfare intensified during the Trump administration, whose Director of National Intelligence, John Ratcliffe, accused China of attempting to interfere and influence the 2020 election. A U.S. Intelligence Community Assessment presented to the White House on January 7 and released Tuesday in declassified form assessed, however, that "China did not deploy interference efforts and considered but not deploy influence efforts intended to change the outcome of the US Presidential election."
Chinese Foreign Ministry spokesperson Zhao Lijian also discussed this Friday's scheduled talks, which he referred to as "a high-level strategic dialogue."
He said a specific agenda had yet to be set but held hope for an exchange "building on the spirit" of Biden and Chinese President Xi Jinping's phone conversation last month, and for "the two sides can have candid talks on issues of common concern."
"China will make its position clear on relevant issues during the dialogue," Zhao said. "The two sides should respect and treat each other as equals, enhance mutual understanding through dialogue, manage and dissolve differences and bring China-U.S. relations back to the right track."