China denounced Secretary of State Antony Blinken's visit to Indonesia on Tuesday and described the United States as a "saboteur" after Biden's top diplomat echoed regional concerns about "Beijing's aggressive actions."
China has overlapping territorial disputes with every South China Sea claimant, each of which has a significantly smaller economy and military but is highly dependent on the Chinese market for trade. Littoral states such as the Philippines have felt the sting of China's indirect economic sanctions in the past decade.
With no sovereignty disputes over islands or reefs in the energy-rich sea, Indonesia doesn't consider itself a claimant but is entitled to an exclusive economic zone, which is undercut by China's claim to almost the entire South China Sea as part of its sweeping "nine-dash line." Earlier this month, Reuters documented a months-long dispute between Jakarta and Beijing over Indonesia's oil and natural gas drilling in its EEZ.
During a speech at the University of Indonesia, Blinken defined the existing "rules-based order" as granting all countries the right to "choose their own path, free from coercion, free from intimidation." He said the goal of defending the established norms "is not to keep any country down."
Blinken continued: "It's not about a contest between a U.S.-centric region or a China-centric region. The Indo-Pacific is its own region. That's why there is so much concern, from Northeast Asia to Southeast Asia, and from the Mekong River to the Pacific Islands, about Beijing's aggressive actions, claiming open seas as their own, distorting open markets through subsidies to its state-run companies, denying the exports or revoking deals for countries whose policies it does not agree with, engaging in illegal, unreported and unregulated fishing activities. Countries across the region want this behavior to change."
The secretary also emphasized the U.S.' support for the 2016 ruling by the Permanent Court of Arbitration, which found China's expansive maritime claims to be inconsistent with international law.
Responding to the remarks, China's Foreign Ministry spokesperson Wang Wenbin told a regular press conference that American policy toward China was "contradictory" because it trumpeted the "China threat" while claiming the U.S. doesn't want conflict.
"Such a contradictory approach is not in keeping with the spirit of the meeting between Chinese and U.S. heads of state and will hardly be recognized by countries in the region," said Wang, who warned against "drawing ideological lines, creating cliques and inciting bloc confrontation."
"It should be a promoter of dialogue and cooperation in the region instead of a saboteur that drives wedges between regional countries and undermines regional solidarity and cooperation," he said.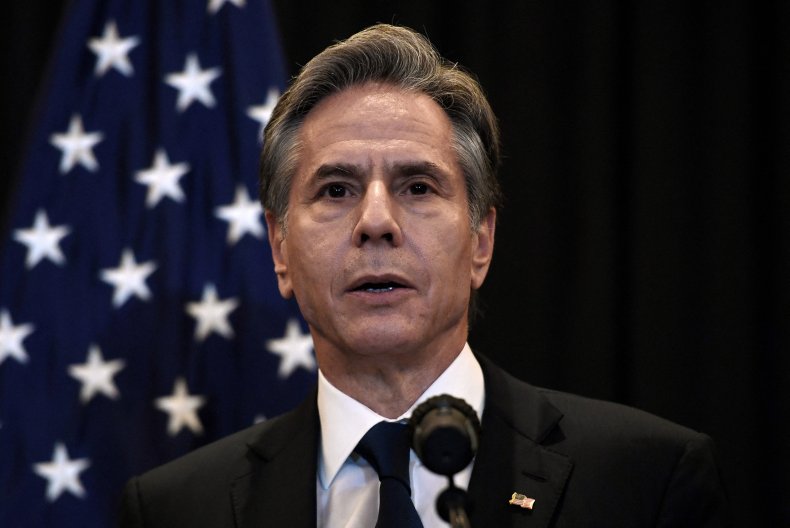 The view, as expressed by Wang, is not shared across all members of the Association of Southeast Asian Nations (ASEAN), which have welcomed the return of a sustained U.S. presence in the region, seen as being at the heart of the growing rivalry between Washington and Beijing.
The American political and military realignment to Asia inevitably involves deeper engagement with ASEAN, often described as central—geographically but economically, too—to the future of the broader Indo-Pacific. However, observers are still awaiting the Biden administration's renewed strategy for the region and a trade policy that can rival China's many inducements.
Blinken's two-day visit to Jakarta involved a meeting with Indonesian President Joko Widodo and an extensive meeting with the country's Foreign Minister Retno Marsudi. At a joint press conference on Tuesday, Marsudi announced the signing of a new memorandum of understanding (MOU) to extend maritime cooperation between the two nations until 2026.
"This MOU covers, among others, maritime security cooperation, marine resources, conservation and fisheries management, as well as maritime safety and navigation," she said. Significant was also the decision to expand security cooperation with a new "2+2" dialogue mechanism, a meeting format between foreign and defense ministries.
Blinken was due in Malaysia and Thailand for similar talks this week, as part of the Biden administration's emphasis on ASEAN partners.
According to the United Nations Conference on Trade and Development, over 80 percent of international trade in goods is carried by sea. Around 60 percent goes through Asia, and one-third through the South China Sea. It releases trade data in its annual Review of Maritime Transport report.