Philippines' Duterte Says Court Ruling Against China is Trash to Be Thrown Away
The Permanent Court of Arbitration's historic ruling in favor of the Philippines against Beijing's vast maritime claims in the South China Sea is "just a piece of paper" to be thrown in the trash, President Rodrigo Duterte told his nation on Wednesday.
In a pre-recorded address, Duterte dismissed critics who pushed him to be harder on China, which he has described as Manila's friend and "benefactor." A maritime expert described the comments as an "own goal for the Philippines" and "music to Beijing's ears."
The Philippines president's remarks appeared to be made partly in resignation of the fact that the 2016 ruling at The Hague, which the Chinese government rejected in full, did not help the countries resolve their strife in the contested South China Sea, where other claimants include Vietnam, Brunei, Malaysia and Taiwan.
"They filed a case, we won. That paper, in real life, between nations, that paper is nothing," Manila-based Rappler quoted him as saying.
Former president Benigno Aquino III filed Philippines v. China under the United Nations Convention on the Law of the Sea (UNCLOS) in 2013. The arbitral tribunal handed the Philippines a resounding victory just two weeks after Duterte had taken office, but disputes in the sea remain.
"I pursued it, nothing happened," Duterte added. "Actually, in street parlance, I would tell you, 'Give that to me? Son of a b*****, that's just a piece of paper. I'll throw it in the wastebasket."
The president gave the comments while waving around and eventually throwing aside a napkin on his desk.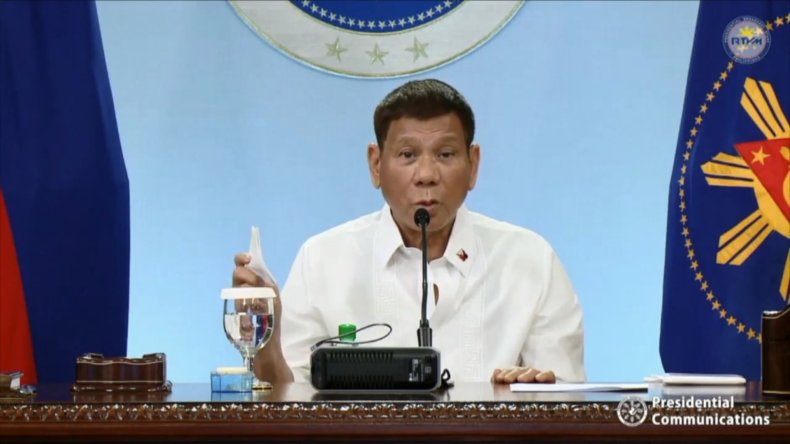 Just eight months earlier, however, Duterte unequivocally backed the Hague ruling during a speech at the United Nationals General Assembly.
"The Philippines affirms that commitment in the South China Sea in accordance with UNCLOS and the 2016 arbitral award," he said. "The award is now part of international law, beyond compromise and beyond the reach of passing governments to dilute, diminish or abandon."
Although international legal awards are difficult to enforce, it is contingent on the Philippines to uphold the award through diplomatic notes, speeches and public remarks, said maritime security analyst Collin Koh, who is a research fellow at the S. Rajaratnam School of International Studies in Singapore.
"By repeatedly casting aspersion towards the value of this award, Duterte is effectively undermining it," Koh told Newsweek. Some of the nations concerned continue to uphold the ruling, he noted, but Manila may be inadvertently strengthening China's case—and its claim to almost all of the energy-rich sea.
"So if Duterte is himself casting aspersion towards it, it would be music to Beijing's ears since it reinforced its own position against the tribunal proceedings in the first place, and the award," Koh said. "In other words, Duterte is scoring an own goal for the Philippines, and threatening to undo the efforts and gains made since 2013 and 2016."
When it comes to South China Sea disputes, Duterte's approach to dealings with Beijing is often a departure from the attitudes of his cabinet and subordinate government agencies.
On Monday, Foreign Minister Teodoro Locsin Jr. likened China to an "ugly oaf" and told the country to "get the f*** out" of Philippine waters.
His fiery tweet came after his department filed a protest over Chinese coast guard vessels which Manila said were impeding Philippine patrols in late April. There was also an "increasing presence of Chinese fishing vessels and maritime militia in Philippine maritime zones," the Department of Foreign Affairs reported.
Locsin Jr. later issued a public apology to Chinese Foreign Minister Wang Yi for hurting his feelings.
Philippine authorities patrolling the country's exclusive economic zone in what it calls the West Philippines Sea reported hundreds of Chinese fishing boats anchored in the waters off its Whitsun Reef in March.
A separate patrol last month found 240 suspected maritime militia vessels swarming Philippine-controlled islands in the South China Sea. Vessels belonging to the China Coast Guard and Chinese navy were also in the region.
Manila said Chinese warships were contributing to the "militarization of the area."
This article has been updated to include comments from Collin Koh.