U.S. Has Bigger Responsibility Than China to Heal Ties: Beijing Official
The U.S. should take the first step in mending bilateral ties with Beijing, a Chinese government official has claimed, saying relations were damaged by the Trump administration and continue to be hindered under President Joe Biden.
At a press briefing on Monday, Chinese foreign ministry spokesperson Zhao Lijian failed to list areas where Beijing could contribute toward a more harmonious relationship with Washington under the new administration.
Former President Donald Trump took measures that set U.S.-China ties back, Zhao said in response to a question from Bloomberg. "From this perspective, I would say that the U.S. government has a greater responsibility to take initiatives and measures."
Beijing has been waiting for Biden to roll back Trump-era policies on China since Xi Jinping congratulated the president on his election win in November. Last month, Chinese Foreign Minister Wang Yi listed the lifting of tariffs and sanctions on Chinese goods and companies as some of the requirements for a reset in U.S.-China relations.
Last week, the Senate passed the CONFUCIUS Act by unanimous consent. The legislation, which still requires House and presidential approval, will cut government funding for universities and colleagues with Confucius Institutes unless they are able to ensure full control over the Chinese culture exchange centers, which have been accused of censorship and influencing activities.
During a two-hour press conference at the annual meeting of China's legislature on Sunday, Wang was asked by NBC whether Beijing would consider making any concessions in order to stabilize ties with the Biden administration, which has raised concerns about its practices in, among other areas, Xinjiang and Hong Kong.
The foreign minister did not directly address the question but stressed "non-interference" in China's domestic politics. He dismissed allegations of genocide in Xinjiang and praised electoral reforms in Hong Kong.
"For quite some time, the United States has been willfully interfering in other countries' internal affairs in the name of democracy and human rights," Wang said. "This has created lots of trouble in the world and, in some cases, turbulence and conflict. It is important that the United States recognizes this as soon as possible."
In a gesture received positively in China for its symbolism, Biden and Xi spoke on the phone on the eve of the Lunar New Year holidays in February. While Beijing's readout varied greatly from the one released by the White House, Chinese officials have said the conversation provides a basis for the two countries to cooperate once more.
At the National People's Congress press conference, Wang said Beijing was ready to work with Washington in areas such as climate change and global health—items Secretary of State Antony Blinken has emphasized would also benefit American interests.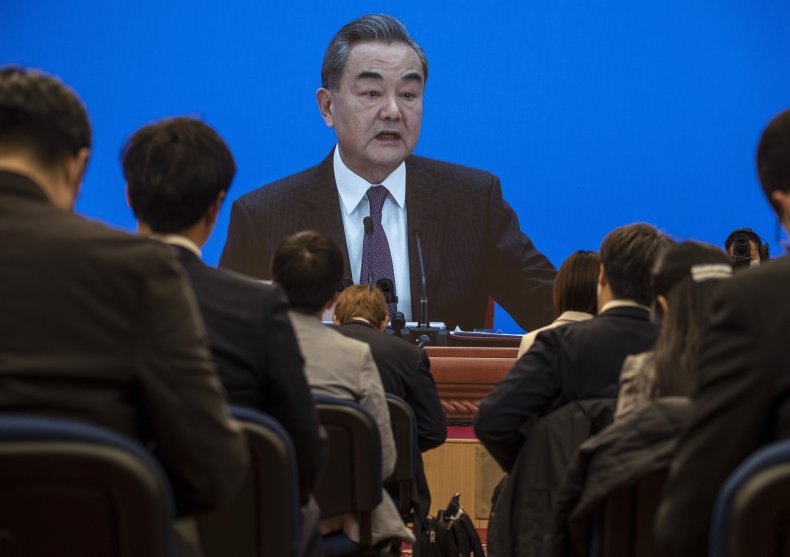 However, in response to a question put to him by Hong Kong's Phoenix Television, the diplomat repeated China's position on what it calls the "Taiwan question," and the U.S. policy of continued support for the island's democracy and security.
"On the Taiwan question, there is no room for compromise or concession from the Chinese government," said the foreign minister, urging the new administration not to follow in the previous president's footsteps, which he described as "crossing the line" and "playing with fire."
At the same event on Sunday, Wu Qian, a spokesperson for the Chinese military, said Beijing would not renounce the use of force in its goal of "reunifying" Taiwan.
Such measures by the People's Liberation Army would only target "interference from external forces and the very small number of 'Taiwan independence" separatists," Wu said.
"In my view, U.S.-China ties have transcended from being that of 'competitive engagement' to that of becoming 'adversarial counterparts,'" said Dr. Amrita Jash, a research fellow at the Centre for Land Warfare Studies in New Delhi.
Beijing and Washington were at loggerheads over the pandemic, as well as their respective engagement with regional partners—China with Iran, Pakistan and North Korea; the U.S. with India, Japan and the Quad nations—Jash said in her analysis. "U.S.-China ties now come with a baggage. Therefore, a breakthrough cannot be achieved with a quick fix."
She told Newsweek: "To mend ties with the U.S., at the foremost, China must let go of its tendency of 'blaming the other,' which in this case is the U.S. Beijing needs to tone down its wolf warrior diplomacy by acting proactive [rather] than reactive."
Jash said Beijing needed to express "genuine intention" in order to fix ties with Washington.
"The Biden presidency inherited Trump's tough stance on China. Hence, more than the U.S., the onus lies on China to act responsive rather than playing the 'blame game.' Rather, China needs to get its act right," she added.
Update 3/10/21, 1:10 p.m. ET: This story has been updated to include comment from Dr. Amrita Jash of CLAWS.