Cats as Food: 500 Felines Headed to Local Restaurants Rescued by Police in China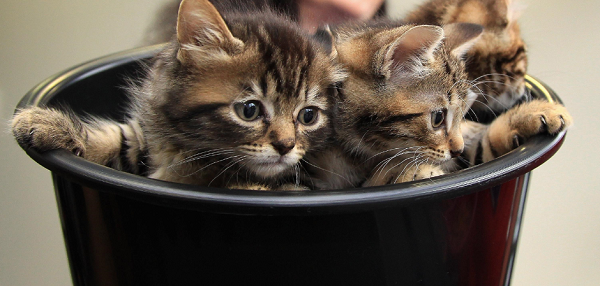 Police officers in China saved 500 cats from dreadful dinner-plate fates and arrested a man who allegedly planned to sell the felines to restaurants across the country. The authorities, who identified the man only as Sun, told Chinese news site 163.com that Sun had been stealing and selling cats to restaurants for some time near the city of Jiujiang, in Jiangsu province, South China Morning Post reported Monday.
Police were tipped off about the cat thief after a man identified as Yang contacted authorities regarding his cat, who he believed had been stolen. Yang's cat was nursing five kittens just a few days before she went missing.
Upon the search for the cat, police discovered the area where Sun had been temporarily hiding dozens of cats crammed in seven or eight cages in a village near Jiujiang, a police report said. Sun was said to have been preparing to transport the animals to various restaurants for sale when authorities arrived and arrested him.
Authorities later discovered another hut near a highway where hundreds of cats had been locked up and awaiting transportation to restaurants. Many of the cats, some pets and some street animals, were in poor health, a police report said.
Sun lured the cats into cages using sparrows as bait. The cat thief told police each animal would sell for about 30 yuan, or $4.40.
The police report didn't say if Yang's cat was found among the others.
Animal rights activists have long tried to stop the trafficking and selling of cats and dogs as food in China and other Asian countries, citing animal cruelty and endangerment as means to prevent the delicacy from being served. Government officials in 2010 considered adopting a law that would make it illegal for the animals to be sold for food purposes.
The measures never stuck, however. Taiwan recently became the first Asian country to outlaw eating cats and dogs.