China Compares Xinjiang Cotton Harvesting to Black Workers in Deep South 100 Years Ago
The Chinese government's chief spokesperson has compared Uyghur cotton pickers in Xinjiang to plantation workers in the American Deep South as Beijing sought to accuse the U.S. of hypocrisy on Thursday.
Hua Chunying, who heads the Information Department at the Chinese foreign ministry, shared a black-and-white photograph of Mississippi cotton farmers and placed it next to a color image of three Uyghurs workers smiling as they collect cotton in Xinjiang.
"#Mississippi in 1908 vs #Xinjiang in 2015," Hua wrote on Twitter. "A shotgun and several hounds vs smiles and harvests. Forced labor?" she added, referring to a white tenant farmer standing in the middle of the frame.
The treatment of Uyghurs and other predominantly Turkic Muslim minorities in China's northwest is once again at the forefront of disagreements between Washington and Beijing this week.
Rights groups and United Nations experts say the Chinese government has interned at least 1 million Uyghurs in work camps, where they undergo forced sterilization and forced labor, including on the region's vast cotton farms, which supply more than 80 percent of China's textile trade.
On Monday, the Biden administration sanctioned Chinese officials responsible for the human rights violations in Xinjiang. The move was timed with similar measures taken by the European Union, Canada and the U.K.
Beijing has repeatedly denied allegations of forced labor, mass detentions and restrictions on religion in Xinjiang, where it says it provided "re-education camps" to counter extremism and provide work opportunities to alleviate poverty.
Following Monday's announcement by the U.S. and its Atlantic allies, China countered with its own actions, sanctioning 10 European lawmakers and four entities, including two EU parliamentary bodies and two think tanks.
Hua's tweet, which is one of several on the subject of forced labor, appears to be part of a larger information campaign by the Chinese government as it attempts to put forward its own narrative surrounding its policies in Xinjiang amid opposition from the international community.
Besides chiding the U.S. for its own human rights record at home, including America's struggles with gun violence and institutional racism, China has also begun a domestic boycott against Western fashion labels such as Nike and H&M over their commitments to not use cotton sourced from forced labor.
Thursday's tweet will be seen by Americans waking up on the East Coast, with Beijing implying there is no forced labor in Xinjiang, where conditions are better than those enjoyed by cotton pickers working in the Deep South more than 100 years ago.
Along with China's publication of its annual human rights report, the foreign ministry's pronouncements follow a recent pattern of pointing out human rights atrocities committed by Western governments in decades or centuries past.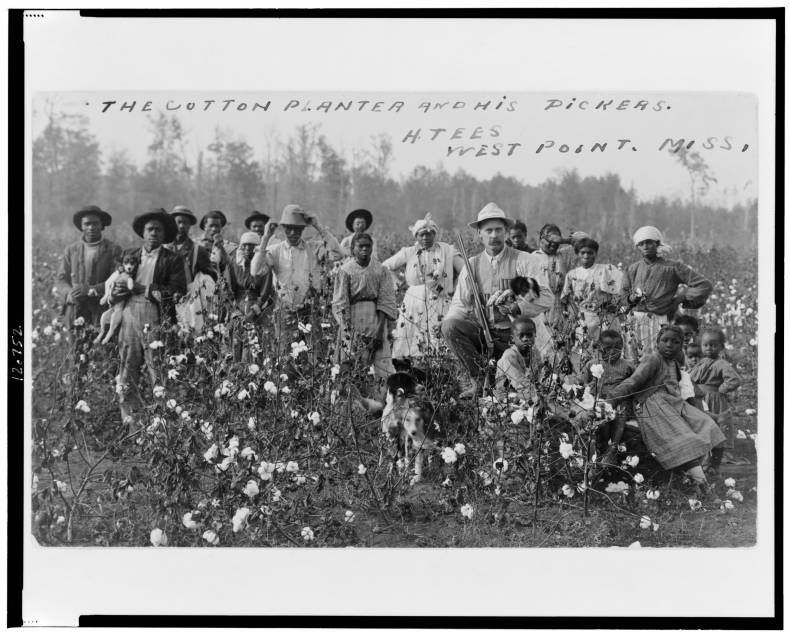 But Hua's use of the black-and-white photograph from West Point, Mississippi, could be misleading.
While she notes the firearm and dogs surrounding the farmer at the center of the image, suggesting coercion by a plantation owner against his black workers, public records available in the Library of Congress appear to tell a different story.
The archived item, which the Prints and Photographs Division identifies as a postcard, is titled "Sharecropper Sam Williams with family members and laborers in cotton field."
Individuals named in the picture include Sam Williams, his wife Diccie Williams and their youngest son Sidney Williams.
A separate note on the library's website reads: "Title on item 'The Cotton planter and his pickers' is incorrect. Sam Williams was a sharecropper, not a cotton planter."
It is unclear whether Hua was aware of the historical information attached to the image before she selected it for her tweet.