China Boycotts Nike Over Statement on Xinjiang Cotton Concerns
The Chinese government's media outlets have launched a coordinated effort to boycott Nike, H&M and other fashion labels for their statements about alleged forced labor in the Xinjiang cotton industry.
The sportswear giant found itself at the center of a social media backlash on Wednesday evening when China's Communist Youth League drew attention to undated statements by Nike and Hennes & Mauritz issued roughly one year ago.
"We are concerned about reports of forced labor in, and connected to, the Xinjiang Uyghur Autonomous Region," a notice by Nike read. "Nike does not source products from the XUAR and we have confirmed with our contract suppliers that they are not using textiles or spun yarn from the region."
H&M Group, which stopped using one Chinese manufacturer last year after it was accused of exploiting Uyghurs through forced labor, had put out a similar statement promising to "terminate the business relationship" with any supplier found to be in violation of human rights.
State-owned media outlets, including broadcaster CCTV and Communist Party newspapers People's Daily and Global Times, led a coordinated response criticizing Nike and H&M. The Swedish company had 505 stores in the country as of November 2020, according to its year-end report.
Amid accusations that Western brands were thriving off the Chinese market while putting out false statements regarding conditions in Xinjiang, actor and singer Wang Yibo, 23, terminated his role as Nike's brand ambassador in China.
Wang's statement came via his agency, Yuehua Entertainment, on Thursday, which said the actor opposed "any remark or act that smears China."
While there was no direct mention of Xinjiang, Wang later posted the words, "I support Xinjiang cotton"—a hashtag now read more than 2.1 billion times on Weibo, China's Twitter equivalent, where Wang has 38 million followers.
Another Chinese actor, Tan Songyun, 30, ended her partnership with Nike and several celebrities have cut ties with H&M.
Nike is yet to respond through its representatives in China despite its social media page being flooded with angry comments. A statement put out on Wednesday by H&M's Weibo account sought to defend last year's comment.
H&M China said it "respects Chinese consumers" and was working with more than 350 manufacturers in the country. The statement last year was a guarantee that the company would develop sustainable supply chains and "did not represent any political view," the company said.
The campaign to boycott the Swedish fashion label was already in full swing, however, with CCTV calling the 2020 statement a "miscalculation."
Major e-commerce sites including Taobao, JD and Pinduoduo removed H&M products from their platforms and footage emerged of an H&M sign being taken down at the Joy City shopping mall in Chengdu, Sichuan province.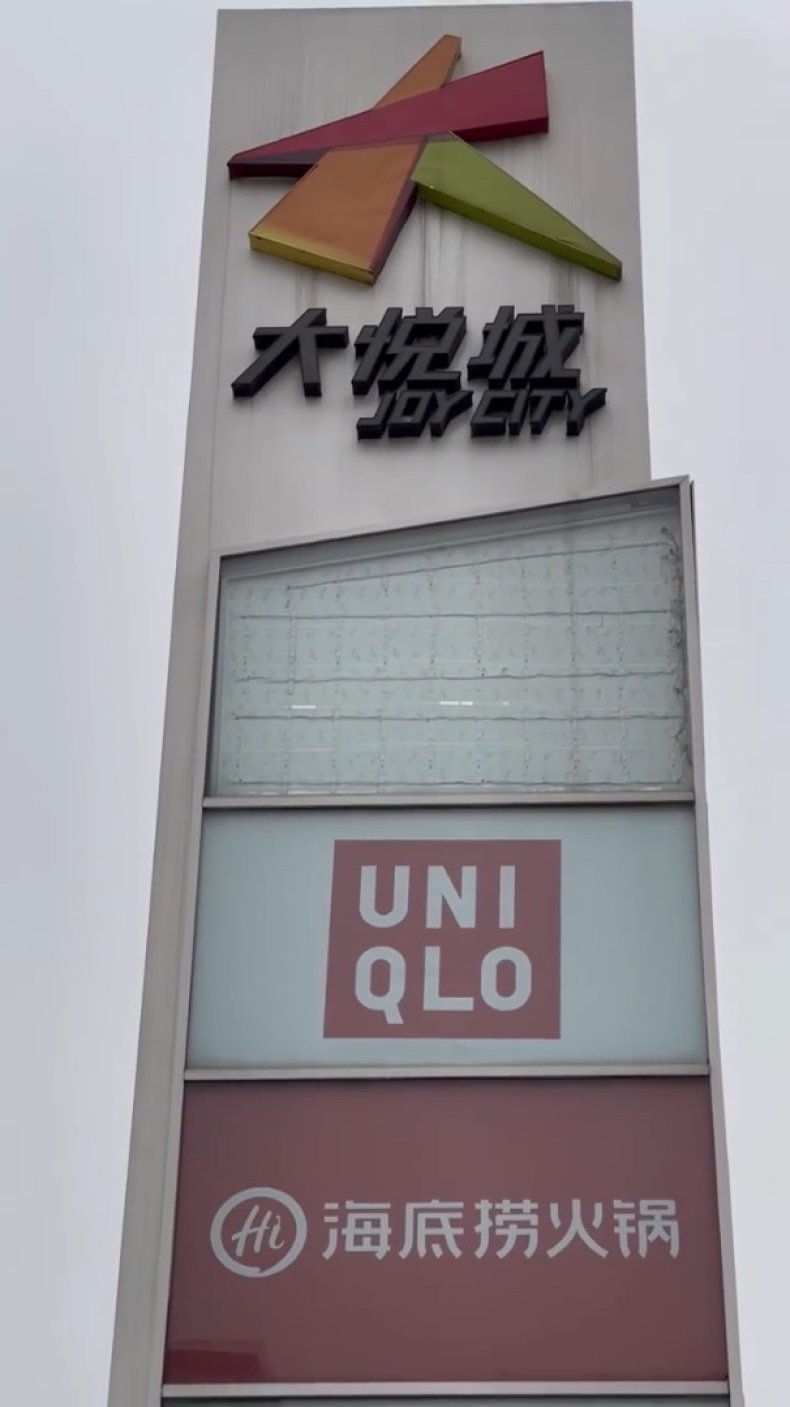 A number of well known retailers such as Adidas, New Balance and British fashion house Burberry may also be swept up in the social media storm for their membership of the Better Cotton Initiative, an industry group that stopped using cotton from Xinjiang because of difficulties tracing its origins.
Other brands operating in the Chinese market have taken a different approach.
Japanese clothing and household goods retailer Muji made headlines on Thursday after it told Global Times that it would continue to source from Xinjiang, which provides more than 80 percent of China's cotton.
The announcement spawned a Weibo hashtag about its speedy response. The phrase "Muji survival instincts" has been viewed more than 120 million times at the time of writing.
The timing of the resurfaced statements has generated further speculation about a coordinated effort—led by Beijing—to pressure Western governments via the clothing companies. China has repeatedly pushed back against accusations of human rights abuse in Xinjiang, which it has likened to disinformation.
The United States issued an outright ban on Xinjiang cotton in January and on Monday it sanctioned Chinese officials it said were responsible for human rights abuses against Uyghurs and other minorities in the region.
The decision, taken in concert with the U.K., Canada and the European Union, was met with immediate countermeasures from China, which sanctioned 10 European lawmakers and four entities.