Coronavirus Will Hurt China's Economy More Than SARS and Lower Its Growth for 2020, Economists Warn
The coronavirus will have a bigger economic impact on China than the 2003 SARS outbreak, experts have warned, with forecasts for the country's 2020 growth downgraded significantly.
Trading was suspended on several stocks Monday after they hit the daily 10 percent limit the country allows companies to drop in a single day.
The SSE Composite Index had its biggest daily drop for four years, closing nearly eight percent lower, with manufacturing, materials, and consumer goods companies hit particularly hard.
The People's Bank of China (PBOC) has lowered short-term interest rates and pumped an extra 150 billion yuan ($22bn) into the economy to improve liquidity in the banking system.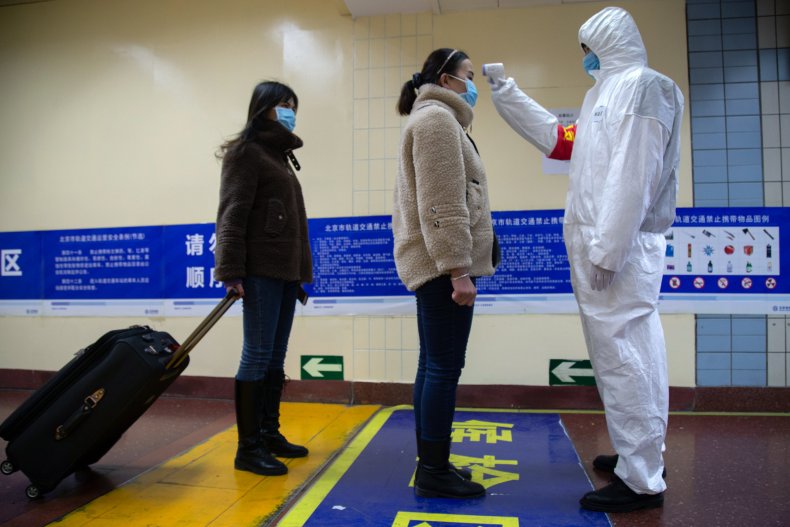 SARS cut China's growth rate by around one percent in 2003, according to Foreign Policy.
Alicia Garcia-Herrero, chief economist for Asia-Pacific at investment bank Natixis, said the coronavirus was having a bigger impact on China than SARS did as its economy has expanded over the past 17 years.
It has also shifted away from a reliance on manufacturing and exports, towards the service sector. This means it is more vulnerable to the kind of slump in domestic demand the coronavirus causes.
In emailed comments to Newsweek, Garcia-Herrero said that the outbreak was a blow to the Chinese economy, especially following the boost it got after the Phase One trade deal struck with the U.S.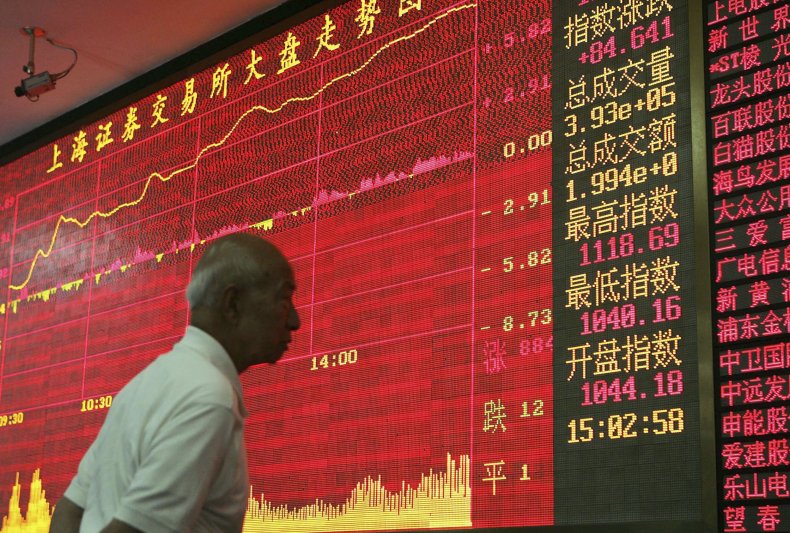 "How severe the coronavirus may be for the Chinese economy will not only depend on the extent and depth of the virus outbreak but also the government response," she said.
"We expect the quick policy reaction to avoid a sharp correction in growth so that the (ruling) party's objective of income doubling can be achieved," she added, referring to the government policy to double China's GDP between 2010 and 2020.
"This means that 2020 growth for China may still hover around 5.5 percent to 5.7 percent but with dear consequences.
"Debt will continue to pile up, for corporates, for the government and even for households, as they are pushed to consume more durable goods with subsidies and discounts.
"More debt for an already highly indebted country like China can only mean lower potential growth down the road."
On Tuesday, a report by Moody's Investors Service said the Chinese economy, already facing trade tensions with the U.S., slowing growth and demographic challenges, would be hit by the outbreak. It predicted people curtailing their spending on transport, retail and tourism.
Moody's vice president and senior credit officer, Martin Petch, said in the report: "When compared to the 2003 SARS outbreak... the now much-increased contribution of consumer demand as a driver of growth means that the coronavirus outbreak could have a greater economic impact than in 2003."
"The fact that the epidemic broke out just ahead of the Lunar New Year, a period of very high seasonal consumption and travel, will exacerbate the economic impact," he added.
Oxford Economics has revised down its China GDP growth forecast for 2020 down 0.6% to 5.4 percent.
In a statement to Newsweek, it said: "As during the SARS episode, we expect consumption and travel to take the hardest hit.
"But we also expect that there will be significant disruption to other economic activities, though to a lesser degree than the impact on consumption," it added.
Meanwhile, Chinese state media reported what appeared to be a veiled warning from President Xi Jinping to Chinese authorities about the consequences of not getting a handle on the epidemic.
"Party committees and governments at all levels should firmly follow the unified command, coordination and arrangement of the CPC Central Committee," Si said.
Xinhua reported him as saying that those "who disobey the unified command or shirk off responsibilities will be punished," and that government leaders supervising them "would also be held accountable in severe cases."
The graphic below, provided by Statista, illustrates Asian stock market closing prices compared to the baseline of January 2 prices.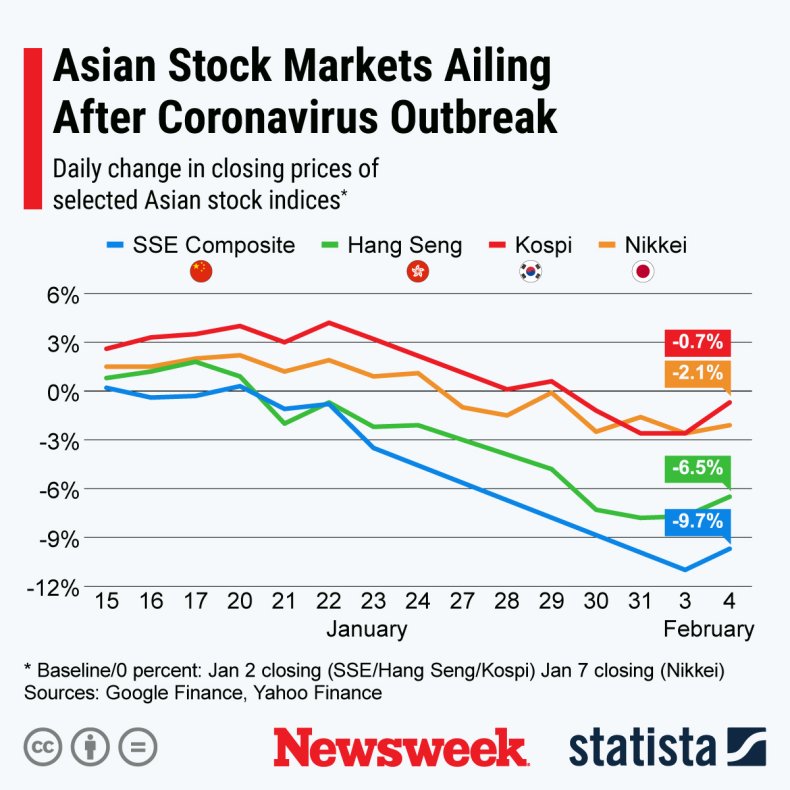 This article was updated to include an infographic