Trump's Trade War with China Is 'Not Over Yet' Despite Deal Being Signed, Beijing-backed Publication Says
An initial deal being signed this week between the U.S. and China does not mean President Donald Trump's trade war has ended, a Twitter account linked to a Beijing-backed publication has said.
Trump touted as a great success the "phase-one deal" which would see the rolling back of some tariffs on Chinese exports in return for an expected boost in the sale of U.S. agricultural products to China.
China sends a delegation to sign the deal on Wednesday led by its vice premier, Liu He but his government has been guarded in its response and details are unclear as to how much China will import from the U.S.
On Monday, the Chinese-language social media account Taoran Notes, which is affiliated to the Economic Daily newspaper and provides the inside track on the government's thinking in the trade talks, appeared to play down the significance of the deal, which had been talked up by the Trump administration as a breakthrough.
"We must bear in mind that the trade war is not over yet—the U.S. hasn't revoked all its tariffs on China and China is still implementing its retaliatory measures.
"There are still many uncertainties down the road," it said, according to the South China Morning Post.
The SCMP noted that major Chinese state media outlets, including the official Xinhua News Agency, the People's Daily and the CCTV, have been "relatively muted" in their reaction to the apparent end to the 18-month trade war.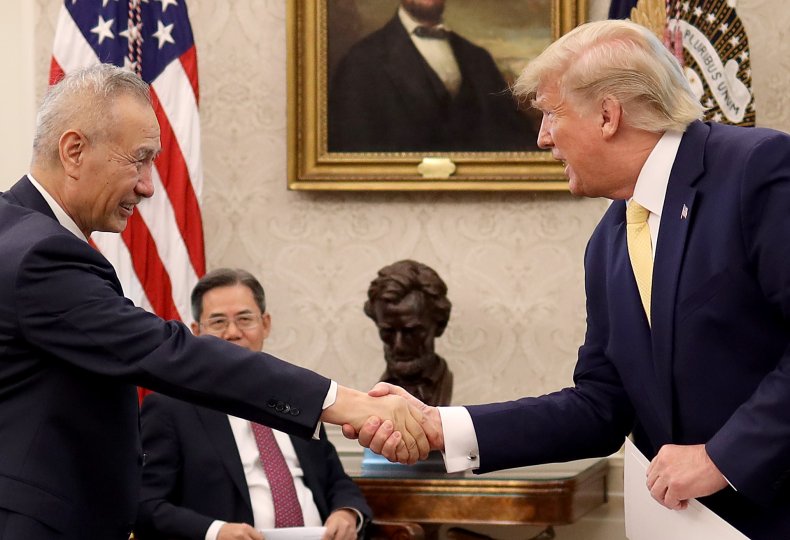 Former chair of the Federal Reserve Janet Yellen told the Asian Financial Forum on Monday that tariffs will still remain on hundreds of billions of dollars worth of Chinese products.
She also warned there remains the potential for further conflict between the U.S. and China on emerging technologies such as Chinese state-owned enterprises, artificial intelligence and super-fast 5G mobile networks.
"These issues are going to be quite difficult to deal with and will have very significant consequences for the global economy," she said, according to CNN.
"Technologies developed in one place of the world need to be and can be applied throughout the world, and become the base for further progress of technological innovation," she added.
A United Nations report in November concluded that both sides have lost in the trade war, with American consumers paying more and China's economy losing around $35 billion in the first half of 2019.
Last month, a U.S. Federal Reserve report said import tariffs introduced by Trump aimed at protecting American manufacturers have actually caused job losses and higher prices for consumers.
Scott Kennedy, trustee chair in Chinese business and economics at the Center for Strategic and International Studies [CSIS] told Newsweek in November that even with both sides claiming victory "the trade war has damaged both economies and the global economic system."
Meanwhile, Washington says it can reimpose tariffs if it thinks China is not abiding by the deal. Doubts still remain among experts about how comprehensive it is, and whether both sides will honor in full the phase-one agreement.
Tommy Xie, economist and head of greater China research at OCBC in Singapore told Al Jazeera: "There's not much commitment from China yet," adding, "People are really focused on whether China is really committed to purchase additional $200 billion in goods and services from the U.S. over the next two years."
Newsweek has contacted the White House for comment.