China Could Hand Putin a Lifeline As Sanctions Devastate Russia's Economy
With Russia's economy threatening to collapse under the weight of global sanctions in the wake of its invasion of Ukraine, the pledge by a few loyal partners to continue their extensive trade relations with Moscow could offer Vladimir Putin a lifeline—but it's unclear for how long.
America's major non-NATO ally Pakistan was the first to overtly signal its support last Thursday—just hours after Russia's missile barrages into Ukraine began—when Prime Minister Imran Khan visited Moscow and signed deals to import wheat and natural gas. The Kremlin's most important trade ties, however, are with Beijing.
In 2019, Russia sold $57.3 billion worth of goods to China, accounting for 13.4 percent of all outbound trade, making the country its single largest export destination. Seven days into Putin's bloody military campaign against Ukraine, Beijing has made clear in successive statements that it plans to continue this fruitful relationship and won't join the West's economic sanctions or restrictions by exporters of critical technologies in Asia.
China opposes all "unilateral sanctions" and doesn't believe them to be an effective means of solving problems, China's Foreign Ministry spokesperson Wang Wenbin said at a regular press conference on Wednesday. "They will only create serious difficulties to the economies and livelihoods of relevant countries, and further intensify division and confrontation."
Hinting at potential collateral damage for Beijing, Wang said countries "should not hurt the legitimate rights and interests of China" when addressing the ongoing conflict between Russia and Ukraine. "China and Russia will continue to conduct normal trade cooperation in the spirit of mutual respect, equality and mutual benefit," he said.
The graphic below, provided by Statista, illustrates the share of global payments processed on SWIFT by currency.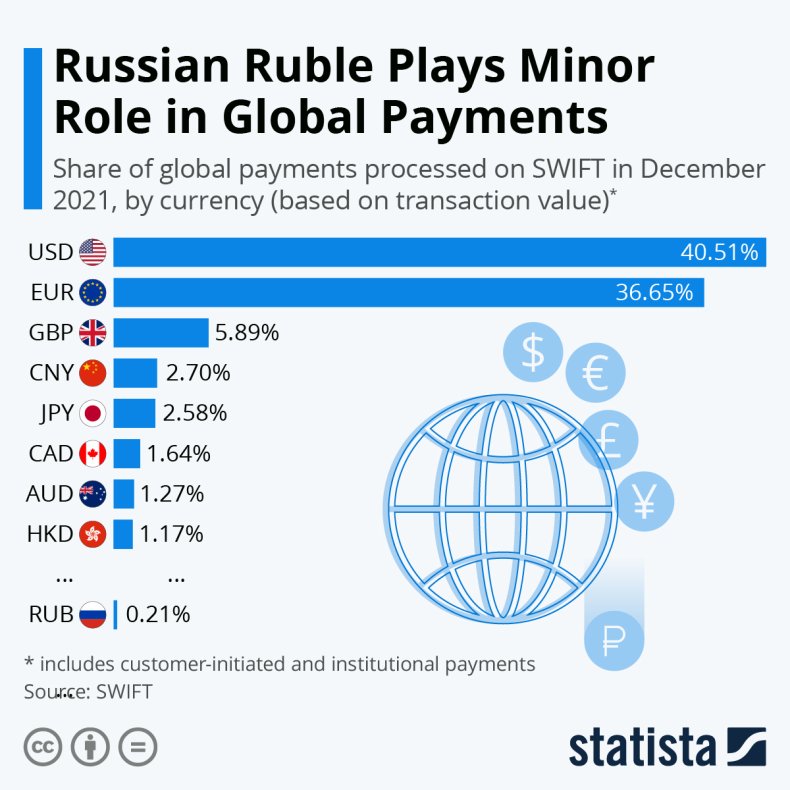 Over the weekend, as Western governments drew up an unprecedented raft of economic measures in a bid to halt the advance of Putin's forces toward Kyiv, European capitals signed on to cutting Russia from the SWIFT transaction system, a messaging platform used by more than 11,000 banks across 200 countries. Then came the decision to restrict Russia's central bank from trading in major foreign currencies, a move that further consigned the ruble to its current historic low—now worth less than an American cent.
On the first day of March, the Kremlin said it would move to restrict foreign companies looking to pull out of the Russian market.
Russia's foreign currency reserves—dubbed its "war chest"—are estimated at $630 billion. The central bank's figures from last summer showed 32.3 percent held in euros, 16.4 percent in U.S. dollars, 13.1 percent was in Chinese yuan, 21.7 percent in monetary gold and the remaining 16.5 percent in other currencies including pound sterling.
When the effects of the sanctions became apparent on Monday, Chinese economic analyst Ren Zeping predicted that Russia could turn to China's yuan-based CIPS transaction system, which could help cushion the blow for the time being. However, prolonged use of CIPS would create bifurcated global markets and—crucially for Moscow—a heavy reliance on the Chinese currency.
The chart below, provided by Statista, shows the largest holders of the Russian central bank's foreign currency and gold reserves.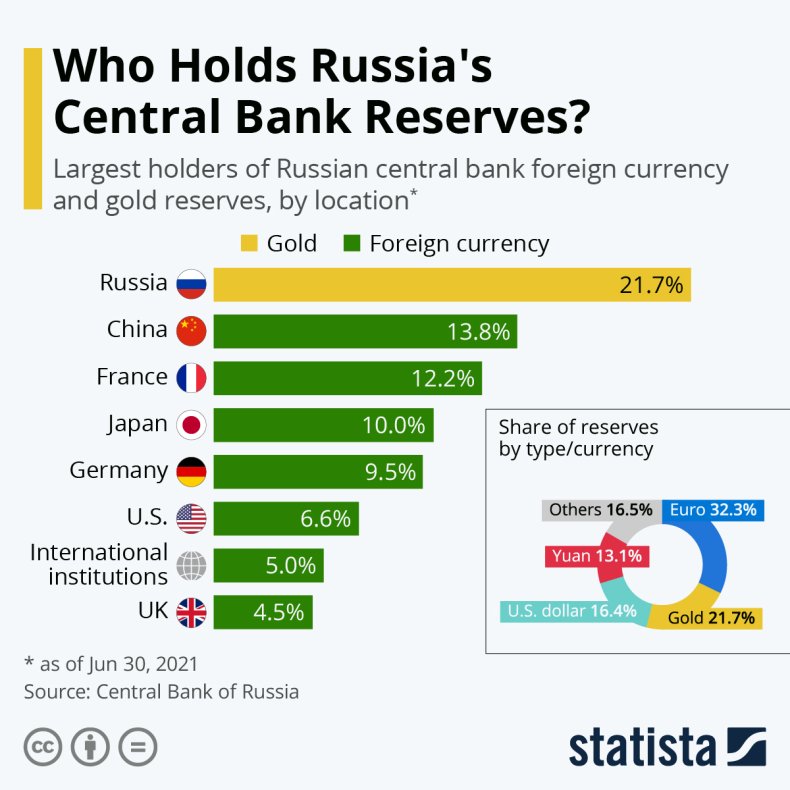 Not all forecasts are optimistic. Chinese importers are scaling back on Russian coal purchases as state-owned banks fear spillover from sanctions and refuse to offer financing, Reuters said on Monday. It confirmed a Bloomberg report on the second day of the invasion which said China's biggest commercial banks—the Bank of China and the Industrial and Commercial Bank of China—were restricting financing for Russian commodities.
Despite China's insistence that it will continue trade with Russia, the United States believes Beijing will respect the West's sanctions. Over the weekend, an unnamed Biden official told Reuters that China was not actively helping Russia evade the economic punishment.
"The latest signs suggest that China's not coming to the rescue," the official said, noting that doing so could result in "profound damage" for the Chinese economy, too. Also on Monday, White House press secretary Jen Psaki told reporters China "cannot cover what the impact of the sanctions" against Russia.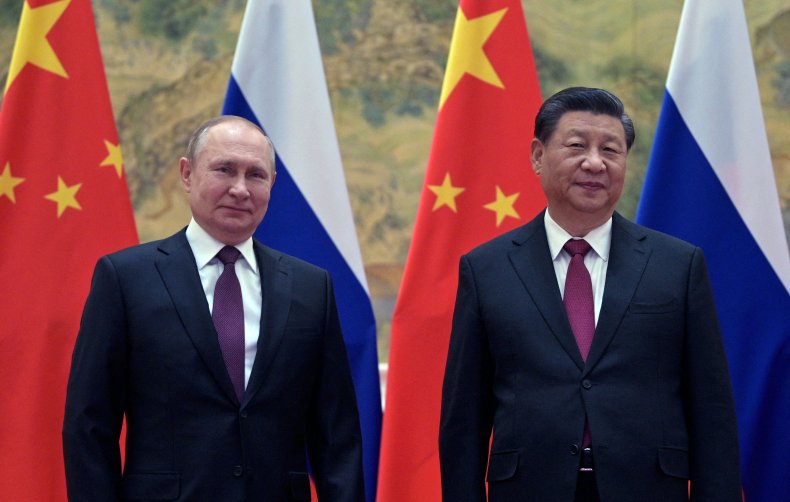 The list of countries turned and businesses lost in the wake of Putin's war is extensive. The Russian president has united NATO and the European Union in ways unimaginable just a few weeks ago. Striking examples include the forthcoming rearming of Germany and serious considerations in Finland and Sweden to join NATO.
The Nord Stream 2 natural gas pipeline has been put on ice and major energy companies Shell and BP say they are quitting Russia, although it's unclear whether the Kremlin's intervention will postpone it. Observers are also predicting a dramatic collapse for its civil aviation industry following the closure of European and American airspace, as well as announcements by Boeing and Airbus that they will be suspending the supply of service parts.
Additionally, on Tuesday, container companies MSC, Hapag-Lloyd, One Network Express and Maersk—accounting for 47 percent of all container traffic in the world—halted shipping to Russia. Apple, Disney, Nike, Visa and Mastercard are just some of the businesses that have suspended operations in the Russian market, to say nothing of its sporting bans and the war crimes investigation triggered at the International Criminal Court.
Worryingly, however, there's little sign that these hard economic hits are changing Putin's calculus as Russian forces continue to bomb major cities and advance on the Ukrainian capital of Kyiv.
Follow Newsweek's live blog to see the latest on the Russia-Ukraine conflict.