China's state-owned rail operator has denied that a freight link with Lithuania has been suspended after a report that the company was halting the transportation of goods in the wake of Beijing's spat with Vilnius over Taiwan.
China Railway Container Transport, a subsidiary of China Railway Group, sent a letter to Lithuanian customers informing them that the freight link would be put on hold from August and September, according to a copy acquired by the Baltic News Service.
The CRCT letter cited "the deterioration of bilateral relations" between China and Lithuania for the suspension, which would be in place indefinitely and "until further notice," said a report published on Wednesday by Taiwan's Central News Agency.
The decision will affect a shipment of goods scheduled for later this month, according to the Baltic News Service report published on Tuesday. The rail company operates links in Europe and Central Asia as part of China's Belt and Road initiative. The line to Vilnius was established last June, said the news service.
In a statement to China's official news agency Xinhua, CRCT said the report about freight suspension was not accurate. The company said train transportation between China and Lithuania was operating normally.
However, in a comment that appeared to contradict CRCT, Lithuania's national railway operator has confirmed elements of Tuesday's report.
A Lithuanian Railways spokesperson, Gintaras Liubinas, told Newsweek: "We have received information through our customers that several freight trains from China will not arrive in Lithuania at the end of August and in the first half of September. Meanwhile, transit trains pass through Lithuania in the usual way.
"We hope that all the agreements reached earlier will be respected and that both sides will successfully develop mutually beneficial cooperation in the field of freight transport."
China recalled its ambassador to Vilnius on August 10 and demanded the Baltic nation withdraw its envoy from Beijing in a diplomatic row over the planned opening of a de facto Taiwanese embassy in the Lithuanian capital. China claims the democratic island is part of its territory and has protested the Lithuanian government's decision to allow Taipei's first diplomatic mission in Europe for nearly 20 years—and its first under the name "Taiwan."
The Taiwanese Representative Office in Lithuania will be followed by a reciprocal office in Taipei later this year, the two governments have confirmed.
Like most countries, Lithuania has no official diplomatic relations with Taiwan, but Vilnius says forging closer cultural and economic ties with the self-ruled island does not undermine its "one China" policy.
Following China's withdrawal of its top diplomat, President Gitanas Nausėda of Lithuania told the Baltic News Service that his country had the right to conduct independent foreign policy and that "unilateral ultimatums" were not acceptable in international relations.
On Tuesday, Chinese Foreign Ministry spokesperson Hua Chunying said Beijing would "firmly defend" its core territorial interests, adding that the Lithuanian government was "fooling itself" if it thought it could maintain a "one China" policy that differed from Beijing's "one China" principle.
While Beijing's principle explicitly lists Taiwan as a province of China, the former policy—adopted by most major nations including the U.S.—is ambiguous and leaves room for informal ties with Taipei.
Lithuania's position has been backed by the U.S. and the European Union. Beijing has warned Vilnius of further consequences, ahead of the 30th anniversary of the establishment of Lithuania-China relations on September 14.
Ramūnas Rimkus, a transport official at the Lithuanian Embassy in China, told the Baltic News Service that his office had yet to receive formal notification of the reported rail suspension. Such a decision, however, would involve political considerations by China, he said.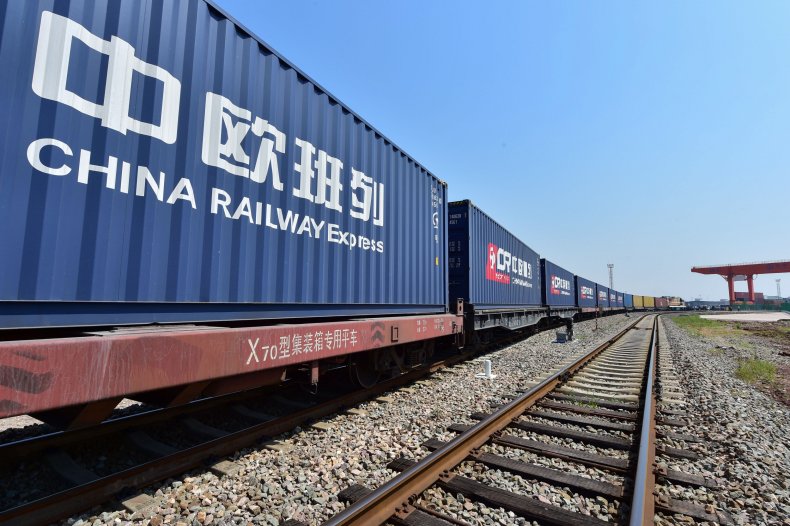 Countries including South Korea, the Philippines and, most recently, Australia have been on the receiving end of what observers term China's "economic coercion," which involves some form of trade or tourism ban as an indirect punishment for offending Beijing.
China's economic leverage over Vilnius is small, but not inconsequential. According to the United Nations International Trade Statistics Database—also known as Comtrade—Lithuania imported $1.3 billion of goods from China while exporting $357.7 million in products in 2020. The figures represented 4 percent of Lithuania's total imports and 1.1 percent of exports.
Lithuania's largest import partner was Poland at $4.34 billion, or 13 percent, followed by Germany at $4.29 billion, or 12.9 percent. Russia topped its export list at $4.3 billion, or 13.3 percent. Neighboring Latvia was second at $3 billion, or 9.3 percent, according to Comtrade.
Update 8/18/21, 10:15 a.m. ET: This article was updated to add a comment from Lithuanian Railways.