China Defends Missile Launches, Calls U.S. 'Troublemaker' After Navy Poses Challenge
The Chinese military has defended its decision to launch missiles during exercises in the South China Sea, while the U.S. Navy continues to challenge the People's Liberation Army with both words and action in the highly contested waters of the region.
After the Pentagon condemned Chinese ballistic missile launches over disputed South China Sea territory as "counterproductive to easing tensions and maintaining stability," Chinese Foreign Ministry spokesperson Zhao Lijian argued at a press briefing Friday in Beijing that the maneuvers were justified as "routine arrangements conducted by the Chinese military off China's coast."
"They are not targeted at any country and have nothing to do with the South China Sea disputes," Zhao said. "There is no basis or reason for the relevant party to make that accusation."
Zhao also referenced China's recent encounters with the U.S., whose Navy in the South China Sea.
"The U.S. has frequently dispatched in large numbers advanced warships, fighter jets and reconnaissance aircraft all the way to the South China Sea to project its power and engage in military provocations," Zhao said, "undermining China's sovereignty and security interests as well as the normal order of navigation in the South China Sea."
The U.S. Navy continues to ignore China's warnings, and has deployed the Arleigh Burke-class guided-missile destroyer USS Mustin to sail near the disputed Paracel Islands, which are claimed by China, Vietnam and Taiwan, a self-ruling island that itself is claimed by China, but is supported by Washington to Beijing's chagrin. While defying all three governments in its statements, the Navy has focused its naval and air operations on China.
In a statement sent to Newsweek, U.S. Pacific Fleet spokesperson Navy Lieutenant James Adams defended the Navy's actions, which he said "upheld the rights, freedoms, and lawful uses of the sea recognized in international law by challenging the unlawful restrictions on innocent passage imposed by China, Taiwan and Vietnam, and also by challenging China's claim to straight baselines enclosing the Paracel Islands."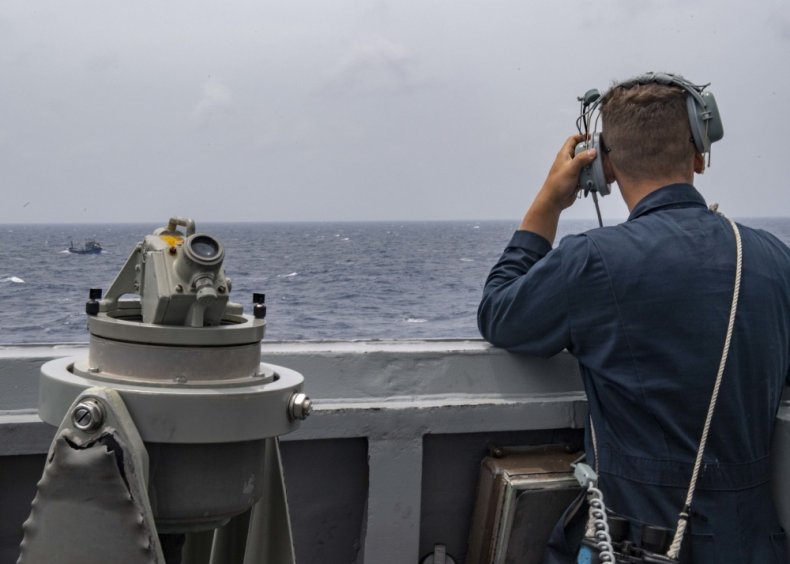 On Wednesday, Navy spokesperson Captain John Gay and Pacific Air Forces Public Affairs confirmed to Newsweek that the U.S. military was actively monitoring Chinese military exercises in the South China Sea. This came in spite of direct Chinese warnings to stay away from such drills after an incident the previous day in which the People's Liberation Army Northern Theater Command accused the U.S. of flying a U-2 spy plane through a no-fly zone over training maneuvers.
On Thursday, the Beijing-based Military Museum of the Chinese People's Revolution taunted U.S. personnel in response to the incident, inviting them to view the exhibited wreckage there of a U-2 aircraft once flown by Taiwan forces and shot down by the Chinese military in 1962.
Zhao claimed it is the U.S., not China, that bears responsibility for the conflict.
"The U.S. has become the saboteur and troublemaker of peace and stability in the South China Sea," Zhao said. "The international community bears witness to these all. The U.S. side should stop stirring up trouble and causing discord in the South China Sea and play a constructive role in safeguarding regional peace and stability."
U.S. Pacific Fleet's Adams said the issues at stake here have implications that extend far beyond those of a typical regional territorial dispute.
"Unlawful maritime claims in the South China Sea pose a serious threat to the freedom of the seas," Adams said, "including the freedoms of navigation and overflight, of unimpeded trade and commerce, and of economic opportunity for South China Sea littoral nations."
Adams also disputed People's Liberation Army Southern Theater Command spokesperson Senior Colonel Li Huamin's statement that Chinese aerial and naval forces expelled the USS Mustin in defense of "China's indisputable sovereignty over the South China Sea islands and their adjacent waters."
Adams categorically rejected Colonel Li's claims.
"The United States will never bow in intimidation or be coerced into accepting illegitimate maritime claims, such as those made by the People's Republic of China," Adams said. "The PRC's behavior stands in contrast to the United States' adherence to international law and our vision for a free and open Indo-Pacific region."
The U.S. and China are facing what may be their most serious crisis in relations since Washington switched its recognition from Nationalist-ruled Taipei to Communist-led Beijing in 1979. President Donald Trump's administration has called for a fundamental reconsideration in how the countries interact, and has urged nations around the world to do so as well, accusing the United States' top global competitor of a laundry list of economic, political and humanitarian abuses.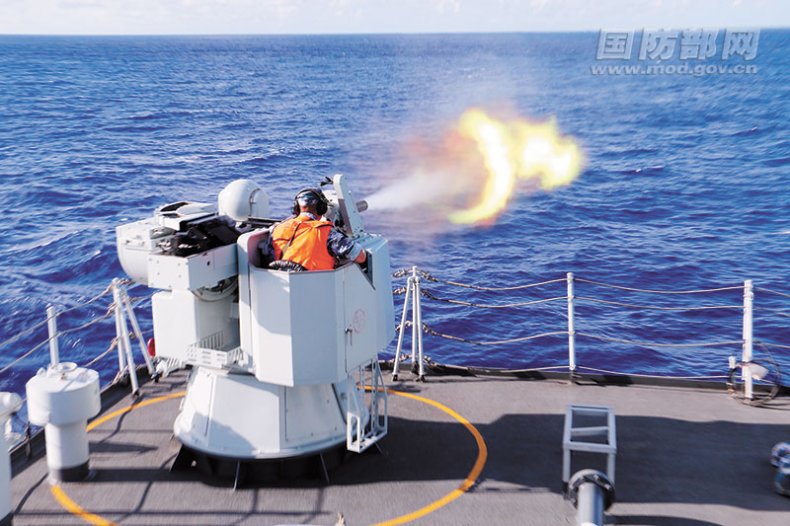 In furtherance of the U.S.-led "Free and Open Indo-Pacific" campaign to limit Chinese control over the region, U.S. Defense Secretary Mark Esper became the first in his position to visit the tiny island state of Palau. He and Palau President Thomas Remengesau Jr. "stressed the importance of all nations upholding international rules and norms and respecting the sovereignty of all regional countries, no matter their size," according to a Pentagon readout.
China, however, sees these moves as part of a strategy by Washington to sow discord among Asia-Pacific states, intervene in Beijing's internal affairs, and to solidify a hegemonic U.S. presence against a rising power.
The South China Sea Probing Initiative recently defended People's Liberation Army South China Sea military exercises as a means to stay alert and "deter U.S. increasing military activity and the anti-China rhetoric of some U.S. officials" in a statement sent to Newsweek. On Friday, the think tank reported what it believed to be the amphibious assault ship USS America operating east of Taiwan in another gesture of U.S. power projection in the region.
Despite the heightened tensions, Chinese officials publicly call for greater engagement with their U.S. counterparts. Zhao told Friday's press conference both countries "stand to gain from cooperation and lose from confrontation."
Zhao stressed that China seeks cooperation, not confrontation, with the U.S.
"We urge the U.S. to look at China and bilateral relations in an objective and rational light, work with us towards the same goal, manage differences, promote cooperation and bring China-U.S. relations back onto the right track of coordination, cooperation and stability," Zhao said.