China Says It Forced U.S. Navy Away from Disputed Islands In South China Sea as Tensions Rise
The Chinese military said it forced a U.S. warship away from disputed islands in the South China Sea, where both sides have defied military warnings to stay out of sensitive areas amid heightened military tensions between the two powers.
Senior Colonel Li Huamin, spokesperson for the Chinese People's Liberation Army Southern Theater Command, announced Thursday that the Arleigh Burke-class guided-missile destroyer USS Mustin had "trespassed into the Chinese territorial waters" off the Paracel Islands, known as Xisha to China and as Hoang Sa to Vietnam, which also claims sovereignty over them. In response to the U.S. movement, Colonel Li said China summoned a combined sea and air force that "warned it away."
Li, who reiterated his country's "indisputable sovereignty over the South China Sea islands and their adjacent waters," issued a stern warning to U.S. forces operating in this contested region.
"This has seriously undermined China's sovereignty and security interests as well as the international navigation order in the South China Sea," Li said. "We urge the United States to immediately stop such provocative acts, strictly control naval and air military operations, and strictly restrict the behavior of front-line naval and air forces so as to avoid any accidents."
But the U.S. disputes this narrative. "The PRC's statement about this mission is false. USS Mustin was not 'expelled' from any nation's territory," U.S. Pacific Fleet spokesperson Navy Lieutenant James Adams told Newsweek.
Adams said the ship "conducted this freedom of navigation operation in accordance with international law and then continued on to conduct normal operations in international waters." He called the Chinese statement "the latest in a long string of PRC actions to misrepresent lawful U.S. maritime operations and assert its excessive and illegitimate maritime claims at the expense of its Southeast Asian neighbors in the South China Sea."
This operation, he said, "upheld the rights, freedoms, and lawful uses of the sea recognized in international law by challenging the unlawful restrictions on innocent passage imposed by China, Taiwan, and Vietnam and also by challenging China's claim to straight baselines enclosing the Paracel Islands."
Both China and Vietnam require advance notice to sail by the Paracel Islands, as does Taiwan, whose claims to the South China Sea mirror those of China. Still, the U.S. has focused on China's "unlawful maritime claims," which Adams told Newsweek "pose a serious threat to the freedom of the seas, including the freedoms of navigation and overflight, of unimpeded trade and commerce, and of economic opportunity for South China Sea littoral nations."
"The United States will never bow in intimidation or be coerced into accepting illegitimate maritime claims, such as those made by the People's Republic of China," he added.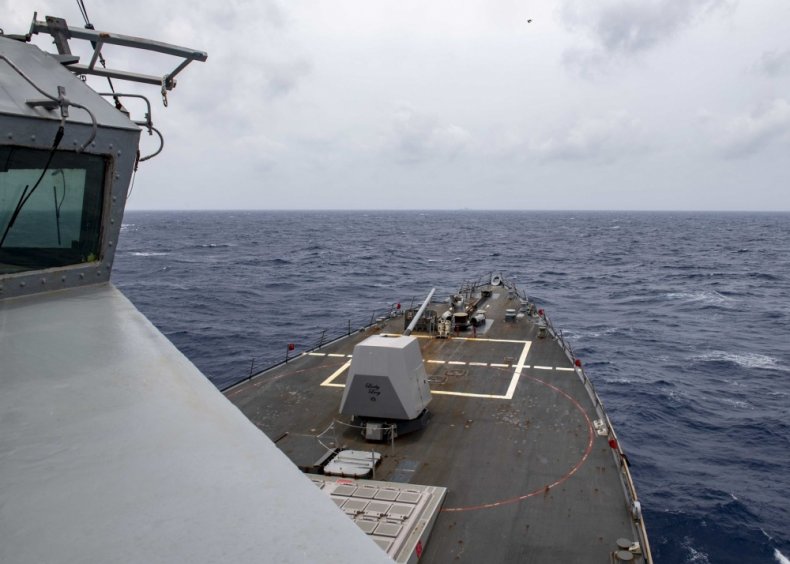 The Pentagon has increasingly defied Chinese territorial claims it views as excessive, and recently did so by flying aircraft near two People's Liberation Army exercises in the past two days. After Chinese military officials and diplomats warned Tuesday about a U-2 spy plane flyover near Northern Theater Command drills, the U.S. Navy acknowledged to Newsweek on Wednesday it surveilled recent South China Sea exercises.
"The U.S. Navy has 38 ships underway today in the Indo-Pacific region, including the South China Sea," Navy spokesperson Captain John Gay told Newsweek at the time. "We continue to fly, sail, and operate anywhere international laws allows to demonstrate our commitment to a free and open Indo-Pacific and reassure allies and partners."
"Our forces continuously monitor exercises throughout the region to include the recent PLA exercise," he added. "Our naval forces remain ready to respond to any threats to our allies and partners throughout the region."
On Thursday, Pacific Air Forces Public Affairs too confirmed to Newsweek that an RC-135S reconnaissance aircraft conducted surveillance in the region, and did so "following all of the accepted rules and regulations governing the use of international airspace and with due regard for the safety of all vessels and aircraft operating in the area."
"As the PRC is well aware, the PRC Notice to Airmen (NOTAM) regarding their military exercise in international airspace only serves as a notice of activities which may be dangerous to the flight of aircraft, but does not establish a no fly zone," said. "No nation may unilaterally establish no fly zone. Pacific Air Forces personnel will continue to fly and operate wherever international law allows."
Chinese media had hinted at the possibility of ballistic missile launches being involved in the exercises, and the Pentagon released a statement Thursday confirming what it called a move "counterproductive to easing tensions and maintaining stability."
The Beijing-based South China Sea Probing Initiative defended the People's Liberation Army maneuvers as a "response to U.S. long-term and high-frequency military provocations against China" in a statement sent to Newsweek. "To a large degree, PLA operations are to deter U.S. increasing military activity and the anti-China rhetoric of some US officials, as well as keeping alert."
On Thursday, the monitor made note of the USS Mustin's "intrusion" and tracked a U.S. Navy P-8A surveillance aircraft patrolling the East China Sea, flying from Japan to the skies northeast of Taiwan, and near another set of islands known in English as Pinnacle. China lays claim to the self-ruling U.S. backed island of Taiwan, and both consider themselves the rightful owners of the Pinnacle Islands, which are controlled by staunch U.S. ally Japan.
China has regularly sent vessels to both the Paracel and Pinnacle Islands and other disputed reefs and isles in the region, challenging counterclaimant countries. Vietnam, Japan and others have continued to lodge protests, and the U.S. has used China's tactics as a pretext for expanding its military presence in the region and for targeting Chinese companies with sanctions.
A senior State Department official told an on-background briefing Wednesday that China was "trampling on the sovereign rights of its neighbors in the South China Sea with respect to access to marine resources," to which Chinese Foreign Ministry spokesperson Zhao Lijian said such comments were the result of "hegemonistic logic and power politics."
With the State Department and Commerce Department accelerating their anti-China efforts, the Pentagon too has stepped up its messaging.
A day after authoring a Wall Street Journal op-ed titled "The Pentagon Is Prepared for China," U.S. Defense Secretary Mark Esper traveled to Hawaii and delivered remarks in which he called the region known to the U.S. and its allies as the Indo-Pacific "the epicentre of a great power competition with China," arguing that the People's Republic did not abide by international laws.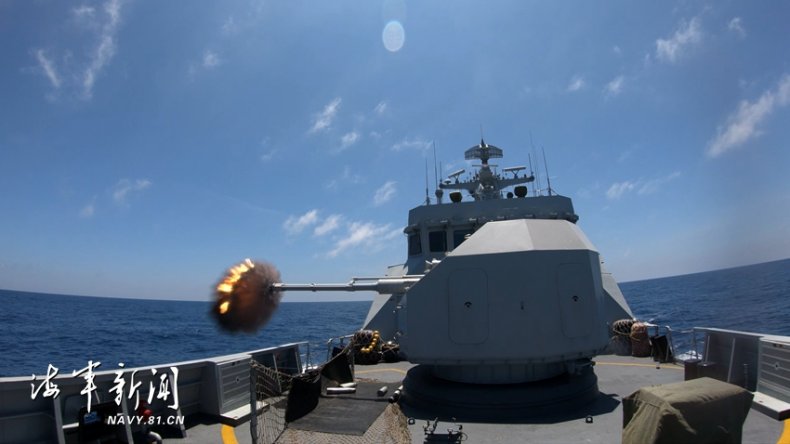 Zhao called both Esper's article and his remarks "completely groundless" at daily press conferences Wednesday and Thursday.
"China firmly upholds the international system with the United Nations at its core and an international order based on international law, including a series of international conventions signed within the UN framework," Zhao said, arguing in favor of a win-win and mutual cooperation approach among nations.
"The United States, however, always applies international law in a selective way," he added. "It has withdrawn from more than ten international treaties and organizations, severely undermining international fairness and justice, as well as peace, stability and development in the world."
With maritime tensions still high, China was set to hold a new set of exercises this weekend through the middle of next week in the Yellow Sea that separates China from the Korean Peninsula. Chinese Defense Ministry spokesperson Wu Qian assured Thursday that the drills were not aimed at any particular country, but emphasized that the People's Liberation Army would not tolerate U.S. challenges nor fall into the trap of provocations.
"The U.S. has continued to provoke troubles, seriously undermining China's sovereignty and security, and seriously damaging relations between the two countries and their armed forces," Wu told reporters. "China will not dance to the tune of the U.S."
This article has been updated to include statements from U.S. Pacific Fleet spokesperson Navy Lieutenant James Adams and Pacific Air Forces Public Affairs.