U.S. Military Defends Moves Near Taiwan, China Sends Forces to 'Safeguard' Territory
The United States is defending its military moves near Taiwan, where China has sent personnel in a show of force intended to defend Beijing's claims of sovereignty over the self-ruling island that receives support from Washington.
Air Force Senior Colonel Zhang Chunhui, spokesperson for the Chinese People's Liberation Army Eastern Theater Command, announced Thursday that his forces have recently conducted combat exercises from the northern to the southern stretches of the disputed Taiwan Strait. He said these were "necessary actions to be taken in response to the current security situation" in the region, where the U.S. military considers its growing presence within the Pentagon's purview of projecting power abroad.
"The United States is an Indo-Pacific nation and committed to remaining engaged in the region," Pacific Fleet spokesperson Navy Lieutenant James Adams told Newsweek.
"All U.S. Navy operations are designed to be conducted in accordance with international law and demonstrate that the United States will fly, sail, and operate wherever international law allows," he added.
But China sees foreign interference. "Recently, certain major powers have continued to make negative moves on Taiwan-related issues, sending wrong signals to the 'Taiwan independence' forces and seriously threatening peace and stability in the Taiwan Strait," Zhang said in his statement. "Taiwan is a sacred and inalienable part of Chinese territory."
He vowed his forces will "always maintain a high level of alert, take all necessary measures, resolutely counter all provocative acts that create 'Taiwan independence' and split the country and resolutely defend national sovereignty and territorial integrity."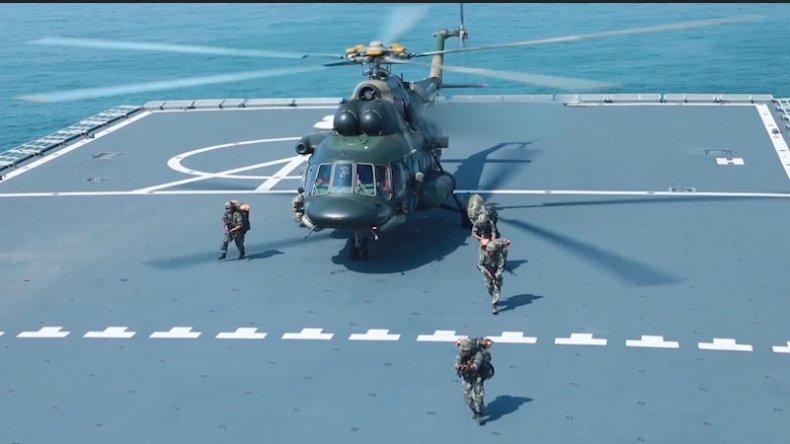 In response to Zhang's remarks, Taiwan's Defense Ministry announced Thursday it conducted "joint intelligence, surveillance and reconnaissance activities to closely control the situation around the Taiwan Strait and the dynamics of the sea and airspace."
"The current situation is normal, please rest assured," the statement said. "Cross-strait stability is the cornerstone of regional peace. The national army will continue to build a solid national defense force, capable and determined, to defend the country's freedom, democracy and sovereignty, and to contribute to regional security and stability."
While Washington withdrew recognition of Taipei in favor of Beijing as representative of China in 1979, as has much of the international community in the seven decades since a government-in-exile was established on the island following a Communist victory in the mainland, the U.S. continues to provide Taiwan with political and military support. This has angered China and a series of recent actions has thrust the issue into the center of a widening, worsening geopolitical dispute between Washington and Beijing.
President Donald Trump's administration has adopted a hardline position against China, accusing it of unfair trade practices, intellectual property theft, political repression and aggressive actions in the region, among other charges.
Last month, Defense Secretary Mark Esper designated the People's Republic as the Pentagon's top strategic competitor, Secretary of State Mike Pompeo called on the international community to rethink ties with China and, on Monday, Health Secretary Alex Azar visited Taiwan in a historic rebuke of longstanding U.S. policy not to send senior officials there.
J-10 and J-11 fighter jets of the People's Liberation Army crossed the "median line" of the Taiwan Strait hours before the trip and Chinese military-tied media reported on anti-aircraft drills tied to U.S. activity in the region. The South China Sea Probing Initiative, a think tank affiliated with Peking University's Institute of Ocean Research, has been monitoring U.S. air and sea assets such as the USS Ronald Reagan Carrier Strike Group operating east of Taiwan.
In the latest report, the project said Wednesday that a U.S. Air Force RC-135 spy plane "just arrived at Kadena Air Base in Japan from Offutt Air Force Base, Nebraska "after a long flight" potentially tied to "the forthcoming PLA exercises." A U.S. Navy P-8A was also spotted over the South China Sea, where "U.S. large reconnaissance aircraft have resumed their activities after typhoons."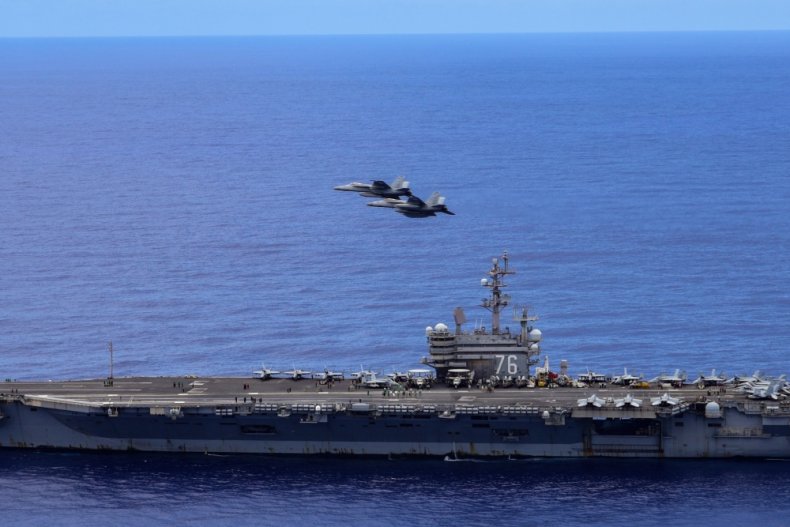 The U.S. has invested heavily into building a "free and open Indo-Pacific" coalition alongside Australia, India and Japan, and in bolstering ties with South China Sea countries such as the Philippines, Malaysia and Vietnam as they challenge Chinese claims to the region. The Trump administration is now pressing for more support in taking on Beijing on other points of contention.
"There's the tragedy that has befallen Hong Kong and the premature denial of freedom to those people. You see it in far-off places and their attempts to dominate the South China Sea. You see it in the detention of one million Uighur Muslims living in internment camps in Xinjiang. This is the human rights stain of the century, sustained by companies like Huawei, using technology that secret police could only have dreamed of in times gone by," Pompeo said Tuesday in remarks at Wellenstein Palace in the Czech Republic.
Chinese Foreign Ministry spokesperson Zhao Lijian blew off these accusations at a press conference Thursday as being "driven by Cold War mentality and selfish gains."
"Pompeo has been wantonly criticizing the CPC and China's domestic and foreign policy. China has stated its solemn position on this repeatedly," he added. "It is a waste of our time refuting Pompeo's lies. Perhaps some of you can do me a favor and ask if he can sleep soundly at night after repeating shameless lies against China like a feverish man day after day?"